One of the first killings on U.S. soil connected to the Islamic religion took place in 1990. Here is how Khalid Durán and I described it in 1993 in Muslims in the West: Can Conflict Be Averted?: Rashad Khalifa, 55 years old at the time of his death, was
Rashad Khalifa, an Egyptian biochemist killed in Tucson, Arizona, in 1990. His accused killer was arrested in 2009.

an Egyptian biochemist who settled in Tucson, Arizona. Khalifa studied the Qur'an in an effort to teach Islam to his wife, an American woman, and his children. Being a scientist, he turned his methodology to the Qur'an and found, though a numerological analysis by computer, that the number nineteen provides a key to its contents. (This was not new; computers had led other numerologists to the same conclusion.)

Muslims initially received this conclusion amicably, indeed with considerable enthusiasm, but Khalifa then took his theory of nineteen too far when he calculated the exact date of the Day of Judgment using his formulae. Already, mainstream Muslims denounced his efforts as "a shoddily concocted hoax." Khalifa took his next step off the beaten path in concluding that the schema of nineteens excluded the final two ayats (verses) of Sura 9 and made this worse when he published a Qur'an without those two ayats.

Finally, Khalifa declared himself a prophet (nabi), just about the most serious offense in Islam, which holds Muhammad to be the "seal of the prophets." On 27 February 1989, the 11th Majlis al-Fuqaha' (Council of Religious Scholars) met in Mecca and branded Khalifa an infidel (kafir). A year later he was dead, murdered by unknown assailants, presumably orthodox Muslims angered by his teachings.
(To learn more about Rashad Khalifa, videos of him can be seen here and here.)
I raise the topic because, almost two decades after the murder took place, an arrest was made today in Calgary, Canada, of Glen Cusford Francis, 52, a citizen of Trinidad and Tobago. He awaits extradition to the United States to face first-degree murder charges in Tucson. A Tucson Police Department Media Release tells the story:
One of Rashad Khalifa's writings about the computer and the Koran.

On January 31, 1990, Dr. Khalifa was found stabbed to death inside his place of employment, the Masjid of Tucson, located at 739 E. 6th St. The location was modified to be utilized as a mosque and office. The investigation revealed that Dr. Khalifa had received numerous death threats in the months preceding his murder.

A person of interest known as Benjamin Phillips, arrived at the mosque in January of 1990 and was allowed to study Islam with Dr. Khalifa. Mr. Phillips was not seen again in the Tucson area following the murder. Detectives learned that Mr. Phillips fled the country in 1991 and did not return until 1994. In April of 1994, the FBI in Dallas, Texas interviewed Mr. Phillips. He was using the name Joseph Wall and denied ever being in Tucson.

The subsequent investigation led Tucson Police Department Detectives to Georgia, where family members positively identified Mr. Phillips/Wall as Glen Cusford Francis, a citizen of Trinidad. Detectives located additional family members in Canada, and traveled there to interview them. Latent prints recovered from the Tucson apartment of Mr. Phillips/Wall were positively matched to Mr. Francis.

In January of 2006, the Tucson Police Cold Case Unit began working on this case along with Criminalists from the Tucson Police Department Crime Laboratory. In December 2008 extensive forensic DNA evidence recovered from the murder scene was found to be consistent with Mr. Francis' profile. Tucson Police Cold Case Detectives along with the Pima County Attorneys Office began to work closely with Canadian authorities to locate Mr. Francis.
(April 28, 2009)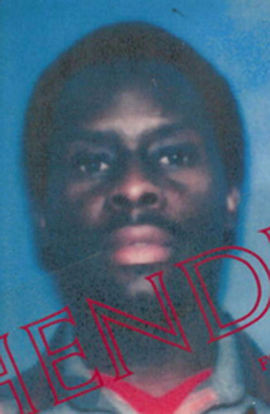 Glen Cusford Francis, accused killed of Rashad Khalifa.
Oct. 9, 2010 update: For background on Francis, see "Calgary's link to an Arizona assassination" by Jamie Komarnicki in the Calgary Herald. Also note the Investigative Project on Terrorism's background piece, "Storage Locker Search Colorado Springs, CO."
Dec. 1, 2010 update: One and a half years later, the Francis case is wending its torturous way through the Canadian legal system. Today comes the news that Alberta's highest court dismissed his appeal against extradition to the United States.
June 25, 2011 update: The extradition took two years but went through and today Francis sits in a Tucson jail, 21 years after Khalifa's murder, awaiting trial. Bond is $1 million, which Khalifa's family worries is too low, especially given that Francis has no ties to Tucson.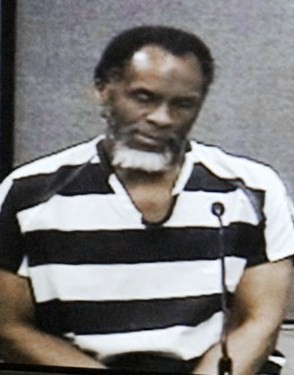 Francis during his arraignment in Tucson on June 24, 2011.
Dec. 8, 2012 update: Jury selection is about to start for the Arizona trial of Glen Francis / Joseph Wall / Benjamin Phillips, 52. The Investigative Project on Terrorism has posted materials about this trial at "State of Arizona v. Francis, Glen Cusford."
Dec. 20, 2012 update: After three hours of deliberation, an Arizona jury returned a guilty verdict against Glen Francis, 52, for the January 1990 murder of Rashad Khalifa. Pima County Superior Court Judge Christopher Browning will sentence him on Jan. 28.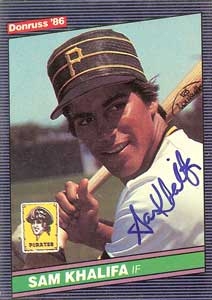 Sam Khalifa's 1986 baseball card by Donruss.

Jan. 2, 2013 update: Rashad Khalifa and his Tucson-born American wife had a son, Sam, born on Dec. 5, 1963, in Fontana, Calif., while Rashad was getting a doctorate in plant sciences at the University of California, Riverside. Sam played shortstop for the Pittsburgh Pirates, a major league baseball team, for parts of three seasons in the late 1980s, then his playing faded away just before his father's murder. The New York Times has a long and affecting profile of him today in "Briefly a Rising Star, Forever a Mourning Son," by Paul Brownfield.
Despite his middle-age paunch and the fatigue he wears on his face, Khalifa still resembles the handsome, dark-featured 22-year-old on his 1986 baseball card. In the mid-1980s, Khalifa was both the rare Muslim baseball player and, according to Major League Baseball, the very first son of an Egyptian to play in the big leagues. His boyhood narrative included a year spent playing on a makeshift sand field in Tripoli, Libya. ... It was also hard for Khalifa to focus on his father's murder, and yet he could not help it. Over the next two decades, and as the murder investigation went cold, Khalifa got a college degree, drove a cab, tried some sales jobs, tried to get over his anger. And then he went back to driving a cab.
Comment: One can hardly anticipate where Islamists will strike and what misery they will bring.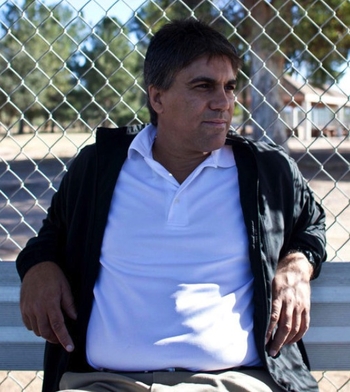 Sam Khalifa at 49, with a "middle-age paunch and the fatigue he wears on his face."
Jan. 29, 2013 update: Glen Cusford Francis, 52, was sentenced yesterday by Pima County Superior Court Judge Christopher Browning to life in prison with release possible after 25 years, meaning 2038, first-degree murder.
Browning noted the irony that Francis killed Khalifa in the name of Islam, even though Islam "values peace and wholeness and denounces aggression. ... The pain which Dr. Khalifa undoubtedly enduring during the 29 times you plunged your knife into him must have been horrific."