I see three complementary efforts to eliminate Israel.
The states, from Gamal Abdel Nasser's Egypt to Mahmoud Ahmadinejad's Iran, using either conventional armies or weapons of mass destruction.

The external Palestinians, from Yasir Arafat to Hamas, using terrorism and related methods.

The internal Palestinians, as symbolized by a document published in December 2006, The Future Vision of Palestinian Arabs in Israel, using legal and political means, along with violent means.

The Shin Bet logo
Ultimately, the third of these, which has so far been the least active, may be the way Israel's enemies decide to go, once they have given up on making war from the outside. An internal
document produced by Shin Bet
(a.k.a. Shabak, Israel Security Agency, or GSS) confirms this analysis, finding that Israel's Arab population is a "genuine long-range danger to the Jewish character and very existence of the State of Israel."
In 2005, for instance, Shin Bet uncovered 17 Israeli-Arab terror cells involving 22 Arab citizens. In 2006. the numbers rose to 21 terror cells involving 24 Arabs. In addition to terrorism, other forms of violence are becoming apparent: six Israeli-Arabs from a Galilee village were just indicted on charges of four brutal rapes over two years. One victim told investigators that the rapists had told her that he was "avenging" IDF operations in Gaza, an attitude echoed by one of the Arab rapists during police questioning.
Comment: Shin Bet understandably focuses on criminal behavior but there is a whole other wing of the internal Palestinian challenge, which aims at denuding the Israeli state of its Zionist character. The two will act like pincers. (March 13, 2007)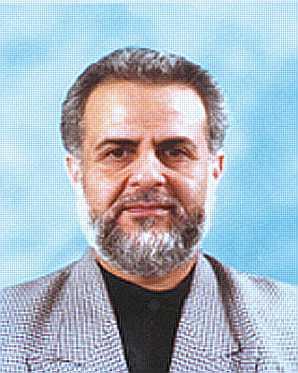 Ibrahim Sarsour, a member of the Israeli parliament.

Mar. 18, 2007 update: As though on que, a Muslim member of the Israeli parliament, Ibrahim Sarsour, has called on "Muslims and Arabs" to "liberate Jerusalem." Emphasizing the importance of the city to Islam, he called on participants at a "Jerusalem First" conference in Ramallah to "act together to become a torrent on the road to liberation. Just as the Muslims once liberated Jerusalem from the Crusaders, so must we today believe that we can liberate Jerusalem. It is not an impossible dream."
Another member of parliament expressed similar sentiments at the same event. Muhammad Barakei accused the Israeli government of trying to "empty Jerusalem of its Palestinian inhabitants" and called on Palestinians to take immediate action to "reclaim the city."
Mar. 27, 2007 update: Israelis are hearing these aggressive noises and responding, according to a poll sponsored by the Center for the Campaign Against Racism and conducted by the Geocartography Institute, found that half of Israeli Jews support Arab out-migration from Israel, a sharp increase in the number from a year earlier. (Conducted in December 2006, with 500 participants, the survey has a margin of error of 4.4 percent.)