In an article today ("Small Budget Cuts Add Up"), Reps. Jason Chaffetz (Republican of Utah) and Anthony Weiner (Democrat of New York) call the U.S. Institute of Peace a "case study in how government waste thrives" and calls its $54 million in public funding in 2011 a "misuse of taxpayer money." To which I respond: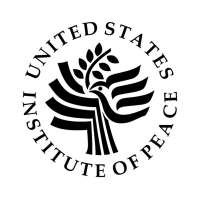 The USIP logo.
As a former board member of the U.S. Institute of Peace, I enthusiastically endorse the Chaffetz-Weiner initiative to defund the USIP. I became aware during my tenure on the board, 2003-05, that the organization performs little worthwhile service to the taxpayer but rather that it
forwards a political agenda
. Americans who wish to fund such an organization are free to do so, but it should not be a public burden. (February 16, 2011)
Feb. 19, 2011 update: Bravo to the House for cutting off all funding to USIP.
Feb. 24, 2011 update: Al Kamen reviews the bidding at "U.S. Institute of Peace loses all federal funds under House spending plan."
Mar. 16, 2017 update: The Trump administration proposed budget would axe USIP completely, saving $35.3 million in taxpayer funds. Naturally, the Washington Post article on this by Carol Morello only quotes horrified USIP supporters. She did not contact me.