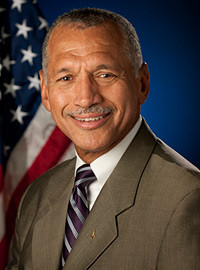 Charles F. Bolden, Jr., head of the U.S. National Aeronautics and Space Administration.
Barack Obama's grand speeches in
Ankara
and
Cairo
as well as his repeated insistence on "
respect
" made Americans very aware that he hopes to win Muslim favor. But we did not know how deeply embedded this impulse has become in U.S. policy until this: "
Obama's new mission for NASA: Reach out to Muslim world
." Byron York of the
Washington Examiner
uncovered an
interview on Al-Jazeera
in which the head of the National Aeronautics and Space Administration, Charles F. Bolden, Jr., explained how Obama charged him to pursue three decidedly non-scientific objectives:
One was he wanted me to help re-inspire children to want to get into science and math, he wanted me to expand our international relationships, and third, and perhaps foremost, he wanted me to find a way to reach out to the Muslim world and engage much more with dominantly Muslim nations to help them feel good about their historic contribution to science, math, and engineering.
NASA, he went on, is pursuing "a new beginning of the relationship between the United States and the Muslim world."
York also located a speech by Bolden, who is a retired United States Marine Corps major general and a former NASA astronaut, on June 15 at the American University in Cairo. There, Bolden related that Obama
asked NASA to change…by reaching out to non-traditional partners and strengthening our cooperation in the Middle East, North Africa, Southeast Asia, and in particular in Muslim-majority nations.
Bolden averred that, indeed, "NASA has embraced this charge." In his colorful wording, "NASA is not only a space exploration agency but also an earth improvement agency."
In response to the firestorm these comments have caused, the White House and NASA, according to Fox News, "stood by Bolden's statement that part of his mission is to improve relations with Muslim countries — though NASA backed off the claim that such international diplomacy is Bolden's 'foremost' responsibility."
This unexpected turn of events prompts several reactions.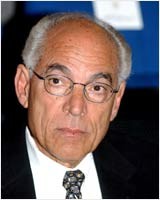 Farouk El-Baz, formerly of Egypt and NASA's lunar missions.
First, it is inordinately patronizing for Americans to make Muslims "feel good" about their medieval contributions to science. This will lead to more resentment than gratitude.
Second, Muslims at present do lag in the sciences and the way to fix this is not condescension from NASA but some deep Muslim introspection. Put differently, accomplished scientists of Muslim origin — including Farouk El-Baz, who is of Egyptian origins and had a key role in NASA's lunar missions — do exist. The problem lies in societies, and include everything from insufficient resources to poor education to the ravages of Islamism.
Third, polls indicate that Obama's effort to win Muslim public opinion has been a failure, with his popularity in majority-Muslim countries hardly better than George W. Bush's. Why continue with these farcical and failed attempts to win good will?
Finally, it's a perversion of American scientific investment to distort a space agency into a feel-good tool of soft diplomacy. Just as soldiers are meant to fight, not carry out social programs, so scientists must work to expand the frontiers of knowledge, not to make select people "feel good."
July 7, 2010 update: Bolden's affirmative action program has already begun, as reported in a NASA news item from June 11, 2010:
The UAE interns at NASA.

NASA is cutting edge for more than just its research development; it also is pushing the envelope for its student internship programs. This week, three United Arab Emirates (UAE) nationals will start a student internship program at NASA's Ames Research Center, Moffett Field, Calif.

Shamma Al Qassim, 19, Hazza Bani Malek, 20 and Hamad Rajab, 21 were selected for a NASA education initiative to work with top scientists on a variety of projects, including the space shuttle and International Space Station, deep space missions, solar system exploration and aeronautics research.

As part of an agreement between NASA and the non-profit Arab Youth Venture Foundation (AYVF), up to 12 UAE students per year for three years may participate in the program. Students are sponsored by Mubadala, a part of the Abu Dhabi government, and will start their 10-week training this week.

According to S. Pete Worden, director of NASA Ames, providing young people an opportunity to learn about space exploration can create a strong friendship between great nations to pursue common dreams. "Under this program, the goodwill generated by students working side by side with our NASA scientists and researchers will serve as a bridge between the USA and UAE, opening the doors for future collaboration in scientific research. I can only imagine what discoveries might be achieved through such cooperation," said Worden.
July 9, 2010 update: York provides more information on the Bolden scandal today at "NASA's Muslim outreach: Al Jazeera told first":
Some members of congress expressed dismay that Bolden told Al-Jazeera about this policy before he told them.

Bolden's trip to the Middle East marked the first anniversary of Obama's June 2009 Cairo speech.

Bolden had mentioned this idea already in February 2010, when the Orlando Sentinel reported his telling engineering students that Obama had asked him "to find ways to reach out to dominantly Muslim countries." He went on: "We now have expanded our efforts to reach out to non-traditional partners. We really like Indonesia because the State Department, the Department of Education [and] other agencies in the U.S. are reaching out to Indonesia as the largest Muslim nation in the world. We would love to establish partners there."

Major media have not picked up this story – not the New York Times, the Washington Post, or the nightly newscasts of ABC, CBS, or NBC.

Bolden has not said a word on it since the story broke.

The White House says Obama wants NASA "to engage with the world's best scientists as we work together to push the boundaries of exploration." York comments: "That doesn't sound much like Bolden's description of the initiative, which foresees the U.S. working with Muslim nations that don't have the scientific know-how for manned space flight. What advanced technology do they have that the United States doesn't?"
July 12, 2010 update: The White House has retreated, Fox News reports:
White House Press Secretary Robert Gibbs said Monday that NASA Administrator Charles Bolden must have misspoken when he told Al Jazeera last month that one of his top priorities is to reach out to Muslim countries. "That was not his task and that's not the task of NASA," Gibbs said.

Bolden, though, said last month in the interview that it was President Obama who gave him that task. He made a similar claim in February. The White House also backed up Bolden last week when his remarks first stirred controversy. A White House spokesman last Tuesday said Obama wants NASA to engage with the world's best scientists and that to meet that challenge, NASA must "partner with countries around the world like Russia and Japan, as well as collaboration with Israel and with many Muslim-majority countries."

NASA last week walked back Bolden's claim that Muslim outreach was the "perhaps foremost" plank of his mission, saying that Bolden was merely talking about his "outreach" responsibilities and that space exploration is still NASA's No. 1 job.

But Gibbs on Monday appeared to deny that Bolden was asked to focus on Muslim outreach at all. Asked whether Bolden misspoke, Gibbs said: "I think so." He said he wasn't aware of Obama speaking to Bolden about his comments.
July 19, 2010 update: Focused as I have been on the affirmative action angle, I did not take up the question of the good sense of passing along NASA's knowledge to Muslim-majority countries. The Weekly Standard takes up the slack in a parody.
Aug. 25, 2010 update: the U.S. Department of State reports that
Nearly 50 future Libyan leaders have trained as astronauts at the U.S. National Space & Rocket Center's Space Camp since 2009, and media coverage and a film of the students' experiences have helped ease U.S.-Libya tensions and inspired other Muslim-majority nations to pursue the program.
And after the 2010 Libyan Space Camp took place on July 16–25, it was followed by a Space Camp adventure for a dozen Moroccan students August 1–6.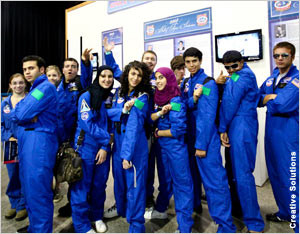 Libyan Space Camp participants pose with American counterparts.
Feb. 11, 2011 update: According to Egyptian newspaper Al-Masri al-Yawm, the name of Sally Zahran, a young woman killed after being beaten on the head on Jan. 28 by Egyptian security forces in in the Sohag governorate, will grace a spaceship headed for Mars.