Mega-terrorism – the hope of killing many thousands in a single blow – is alive and well. Yes, it keeps getting thwarted (see ADL's long list of thwarted attacks in Israel in mid-2002), but the civilized world must be prepared that one day it will succeed, with unpredictable implications for all concerned. Here are some examples, in reverse chronological order.
---
Bahrain, September 2015: Bahrain's Foreign Minister Khalid bin Ahmed Al Khalifa announced that the Iranian government attempted to smuggle so many explosives into Bahrain that their explosion would have destroyed Manama, Bahrain's capital city.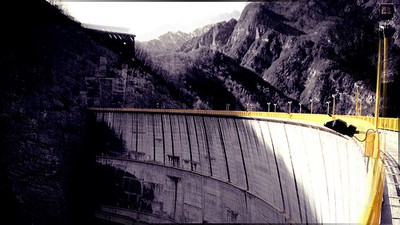 An Arab network planned to blow up the Tramonti dam in Friuli, Italy.

Italy, March 2009: The Italian government expelled two Arabs, Mohamed Essadeck and Miri Sghaier, for endangering national security after the security services intercepted calls between the two and others in North Africa planning to blow up the Tramonti dam in Friuli. Had they carried through with the operation, the police estimate some 2,000 persons would have been killed from flooding in the villages of Meduno, Sequals, and Spilimbergo. Comment: Perhaps the most remarkable development is that Essadeck and Sghaier were merely expelled, and not locked up.
United Kingdom, August 2006. In the Heathrow airport plot, jihadists aimed to destroy as many as ten airplanes over the north Atlantic with liquid explosives. Had the scheme worked, over three thousand persons could have been murdered. (Aug.10, 2006)
Italy, November 2005: Intercepted phone conversations between three just-detained Algerian men in Brescia and Naples reveal them speaking in mid-2005 of planning a mega-terror attack on "a ship as big as the Titanic, packed with explosives" with the intent to kill "at least 10,000 people." The three, Yamine Bouhrama, Mohamed Larbi, and Khaled Serai, are suspected of being members of the al-Qaeda-linked Algerian group, the Salafist Group for Preaching and Combat (GSPC). In conversation among themselves, they described the July 7 London transport bombings and the July 23 Sharm El-Sheikh hotel attacks as "holidays" and planned for "a bigger party." (Nov. 18, 2005)
Turkey, August 2005: A Syrian connected to Al-Qaeda, Lu'ai Sakra, was caught with 1,650 pounds of explosives and charged with planning to place them in speedboats which would slam into hit multiple Israeli cruise ships in international waters. "I have no regrets, I was going to attack Israeli ships, Allahu akbar," Sakra shouted to journalists, adding in a barely audible voice, "I had prepared a ton of explosives." speaking in Turkish with an Arabic accent. He later added, "I was planning an attack in open seas. Allahu akbar, Allahu akbar."
Jordan, April 2004: "Attack could have killed 80,000" – that's the harrowing piece of information in a Jordan Times report by Mahmoud Al Abed. Suspects confessed in taped testimonies broadcast on television to planning a chemical attack in Amman, the Jordanian capital. Their targets included the General Intelligence Department, the Prime Ministry and the US embassy. The program quoted experts saying that the operation could have killed 80,000 persons and caused physical harm to 160,000 others. The suspects, it bears noting, said they were inspired by their religious beliefs. "I agreed to participate in this operation," said one of them, "because I thought it would serve Islam." King Abdullah characterized the plot as "a major, major operation. It would have decapitated the government." (April 27, 2004) Nov. 27, 2005 update: The trial of the 13 suspects in this case (9 present, 4 in absentia) is again underway, after a long delay. Noteworthy are the words hurled by one defendant, Hassan al-Smeik, at the judge: "Terrorism is a badge of honor on our chests until Judgment Day. In the name of God, we're pursuing the path of Jihad until we uproot you, exterminate your state until the rule of [King Abdullah II] vanishes."
Israel, March 2004: A double suicide bombing at the port of Ashdod on March 14 killed ten but appears to have been an attempt at something much larger, given the close proximity in the port of bromine tanks and other hazardous chemical storage facilities. Had the terrorists in fact detonated themselves near the bromine tanks, the effect, security authorities stated, "could have been devastating, with poisonous gases spreading to a 1.5-kilometer radius, killing thousands within minutes." (March 18, 2004)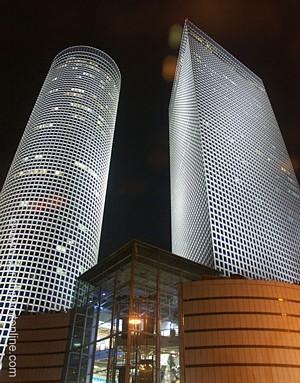 The Azrieli Towers, Tel-Aviv

Israel, May 2002: The oil and gas depot of Pi Glilot was nearly blown up. Israel Radio reported that a terrorist planted a bomb under a truck parked overnight in front of the driver's home south of Tel Aviv, which security officers then failed to spot it as the truck entered the depot. The blast at Pi Glilot was set by remote control. Fortunately, the truck was at the time in the diesel area of the depot, so firefighters could extinguish the blaze before it could spread to above-ground tanks with 3,000 tons of gas. Despite many warnings of such an occurrence, the depot is located near Tel Aviv, Israel's most densely populated area. "A huge disaster has been averted." said Tel Aviv police commander Yossi Sedbon. "It was a miracle." Israel TV displayed a map that indicated how the explosion would have engulfed an area of several kilometers. Estimates put the number of potential dead at 20,000. (May 24, 2002)
Israel, May 2002: Three Arab citizens of Israel tried to set off a ton of explosives under Tel Aviv's tallest office building complex, the Azrieli Towers, three steel and glass office buildings and an up-scale shopping mall. Dubian Natzirat, 27; Amir Zivati, 20; and Mugahad Dukan, 19; all of Taibe, a thirty-minute-drive from the Azrieli Towers. The three admitted their guilt and were convicted under a plea bargain arrangement. (Oct. 9, 2005)