The case of Emad Jamil Al Swealmeen, 32, highlights the danger of Muslims fraudulently converting to Christianity.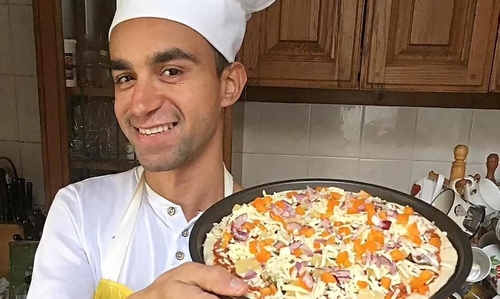 Emad Jamil Al Swealmeen (السويلميين), who studied cake decorating at The City of Liverpool College in 2018-19, looked like a nice person.
Swealmeen came to public attention on Nov. 14, when he (probably inadvertently) detonated an improvised explosive device outside Liverpool Women's Hospital at 10:59a.m. as he rode in a taxi, just seconds before the national two minutes' silence for Remembrance Sunday at 11a.m., killing himself and wounding the taxi driver. The police believe he was an Islamist and a jihadi. His biography is worth noting:
After arriving legally in Britain from Iraq in 2014, Swealmeen, in the words of the Times of London, "was taken under the wing of a retired senior British army officer after visiting Liverpool's Anglican cathedral and expressing an interest in converting from Islam to Christianity." That officer, Lt. Colonel Malcolm Hitchcott, 77, recalled (again, in the words of the Times) "how Al Swealmeen arrived at the cathedral in August 2015 saying he wanted to convert. Hitchcott, who was helping to hold Bible classes for asylum seekers, said the visitor took an Alpha course to teach him about Christianity. He was confirmed as a Christian in March 2017" at Liverpool's Anglican cathedral. At that time, he changed his name to the more European sounding Enzo Almeni.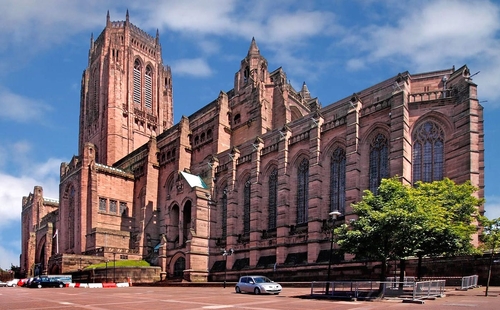 The Liverpool Anglican Cathedral.
The Times continues:
Associates claimed they believed Al Swealmeen was only interested in converting to Christianity because he believed it would assist his asylum claim. He had made a new application in 2017. He was supported by Christian volunteers from a network of churches who help asylum seekers. ...

After discovering that Al Swealmeen had been identified as the bomber, Hitchcott said: "We are shocked. A less likely candidate I couldn't imagine. He was well mannered and quiet." His wife added: "We loved him."
A spokesman for Liverpool Cathedral, the Times further reports, said that it has procedures in place to test the genuine intentions of asylum seekers who convert. They are expected to be "closely connected" to the congregation for at least two years before staff support a visa application. A spokesman said:
Liverpool Cathedral has developed robust processes for discerning whether someone might be expressing a genuine commitment to faith. These include requirements for regular attendance alongside taking part in a recognised Christian basics course. We would expect someone to be closely connected with the community for at least two years before we would consider supporting an application [for asylum].
The Daily Telegraph adds that Swealmeen "was seen at his local mosque every day during Ramadan in April [2021], around the same time he began constructing his bomb. Sources claim the Iraqi-born asylum seeker attended the mosque 'all day every day' during the religious festival and was seen praying with a fellow Muslim a week before the attack." It notes that this "will further fuel suspicion that Swealmeen's conversion to Christianity four years ago was a ploy to help him persuade the Home Office to let him stay in the UK."
Indeed, "In January this year, he lodged a fresh application with the Home Office, using his new name and arguing that his Christian faith would lead to his persecution if returned to the Middle East. That application was still being processed at the weekend when he blew himself up outside Liverpool Women's Hospital."
In conclusion: pious frauds really do exist and they can pull the wool over the eyes of their well-meaning hosts, mentors, and friends. As Muslim conversions to Christianity increase, this will grow as a problem in the West. (November 20, 2021)