It's been ten years exactly since Ryan Gingeras published an extraordinary preface to his book, Sorrowful Shores: Violence, Ethnicity, and the End of the Ottoman Empire 1912-1923 (Oxford University Press). I therefore quote it at length:
If the truth be told, this work was born out of an act of cowardice. My ambitions leading up to my comprehensive exams tended towards some kind of radical, challenging project. There was little question in my mind that I wanted to write my dissertation on some corner of Anatolia during the First World War and/or the early Turkish Republic. Going for the jugular, I turned towards eastern Anatolia. A couple of ideas came to me: perhaps a study of how the small town of Naxçıvan became a part of Azerbaijan; better yet, the reconstruction of Kars following the establishment of the Turkish Republic.

Either, I thought, would serve wonderfully. I was told otherwise. Friends and colleagues with years of experience in Ottoman studies warned me that I was essentially contemplating professional suicide. First there was the question of sources. Where would I get them? Do such documents even exist? More importantly, would Turkish archivists even allow me to see the records (a question followed by anecdotal horror stories about scholars denied access to state archives in Turkey)? Then there were the political consequences to consider. A dissertation dealing with Kurds, Armenians, or other taboo subjects in Turkey was bound to bring troubles down around me. No matter what I did, I was told, someone would be very unhappy with my work. Someone, be it a member of the Turkish government, members of the Armenian diaspora, or other Ottoman scholars, would eat me alive for having challenged, upheld, or ignored some aspect of eastern Anatolia's recent history. In short, the advice I had was: don't do it. Drop it. Don't kill your career before it begins.

The dissertation that 1 wrote ultimately was founded upon this advice. My time in the archives instead led me to focus on western Anatolia and drew my attention to the roles of Albanian and North Caucasian immigrants during the Turkish War of Independence. The research for this project generally went swimmingly. None of the nightmare scenarios I was forewarned of came to fruition . No lifetime bans. No hate mail. Nothing.

Still, I cannot say for sure that my friends and colleagues, people whom I believe genuinely had my best interests at heart, were wrong. Yes, archivists, scholars, and staff I met in Istanbul and Ankara were indeed helpful, courteous, and, at times, a real pleasure to be around. The sheer mention of my interest in Muslim immigrants in Anatolia was greeted with sincere enthusiasm and support by the archivists who helped make my research possible. More often than not, though, I rarely broached the topic of Armenians and Greeks with archival staff. Since it was not the central focus of my work, the parallel fate of non-Muslims in western Anatolia during the war years was a subject I kept under my hat. Earlier admonitions continued to play in my head.
---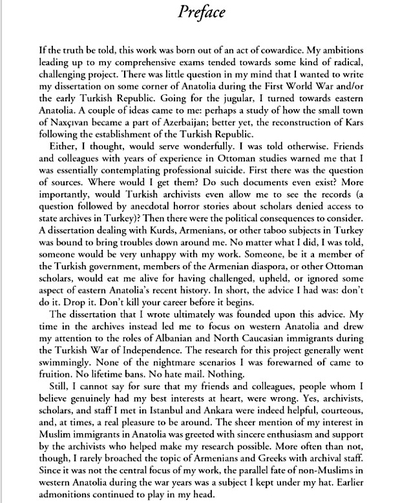 ---
Comments: (1) Caution paid off. In 2009, Gingeras was assistant professor at the CW Post Campus of Long Island University; a decade later, he is full professor at the Naval Postgraduate School.
(2) Gingeras acknowledged publicly what usually stays limited to private conversations and gossip, namely that, together, the Middle East studies Establishment and Middle Eastern states delineate what is deemed an acceptable topic for research – and woe to he who breaches these limits.
(3) While Gingeras chose an excellent substitute topic, that is often not the case. Indeed, "cowardice" helps explain why Middle East studies wallows in goofy topics. Here's an example from a conference, "American & Muslim Worlds ca. 1500-1900," held at the University of Pennsylvania two years ago; as I wrote then, the conferees avoided "big, meaningful analyses in favor of trifling micro-topics" and answering questions no one ever asked. Paper titles included:
"Byron's Houris in America: Visual Depictions of Muslim Heroines in the Gallery of Byron Beauties"
"'Strangers in the Stranger Lands': The 'Rebs and Yanks' in the Khedival Citadel"
"Bombo's America: An Energy-Humanities View of the Early American Oriental Tale"
No wonder this field is in wretched shape. (May 1, 2019)
---
May 1, 2019 addendum: But of course, someone who publicly admits to cowardice responds to this discussion in a cowardly way. Writes Gingeras: "All I'll say is this is a pretty gross misreading of the preface of my book. It isn't a criticism of the 'ME history establishment' (no such establishment exists btw). Nothing in my experience, including writing this book, leads me to think the field has gone south."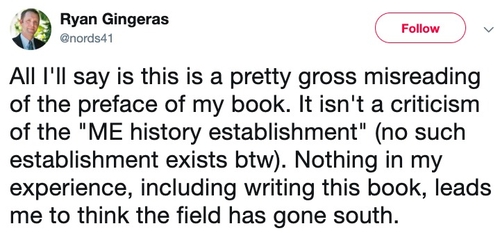 As an addendum, note that Gingeras denies the existence of a "ME history establishment," something I never mentioned. Rather, I referred to the "Middle East studies Establishment." So, he's sloppy as well as cowardly.
Jan. 3, 2023 update: With surprise and pleasure, I endorse an important article by Ruan Gingeras.
Ryan Gingeras (@nords41)'s excellent article reviews past Turkish-Greek tensions, argues that circumstances have fundamental changed & that the US has limited options.

"Circumstances may demand that Washington recognize Turkish hostilities as a destabilizing force in the world." https://t.co/UGlhf9SwW7

— Daniel Pipes دانيال بايبس (@DanielPipes) January 3, 2023