When the Islamic Republic of Iran first came to power in 1979, some of its leaders made noises about the need to destroy the pagan structures at Persepolis, with its many idolatrous elements, but saner heads prevailed and the ruins have survived. In Egypt, Islamists set off a small explosion at Luxor Temple in about 1991.The Taliban rulers of Afghanistan did in fact destroy a giant statue of the Buddha at Bamiyan in March 2001. The Saudi rulers in recent years have destroyed ancient buildings and sites in Mecca and Medina (for a shocking account of this, see Daniel Howden, "The destruction of Mecca: Saudi hardliners are wiping out their own heritage").[Apr. 21, 2006 update: The Malaysian government has just overseen the destruction of Malaimel Sri Selva Kaliamman, a centuries-old Hindu temple in Kuala Lumpur.]
Now word comes that Ali Gomaa, the grand mufti of Egypt issued a fatwa ruling that the exhibition of statues in homes is prohibited. Although he did not mention statues in museums or public places, some Egyptians fear that the ruling could encourage attacks against the thousands of Pharaonic statues both in situ and in museums. Worries Gamal al-Ghitani, editor of the literary magazine Akhbar al-Adab: "We don't rule out that someone will enter the Karnak temple in Luxor or any other pharaonic temple and blow it up on the basis of the fatwa."
Comments: (1) It is bad enough when Islamist regimes threaten or actually do destroy historical, cultural, and artistic artifacts; have we now reached the point that even standard-issue Muslim regimes feel compelled to take such steps?
(2) One wonders how this fatwa might influence the return of Egyptian antiquities from abroad; museums and others are not likely to send the precious cargo to Egypt if there is any prospect of their being destroyed. (April 3, 2006)
Apr. 11, 2006 update: Youssef Ibrahim, a writer of Egyptian origins, rues what the Gomaa fatwa might lead to:
Should we prep for a Taliban-style orgy in Egypt? Melting gold statues of King Tut (Tutankhamen is his full name); smashing Cleopatra images; dynamiting the magnificent temples of Karnak; blowing up the Valleys of the Kings and Queens in Luxor; bulldozing the majestic Fila temple; burning Roman, Greek, and early Christian icons, and sacking treasures of civilization in Egyptian museums up and down the Nile Valley?
Ibrahim notes that Gomaa "is no lightweight" but someone who carries much clout in Egypt. Further, some leading religious figures "rushed to his support," including Yusuf al-Qardawi, an Egyptian who lives in Qatar and is considered by some the most influential Sunni mufti alive, who wrote that Islam has "proscribed all that leads to paganism or smells of it – statues of ancient Egyptians included."
That no one of importance has stood up to this fatwa, Ibrahim concludes, "is catastrophic."
Apr. 18, 2006 update: As the fatwa continues to be debated, Mohsen Said of Egypt's Supreme Council for Antiquities makes the obvious point: "We display statues so they can be studied and so people can get to know their heritage. This is Egypt's national heritage. We don't display them for worship." Ayman Semary, a sculptor and art professor, questions the timing. "When Islam came to Egypt, [the Muslim invaders] never damaged any Pharaonic statues. How can Ali Gomaa now say that statues are forbidden?" It is yet to be seen if these arguments prevail.
Apr. 20, 2006 update: The Egyptian government arrested a gang of 22 Islamists, young men ranging in age from 18 to 31, accusing them of plotting to bomb tourist sites and other targets. According to an Interior Ministry statement, "Information, documents and discussions [with the arrested men] confirmed that they had studied the execution of operations against tourist sites, and against the natural gas pipeline on the circle road which surrounds greater Cairo."
May 9, 2006 update: Heba Saleh of the BBC places the anti-statue fatwa in the context of the increasing Egyptian hunger for fatwas in "Egyptian row over statue fatwa."
June 14, 2006 update: Ali Gomaa seems to have relented. "Even though we know statues are forbidden, we would never destroy our pharaonic monuments," the grand mufti is quoted telling American editors in May.
June 18, 2006 update: Well, the first attack on statues has just taken place, though not against antiquities. Screaming "Infidels, infidels!" a black-clad and veiled woman went on a rampage at a museum of the sculptor Hassan Heshmat, 86, in Cairo in the middle of the night. Guards, woken by the woman's shouts and by the sounds of her destruction, managed to stop her but not before she damaged three artworks. "It was a fully covered, religious woman," said an attendant at the museum. "She had jumped over the wall. We rushed out to stop her but by the time we had overpowered her, she had destroyed three statues. … She had been listening to the mufti, and was following his orders." The damaged works, writes Harry de Quetteville in the Daily Telegraph, "included Motherhood, a piece featuring three delicately carved heads, all of which had been snapped off. Also damaged was a smaller piece, The Victory Leap, Heshmat's tribute to Egyptian troops in the 1973 Yom Kippur war."
May 7, 2010 update: Egypt seems to have weathered the fatwa against statues without too much damage, so along comes a new danger to culture: lawyers against fantastical stories. At issue is Alf Layla wa-Layla, or The Thousand and One Nights, the fourteenth-century collection of folk tales.
The literary classic, which features characters such as Sinbad the Sailor, Aladdin and Ali Baba and the Forty Thieves, was described by the group as a call to "vice and sin." … But a recent republication triggered controversy and calls to ban the new version on the basis of depiction of sexuality and use of offensive language, according to Al Arabiya [television]. "I was shocked at the offensive phrases it contains," said Ayman Abdul-Hakim, member of Lawyers without Shackles, the non-governmental group that filed a complaint with Egypt's Prosecutor General calling for the withdrawal of the new edition from the market and for banning the book altogether. Mr Abdul-Hakim said the book was "a waste of public money" and that several references to sex in the book and were "calls to sin".
Comment: This attempt to ban the Nights neatly showcases the difference between traditional Islam and radical Islam.
Dec. 26, 2011 update: For another sort of destruction in Egypt, see my weblog today, "L'Institut d'Égypte – In Memoriam."
July 11, 2012 update: "Calls to Destroy Egypt's Great Pyramids Begin" writes Raymond Ibrahim today, citing several reports in the Arabic media:
prominent Muslim clerics have begun to call for the demolition of Egypt's Great Pyramids—or, in the words of Saudi Sheikh Ali bin Said al-Rabi'i, those "symbols of paganism," which Egypt's Salafi party has long planned to cover with wax. Most recently, Bahrain's "Sheikh of Sunni Sheikhs" and President of National Unity, Abd al-Latif al-Mahmoud, called on Egypt's new president, Muhammad Morsi, to "destroy the Pyramids and accomplish what the Sahabi Amr bin al-As could not."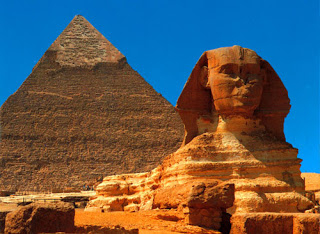 The Spinx and a Pyramid.

Nov. 12, 2012 update: Murgan Salem al-Gohary, 50, an Egyptian Islamist sentenced to life in prison under Mubarak but now free, has called for the destruction of the Sphinx and the Giza Pyramids. "All Muslims are charged with applying the teachings of Islam to remove such idols, as we did in Afghanistan when we destroyed the Buddha statues. … God ordered Prophet Mohammed to destroy idols. When I was with the Taliban we destroyed the statue of Buddha."
Feb. 24, 2013 update: They are not antiquities, but statues of possibly the two most outstanding Egyptian cultural figures of the twentieth century, Taha Hussein and Umm Kalthoum, have been, respectively, vandalized and desecrated in the towns of Mansoura and Minya. Hussein was classically educated in Islam at Al-Zahar and became a bold thinker as well as leading belle lettrist; Umm Kalthoum sang Arabic music with sublime beauty. Ariel Ben Solomon reports from the Egyptian press that his statue was decapitated and hers veiled in recent days, presumably by Islamists.