Random House, a unit of Bertelsmann AG, has announced that is has canceled publication of a novel, The Jewel of Medina, by Sherry Jones, that was to be published on August 12. The novel concerns the child wife Aisha of the Islamic prophet Muhammad. Random House made no bones about its reasons in doing so, with Deputy Publisher Thomas Perry stating that Random House received "cautionary advice not only that the publication of this book might be offensive to some in the Muslim community, but also that it could incite acts of violence by a small, radical segment." Therefore, he went on, "In this instance we decided, after much deliberation, to postpone publication for the safety of the author, employees of Random House, booksellers and anyone else who would be involved in distribution and sale of the novel." Perry indicated that Jones is now free to shop her manuscript elsewhere.
I note this story because I had the same experience way back in 1989, minus the publisher's willingness to acknowledge why my book, The Rushdie Affair, had been canceled. Here is an excerpt from a contemporaneous account by Edwin McDowell in the New York Times:
Random House's planned cover for Sherry Jones' "The Jewel of Medina."

In April [1989], Basic Books, which had published one of Mr. Pipes's three books on the Middle East, sent him a contract for the book, which it planned to publish next spring.

In May, Mr. Pipes submitted the finished manuscript, titled "The Ayatollah, the Novelist and the West." Three weeks later, he received a phone call from Martin Kessler, the president and publisher of Basic Books, telling him that the contract was canceled. "He indicated he was not happy about the cancellation," Mr. Pipes said. …

Mr. Pipes said Harper & Row had allowed him to keep the advance and to place the manuscript elsewhere. "In that sense, I'm not an aggrieved author," he said. "But I'm appalled by the implications for general publishing." …

George Craig, the chief executive of Harper & Row and Collins, said Mr. Kessler made the decision alone to cancel the Pipes contract after Harper's marketing department convinced him the book would not be profitable. Mr. Craig said the decision to cancel The Rushdie File was made by the Collins managing director, also on commercial grounds. Mr. Kessler did not return telephone calls yesterday or Monday.

Mr. Craig denied that Harper & Row and Collins had any prohibition against books about Islam or the Rushdie incident.
Comment: Once again, an appeasing pattern of behavior that suddenly began in 1989 with the edict against Salman Rushdie shows up as standard practice two decades later. (August 7, 2008)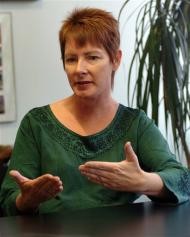 Sherry Jones, author of "Jewel of Medina."