I had a chance to attend yesterday's Republican Party fundraiser in Bryn Mawr, featuring George W. Bush. The event, dedicated to building Rick Santorum's war chest as he goes into the 2006 Senate elections, was expected as recently as June 2 to bring in under a million dollars, but a last-minute surge in interest took it much higher. A clearly happy Santorum told me he expects the gate to top $1.5 million. The Philadelphia Inquirer reports that about one thousand persons turned up and the event raised $1.7 million, making it Santorum's biggest campaign event to date.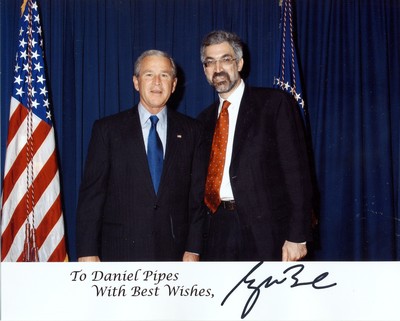 Souvenir of my visit.
But what was great news for the campaign and the party turned out to have a downside for those of us who attended the event. First, it did not help that the temperature topped out at 94º just as the 11 a.m. – 1 p.m. event took place; that heat, plus the multitudes overtaxed the air-conditioning inside the house and turned the lawn-tent where the speeches took place a sauna. The advertised "luncheon reception" turned out to be cold pasta, salad, and dips meant the crowd was hungry as well as hot. Then, it had to wait in the scorching sun for 15 minutes after the president had left for security reasons. Finally, the system of bus shuttles taking guests to their cars at satellite parking lots broke down, leaving most donors in the sun for another hour or so.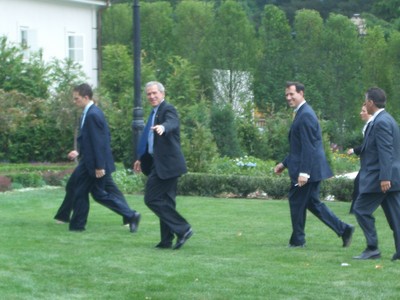 Bush leaves the event, followed by Senator Rick Santorum.
It was not a bad experience – lots of socializing took place under the sun – but it was a memorably challenging one. My advice? Try to hold fundraisers in cool weather, when a great crowd means good news for all. (June 15, 2005)