While niqabs and burqas remain highly contentious in the West, the hijab is becoming an accepted part of the landscape. Most strikingly, it has become part of the official uniform of various institutions, public and private. This weblog entry keeps an eye on that trend.
---
"Met lets Muslim policewomen don headscarves": An initiative of the Metropolitan Police (i.e., London's police) has led to on-duty Muslim policewomen having the option of wearing a hijab in the Met's colors. (Plain clothes female officers can wear their choice of hijabs.) Indeed, the force has approved four different styles of hijab. (April 25, 2001)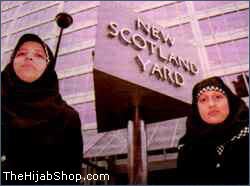 Metropolitan Police officers modeling uniform hijabs.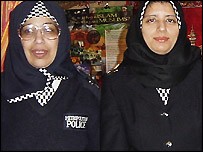 More Metropolitan Police uniform hijabs being modeled.
"IKEA Headscarf for Female Muslim Staff": In what is apparently a first in the Western world, management at the new IKEA store in north London commissioned TheHijabShop.com specially to designed a hijab to accommodate its female Muslim staff. Navy blue with yellow trim, it carries the IKEA logo, discreetly sewn into the back. IKEA required that it be comfortable wear, with no flowing material or pins while meeting Islamic requirements. The result is a two-piece unit, a cap covering the head and a cloth fitting over the cap and going down to the neck, shoulder, and chest. (August 25, 2005)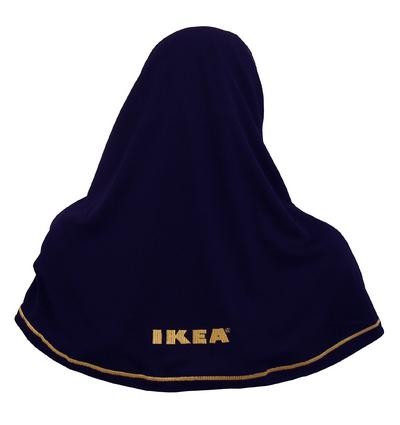 IKEA's hijab, complete with company logo.
"Police adopt uniform hijab": The Leicestershire Constabulary in Great Britain have incorporating a hijab into the police uniform for female officers on patrol in the hopes that more Muslim women will apply to the force. The hijab is plain black and made out of flame-retardant material. It is to be worn below a standard police hat. Leicestershire appears to be the third U.K. police force to take this step, after the Metropolitan and Thames Valley. (January 31, 2009)
"'Ethnic' fire uniforms launched": Note the delicate phrasing – the entire article rigorously avoids any mention of Islam or Muslims, instead referring to "an ethnically diverse workforce," "the widest possible range of people," "designed to reflect religious and cultural sensitivities," and "cultural beliefs are being recognised." However worded, the important thing is that fire brigades in England all now have the option to purchase the uniform, which also includes maternity, sportswear, and formal variants. (March 30, 2009)
New fire-fighting uniforms for women, available to brigades across England.
"Sweden: Pharmacy chain offers company headscarves": Apoteket, the Swedish pharmacy chain, will offer its staff a new uniform next month that, for the first time, includes headscarves with the company logo. (August 11, 2009)
"Sjekk dette Kiwi-antrekket": The Norwegian grocery store chain Kiwi has designed a hijabi uniform for its staff. (August 31, 2012)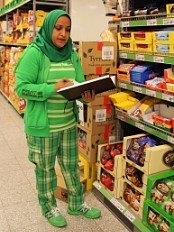 Kiwi's fetching green hijab uniform.
"Edmonton police set to unveil official hijab that Muslim officers can wear on duty": The headscarf will be black, worn underneath the standard police cap, affixed with tear-away snaps, and designed so as not to get in the way during a struggle. The Canadian military already offers a hijab option. (November 24, 2013)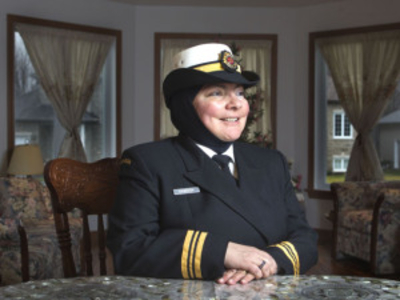 Wafa Dabbagh, a lieut. commander in the navy, was the first Canadian military woman to wear a hijab.
Mar. 2, 2014 update: The city of St. Paul, Minnesota, allows a female Muslim officer, Kadra Mohamed, to wear a hijab while on duty.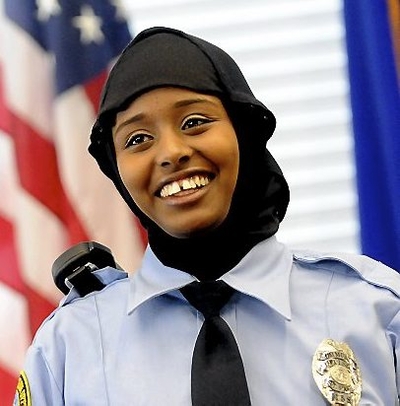 Kadra Mohamed, the first St. Paul officer to wear a hijab while in uniform.
"John Lewis's new line, hijabs to wear at school": The upscale British department store chain John Lewis marks the back-to-school season by offering hijabs in the school uniform departments in London and Liverpool for the first time. The chain signed contracts with two schools – the Islamia Girls' School in north-west London and Belvedere Academy in Liverpool. As the Daily Mail observes, "the fact that a mainstream retailer is starting to stock the hijab alongside blazers and blouses is likely to be welcomed as a breakthrough by Muslim parents who have so far had to rely on specialist shops." A white hijab sells for £9. (August 15, 2014)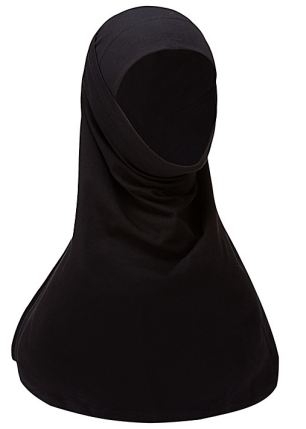 A school uniform hijab advertised in the John Lewis' catalogue.
RCMP allows Muslim women Mounties to wear hijabs: At least some of the Royal Canadian Mounted Police will no longer be wearing the famed and distinctive wide-brimmed hat dating to the nineteenth century. (August 24, 2016)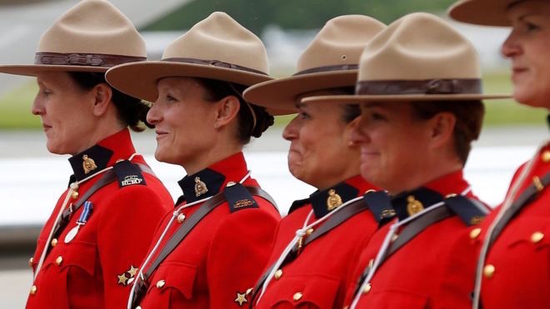 The traditional hat will, for some female Mounties, be history.
Burqas on English policewomen: Chief Constable David Thompson of the West Midlands Police said his force has "no barriers" against the burqa as part of a policewoman's uniform in its effort to increase black and minority ethnic officers to 30 percent of the staff. (September 9, 2016) Comment: I find this jaw-droppingly astonishing and appalling. I am otherwise speechless.