It's about as official as can be: in the words of an Associated Press end-of-year story, "Events in the Mideast shaped much of how we [Americans] viewed 2006."
As voted by AP members, only one of the top 10 news stories of 2006 (#5, Congressional scandals) had nothing to do with the Middle East. Five of them were entirely Middle Eastern or Muslim in content (#1 Iraq; #6 Saddam Hussein convicted and executed, #7 the still-unnamed Lebanon war during the summer, #9 the London airliner plot, #10 the disaster in Darfur). Four of them were in substantial part Middle Eastern or Muslim (#2 the U.S. elections, #3 nuclear standoffs with North Korea and Iran, #4 illegal immigration, #7 Donald Rumsfeld resigns as secretary of defense).
Comments: (1) This domination of the news is not a sudden thing but has been building over decades; though less dramatic the case, I recall the Middle East having an outsized media presence when I entered the field in 1969 – and that was before several Arab-Israeli wars, the 1973-74 oil crisis the Iranian revolution, the Kuwait war, and other mega-events.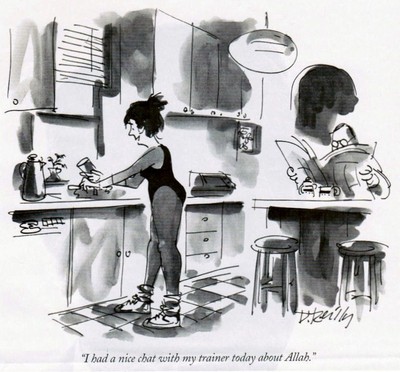 As this "New Yorker" cartoon from 1997 suggests, Middle Eastern and Islamic issues were high profile even before 9/11.
(2) This prominence does not mean that the Middle East and Muslims are more important than other regions and peoples, but that they are more in ferment. Little breaking news came out of the Soviet Union in its time or China today, but endless twists and turns take place in – and are reported prominently from – Gaza or Iraq. (December 31, 2006)
Sep. 6, 2010 update: Another indication, this in the White House, as reported by New York Times columnist Roger Cohen:
I was in the White House a few weeks back for a pleasant chat with Denis McDonough, the National Security Council chief of staff, and was struck by the red digital clock on his wall showing times in critical spots around the globe. … McDonough's list begins with Washington and Potus (the President of the United States), followed by … Kabul, Baghdad, the Yemeni capital of Sana, Jerusalem and Tehran.