In the seriousness of battling pan-Arabism and Islamism at New York's Khalil Gibran International Academy, I never took up the subject of Khalil Gibran (also spelled "Kahlil Gibran") himself, other than to note that the "Friends of Gibran Council" denounced the appropriation of the poet's name for this school.
In fact, Gibran offers KGIA excellent cover, for as a misty-minded sometime-New York City-resident Christian poet who lived 1883-1931, he had nothing to do with either of those political movements but wrote what the poet Anthony Hecht called "sentimental, corny, sloppy, semi-erotic, tasteless but popular stuff." I call it tripe.
One can get a taste of Gibran's fatuousness from the quote of his that the academy chose to ornament its website: "The teacher who is indeed wise does not bid you to enter the house of his wisdom but rather leads you to the threshold of your mind."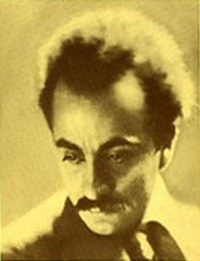 The brooding poet, Khalil Gibran (also spelled Kahlil Gibran)
Gibran's popularity peaked in the 1960s and 70s, when his book,
The Prophet
, appealed to many in the counterculture. The
Weekly Standard
's editors recall in today's issue
what it was like to go to a certain kind of wedding in the 1970s, where the only thing wider than the lapels on the groom's powder-blue tux were his exuberant sideburns, and where either just before or just after the flute soloist played "Color My World" came the reading from Kahlil Gibran. Invariably it was the passage from his most popular book, which purported to be about marriage while actually green-lighting infidelity (no doubt explaining why the hippies revived this minor literary figure from the 1920s): "Love one another, but make not a bond of love: let it rather be a moving sea between the shores of your souls. Fill each other's cup but drink not from one cup. Give one another of your bread but eat not from the same loaf. …"
Coincidentally, Gibran is topical at the moment, thanks to the publication this month of The Collected Works of Kahlil Gibran by Random House's Everyman Library imprint. Random House lauds the poet's "powerful simplicity and wisdom." For his part, Alan Jacobs, professor of English at Wheaton College, welcomes the tome with a memorable review that sweetly but wickedly parodies the poet's style, lamenting both the book's publication and its 986-page length.
The mischievous parodist, Alan Jacobs.

Expansive and yet vacuous is the prose of Kahlil Gibran,
And weary grows the mind doomed to read it.
The hours of my penance lengthen,
The penance established for me by the editor of this magazine,
And those hours may be numbered as the sands of the desert.
And for each of them Kahlil Gibran has prepared
Another ornamental phrase,
Another faux-Biblical cadence,
Another affirmation proverbial in its intent
But alas! lacking the moral substance,
The peasant shrewdness, of the true proverb.

O Book, O Collected Works of Kahlil Gibran ,
Published by Everyman's Library on a dark day,
I lift you from the Earth to which I recently flung you
When my wrath grew too mighty for me,
I lift you from the Earth,
Noticing once more your annoying heft,
And thanking God—though such thanks are sinful—
That Kahlil Gibran died in New York in 1931
At the age of forty-eight,
So that he could write no more words,
So that this Book would not be yet larger than it is.
(October 29, 2007)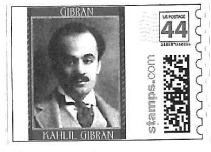 ADC's notion of a Khalil Gibran stamp.
Nov. 9, 2012 update
: The
American-Arab Anti-Discrimination Committee
is promoting a "Sign the Petition for a Kahlil Gibran US Postage Stamp!" and even displays a mock U.S. postage stamp. From what ADC has to say about Gibran, it would seem that the organization has no literary critics on staff – or that ethnic pride drowns out its critical facilities. Among its more colorful claims about the Poet to the Hippies:
Gibran holds a valuable place as the immigrant voice in America. Arab Americans and Arabs have long ago claimed Gibran's achievements as their own, proudly holding his life and works close to their hearts.
[Gibran] contributed immensely to American and world literature. He remains one of the most renowned literary figures in American history. His various works of poetry and prose have become models of writing excellence for scholars and students around the world.
The Gibran commemorative stamp will not be the first. That honor appears to go to Dubai, which issued a Gibran stamp way back in 1972.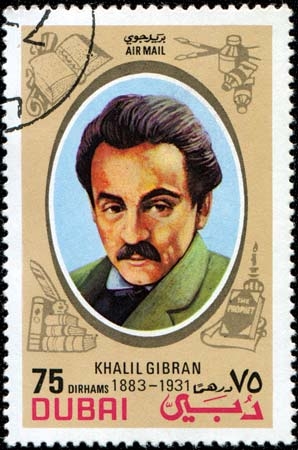 A new stamp will no doubt inspire bushels of new Gibran-style doggerel. One connoisseur has helped start the process with this cheery, up-to-date satire:
My love,
Your eyes
Are like really super large coffee beans,
Genetically modified
To quicken my heart.
Like morning coffee
Picked by impoverished Colombians.
But rich in love are we.
I can't wait to hear this masterpiece recited at a forthcoming wedding.
Mar. 24, 2015 update: Salma Hayek, renowned for her success with The Lion King, has created an animated version of The Prophet that will open later in 2015. As Variety describes it, the film "portrays the unlikely friendship between a young mischievous girl and an imprisoned poet. The film has distilled the 26 poems in Gibran's 1923 classic into a collection of eight animated films from eight directors."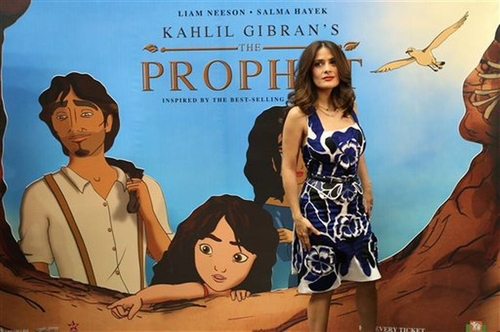 Selma Hayek standing in front of a poster for her movie of "The Prophet."
Apr. 27, 2015 update: Hayek explains that her film has a "message of peace." To be more precise: "I think the whole world could use a little bit of message of peace, and more than a message of peace, to watch something that's uplifting for the spirit and joyous, and that you can share with your family." She calls Gibran "an Arabic writer who wrote philosophy and poetry and who brought all religions and the world together."