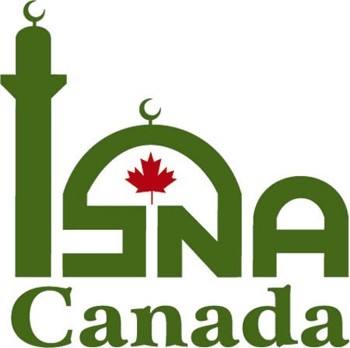 ISNA Canada's logo.
The Islamic Society of North America's Canada branch, Jesse McLean of the
Toronto Star
reports in "
Muslim charity squandered money for poor
," has engaged in gross mismanagement. A 2010 audit of the prior four years carried out on behalf of the ISNA Canada board found that of C$810,777 collected in a special pool of Zakat and Fitrah money for "helping needy Muslims not only in Canada, but all over the World", less than one-quarter, or $196,460 actually went to the poor. The remaining $614,000 went for what the audit delicately calls "administration of the centre" by its 30-plus-year Secretary General Mohammad Ashraf, a 73-year-old microbiologist.
The auditor, Fareed Sheik, discovered a long list of abuses. He
took issue with how charity cash was used to cover … health benefits for Ashraf's daughters, even though they don't work for ISNA Canada. … The audit shows tens of thousands of charity dollars were shuffled from ISNA Canada to its affiliated services and businesses, several of which have secretary-general Ashraf as a director. …

The auditor also uncovered multiple cases where Ashraf or the organization inappropriately gave and received charity tax receipts, repeatedly violating federal charity rules. In a review of the financial statements for the halal meat certification agency, a business branch of the Society that certifies meat as permissable to eat under Islamic rules, the auditor discovered Ashraf had received a $15,000 tax receipt after moving money from the agency's business account over to ISNA Canada and claiming it was a "personal donation." Former board members told the Star Ashraf diverted profits from the certification agency to a secret account from which he paid himself and at least two family members. …

The agency's funds were also used from 2005 to 2009 to pay Ashraf's wife and one of his daughters nearly $150,000 for a handful of services, from consulting and promotions to putting together a newsletter that comes out four times a year, according to financial statements. There were also three cases where people received charity tax receipts from ISNA Canada for repaying scholarship loans. … The Society also issued charity receipts — more than $42,000 in 2009 — to those who purchased funeral services through the organization. …

Mohammad Ashraf, 73, a microbiologist, has served as ISNA Canada's secretary general for over 30 years.

The organization had a world-renowned Islamic scholar on its payroll, despite her not actually working for ISNA, in a bid to help her immigrate to Canada, the audit revealed. Farhat Hashmi had been invited to come from Pakistan to deliver lectures several times throughout the mid-2000s. "This is a serious violation of the (Canadian Revenue Agency) rules and immigration rules to hire someone just in the books to help get through immigration," the auditor's report said.
And this may not be all, for ISNA's management refused to give the auditor some documents. Consequently, Sheik noted, "I was not able to follow the trail of funds transferred from ISNA to other organizations. Hence I cannot conclude with certainty that there has been no misappropriation or embezzlement of funds or cash."
Comment: Islamic "charities" already have a notorious reputation because of their ties to terrorism; this case shows that they must be watched for more venal problems as well. (January 20, 2011)