U.N. Security Council Resolution 2249, passed unanimously on Nov. 20, sums up the consensus that the Islamic State (aka ISIS, ISIL Daesh), poses a mortal danger to civilization by calling it an "unprecedented threat to international peace and security." There's also a widespread sense that ISIS will be around for a long time; for example, Barack Obama has predicted that the fight against it will be "a long-term campaign." Permit me to disagree strenuously on both counts.
On the first: ISIS is not exactly the equivalent of Nazi Germany. It's a little bug that the powers could quash at will if they put their minds to it. It survives only because no one really takes it seriously enough to fight with ground troops, the only gauge of an intention to prevail.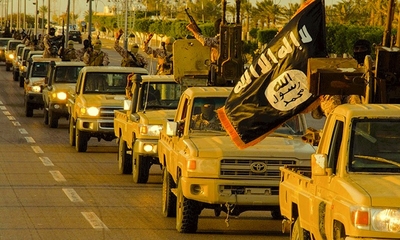 ISIS' Toyotas hardly make it a fearsome force by world standards.
On the second: Between its alienation of its subject population and its gratuitous and unrestrained violence toward foreign countries, ISIS has made enemies of nearly everyone. Recent days alone have seen attacks on three powerful states: Turkey (the bombing in Ankara), Russia (the airliner over Sinai), and France (the attacks in Paris). This is not a path for survival. Friendless and despised, its every success shortens its life.
Contrary to other analysts, I foresee that ISIS will disappear without warning and as abruptly as it arose. This could follow on some combination of internal revolt, internecine feuds, economic collapse, and external attack.
And when that happy day comes, we can all focus on the real "unprecedented threat to international peace and security," namely nuclear weapons in the hands of Iran's apocalyptic leadership. (December 5, 2015)
Dec. 29, 2015 update: ISIS is in geographic retreat. According to the New York Times, it "has lost as much as 40 percent of the Iraqi territory it conquered last year."
June 28, 2016 update: Brett McGurk, who regales in the title of "Special Presidential Envoy for the Global Coalition to Counter ISIL," says ISIS has lost 47 percent of the territory it had controlled in Iraq and had gone from an estimated 33,000 fighters in 2014 to 18-22,000 now. Also,
ISIL's morale is plummeting. We have seen credible reports of ISIL executing its own fighters on the battlefield. Whereas it once claimed to represent the people under its control, it is now executing anyone seeking to leave its control. Whereas it once massed and maneuvered at will across Iraq and Syria, it can no longer operate in the open, train, or communicate.

Whereas it once promised lavish pay for recruits, and free services in its "caliphate," it is now slashing pay, cannot provide services, and is facing internal resistance. We know from other sources, as well, that ISIL fighters are panicking on the battlefield, foreign recruits are now looking to return home, and leaders are struggling to maintain discipline, even despite the threat of execution for disobedience.