Supplementary information not used in my article today, "Obama's Mansion, Saddam's Money":
(1) John A. Shaw, "From Baghdad to Chicago: Rezko and the Auchi empire," offers much information on Auchi.
(2) WorldNetDaily.com published an unsigned article, "Did Saddam bagman help Obama purchase mansion? Photo confirms Rezko financier in bed with late Iraqi tyrant," that asserts many new points salient to the Barack Obama-Saddam Hussein connection. Concerning Auchi, it asserts that:
Auchi and Saddam Hussein were cousins.
Auchi joined Saddam Hussein's regime as an official in the Ministry of Oil in 1967.
Auchi began bankrolling Rezko's real estate deals in the 1980s.
The 2004 Pentagon report quoted in my article also: (1) Called Auchi someone "who behind the facade of legitimate business, served as Saddam Hussein's principle international financial manipulator and bag man." (2) Stated that "significant and credible evidence has been developed that Nadhmi Auchi has engaged in unlawful activities," such as bribing "foreign governments and individuals prior to Operation Iraqi Freedom to turn opinion against the American-led mission to remove Saddam Hussein." (3) Accused him of helping to "arrange for significant theft from the U.N. Oil-for-Food Program to smuggle weapons and dual-use technology into Iraq."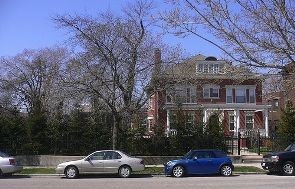 The Obama mansion in the Kenwood district of Chicago.
Concerning Rezko:
Rezko personally toured with Obama the house that Obama bought and advised Obama on the negotiations to purchase the house.
In 2005, at the time of his empty lot purchase, Rezko was "virtually bankrupt."
Obama attended two events hosted by Rezko honoring Auchi in 2004, one at the Four Seasons Hotel and another at Rezko's house; Michelle Obama also attended the latter occasion.
Comment: These additional pieces of information significantly confirm my conclusion that Obama "personally benefited from funds originating in Saddam Hussein's regime." (October 29, 2008)
Dec. 2, 2011 update: Rezko has been sentenced to ten years in jail on corruption. Larry Bell explores the political implications at "Chicago Corruption Trials and the Sounds of Silence."
Dec. 30, 2012 update: John A. Shaw continues to pursue this story. See his "Arab Money and the Purchase of a President," which reports that "Auchi is believed to have maintained ownership of significant assets in Chicago, where Rahm Emanuel, once Obama's Chief of Staff, now serves as Mayor."