Muslim women have concocted an ingenious defense for when they are caught engaging in criminal activity - Islamic law made them do it. Sometimes the ploy works, other times not.
---
Falsify an insurance claim: The lawyer for Fadime Cubuk, 26, admitted she was wrong to falsify an insurance claim after a fire at the family's kebab shop two years ago, the Australian Associated Press reports from Melbourne. But, as a devout Muslim woman, she felt the Koran requires her to obey her husband, who ordered her to do this. The possibility of ignoring her husband's demands, he said was "very, very difficult given the position she was in with her culture and upbringing." According to her faith, the lawyer continued, criticizing or refusing a husband was "absolutely forbidden" and could result in beatings, admonishment and the withdrawal of sexual favors. It will be interesting to learn the verdict on this one. (June 15, 2003) June 19, 2003 update: Well, it worked. The AAP reports that County Court judge Bill White suspended the sentence on Cubuk because she had been following her "family and cultural upbringing" when she helped her husband engage in crime. "The court was told you were raised in a culture and religion requiring you to obey your husband," the judge observed.
Money laundering: The same ploy worked less well for October Martinique Lewis of the "Portland Seven" group. She reached an agreement with federal prosecutors that, in exchange for leniency, she would plead guilty to six counts of money laundering in connection with sending money to her ex-husband, Jeffrey Leon Battle as he and five other Portland-area Muslims attempted to reach Afghanistan and join the Taliban. At her sentencing hearing, The Oregonian reports, her attorney, Jack Ransom, wrote that "Consideration must also be made for the role of the woman in a Muslim marriage. She had to perform whatever chores he told her to perform, and therefore, had no choice but to send him money." U.S. District Judge Robert E. Jones then questioned Lewis along these lines and learned from Lewis that "A Muslim man does not tell his wife everything. A man's business is his business. A lot of times he will not comment to his wife about what he is going to do." Her lawyer then explained (rather preposterously) that although legally divorced from Battle before he left Portland for Afghanistan, she still lived as his wife under Islamic tenets and "saw it as her duty" to support him. Nice try, but the judge wasn't swayed. He sentenced her to three years in a federal prison work camp. (December 2, 2003)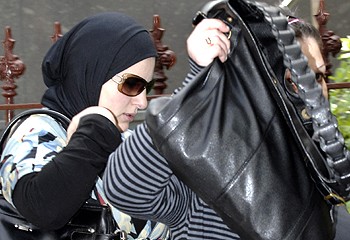 Shahida Karim-Hawchar says the Shari'a is to blame for her selling stolen cars.

Fencing stolen cars: Back to Australia, where Shahida Karim-Hawchar, 24, tried to convince the County Court that she sold stolen cars because it was her duty to obey her father, Omar Zayden, and husband, Imad. Her lawyer, Tom Danos, explained: "This was a religious Muslim family, where the hierarchy was the father, the husband, and then the wife. It's an additional pressure on her to be involved." Judge Felicity Hampel did not buy the argument: "It's a very sad and debasing thing to hear it suggested that adherence to a religious tenet can justify criminal behaviour. I don't accept that Islam requires a daughter to obey a directive of the husband or the father, where the directive involves the commission of a criminal offence." (October 5, 2007)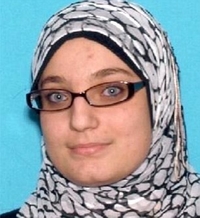 Linda Hardan, teacher.

Statutory rape: Linda Hardan, 22 and a substitute high school teacher in New Jersey, pleaded guilty to sending sexually explicit texts and engaging in sex acts with three students ages 14 and 16 in 2014. In one case, she "sent 40 selfies of herself 'in varying states of undress' to a 14-year-old then drove him to a waterfall and performed a sex act on him," writes Simon Holmes for the Daily Mail.
She reached a deal with prosecutors that included five-year jail sentence. But then Passaic County Superior Court Judge Miguel de la Carrera was convinced by her that her strict Muslim upbringing meant she never learned "how to interact with guys her age" should be considered "mitigating factors." De la Carrera
noted that Hardan's formative years had left her sheltered and emotionally stunted. "She had classmates and friends, but somehow, perhaps because of limitations on her dating life, she didn't find the proper outlet among males of her own age," he said. 'She did not learn how to interact with guys her age,' the judge continued.
Accordingly, he reduced her sentence to three years. (January 26, 2017)
Mar. 24, 2017 update: There's a new defense, available to women and men alike: Islamophobia made me a criminal. Patrick Poole parses the claim at "Ohio: Accused Killer Nasser Hamad Invokes Islamophobia Defense in Double Homicide."