Americans tend to think that their Civil War of 1861-65 finally and forever ended the presence of slavery in the United States. In fact, various forms of trafficking in people, indentured servitude, and forced labor continue illegally to exist.
Those modern-day slaves tend to be female immigrants hired to provide household work who find themselves barred from leaving, forced to work long hours, denied medical care, beaten, and raped. Their employers, as USA Today noted in 2001, tend to be influential and trusted figures, many of whom "are foreign-born residents of the USA." Indeed, American laws permit foreign diplomats and professionals to sponsor household workers to enter the country with them.
My article "Saudis Import Slaves to America" lists instances of Saudi immigrants to the United States accused or convicted of holding slaves - Homaidan Ali Al-Turki and Sarah Khonaizan, Turki Bin Abdul Aziz, Abdulrahman S. Al-Banyan, Saad Bin Abdul-Aziz Al Saud and his wife Noora, Hana Al Jader.
This entry provides information on new cases, including non-Saudi instances and non-American ones.
---
Abdelnasser Eid Youssef Ibrahim, 45, and his former wife Amal Ahmed Ewis-abd Motelib, 43: The Egyptian immigrants, living in Irvine, California, pleaded guilty today to four felonies in a child slave case. They admitted bringing a 10-year-old Egyptian girl in 2000 to the United States and making her work as a servant for up to 16 hours a day, seven days a week, to their family of seven during August 2000-April 2002. Each of them pleaded guilty to conspiracy, holding a person in involuntary servitude through force or coercion, obtaining labor through unlawful force or coercion, and harboring an illegal immigrant (her visitor's visa expired after six months). The two have agreed to pay the girl $101,516 in restitution. They will be sentenced Oct. 23 and could be sentenced to as much as 50 years in prison, though 3 years is expected. The couple acknowledged threatening to send the girl back to Egypt, slapping her, and calling her names. She lived in squalor in an unlit, unventilated 12-by-8-foot area in the garage, was forbidden from going outside, much less allowed to attend school or see a doctor.
The story behind this case is of interest. Here is how Rachanee Srisavasdi describes it in the Orange County Register:
In 1999, the girl's older sister was working for Ibrahim and Motelib. The pair told the girl's parents that they caught the sister stealing and threatened to report her unless her younger sister worked for them. So the parents decided to allow their younger daughter to work as a domestic servant. The parents agreed to pay 100 Egyptian pounds – about $30 – monthly to Ibrahim and Motelib for 10 years. Once here, the girl's passport was taken. She didn't receive any money and had to work as a nanny and housekeeper.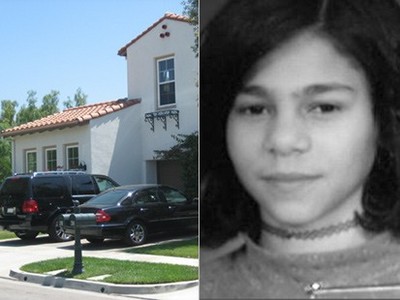 Where Shyima lived in Irvine, Cal.; her picture, aged 9.
As a postscript, the girl, now 16, has decided to stay in the United States and has received a green card. A ward of Orange County Superior Court, she is living in foster care, taking summer school classes, and plans to attend college. Assistant U.S. Attorney Robert Keenan said she has not been back to Egypt and doesn't want to return. (June 30, 2006)
Oct. 23, 2006 update
: U.S. District Judge James Selna
sentenced
Ibrahim to three years in federal prison and Motelib to 22 months. They must pay their victim more than $76,000 in restitution, being the money the girl should have been paid during her two years of work for their family. The two will be deported after serving their sentences. U.S. Attorney Debra Yang confirmed that, "As a result of recent changes in federal law [the girl] has been granted a visa that will allow her to stay and hopefully prosper in the United States."
July 30, 2007 update
: ABC News has done a Primetime segment on this case, with much
information about the enslaved girl
. Her name is Shyima, she is one of twelve children from a destitute part of Alexandria, she relocated with the Ibrahims in August 2000 to a gated community in the wealthy Northwood district of Irvine, California, and her paperwork claimed she was "a student" on vacation who would stay in the United States just one month. She worked long hours every day, washing dishes, cleaning laundry, and cleaning house. She lived alone in a small, dirty room of the Ibrahims' garage with no heating or air conditioning. She slept on a mattress and washed her clothes in a bucket. She could neither socialize with the family nor leave the house. She knew no English. This regimen lasted for 16 months, until April 9, 2002, when an anonymous tip brought a detective to the house and the whole story unraveled. Chuck and Jenny Hall invited Shyima to their home and adopted her. Shyima learned English and now attends school. "She recently got her driver's license, runs track at school, and attended the senior prom this past spring."
Abdenasser Ennassime and his wife, Tonya, both immigrants from Morocco, were arrested in the Tacoma, Washington, area after being indicted. He is charged with one count of harboring an alien and one count of forced labor; she is just charged with harboring an alien. The alien in question is Lamia Ennassime, 17, the daughter Abdenasser's brother. Lamia arrived to her uncle and aunt at the age of 12 in September 2001, to help care for their young son and with housework in exchange for lodging and the chance to study. In fact, the accusation states, she made breakfast and dinner, did laundry, cleaned the house, and worked long hours without pay at the family's espresso stand. In March 2004, after Abdenasser read Lamia's diary, in which she complained about her mistreatment, he punched her three times in the face, withdrew her from school, and forced her to work even longer hours at the espresso stand. The couple's lawyer said Lamia made up the allegations as a way to remain in the United States. (December 16, 2005)
Waleed Al Saleh, a Kuwaiti major and military attaché at the embassy in Washington, and his wife, Maysaa Al Omar, stand accused of regularly beating and abusing three domestic workers whom they kept under conditions akin to slavery, according to a civil lawsuit filed in U.S. District Court by the American Civil Liberties Union. The suit also names the Kuwaiti government as a defendant.
The lawsuit claims violations of labor laws, anti-trafficking laws, as well as the 13th Amendment, which prohibits slavery. It also states that the couple used diplomatic immunity to avoid criminal charges. The three women, originally from India, said they came to the United States in the summer of 2005 to work as domestic help. ... The workers were promised monthly wages of $1,280 to work a six-day, 48-hour week, according to the lawsuit. Instead, the women were regularly subjected to physical abuse and constant duty taking care of the couple's home and four children, including year-old triplets. The women were allowed out of the McLean home only once a month to attend church services.

The lawsuit alleges that the women only received a fraction of their promised wages, which were sent directly to family members overseas. The couple took the women's passports from them. The alleged abuse included death threats, pulled hair, and beatings - including one with a box of frozen chicken. The couple demanded that all three triplets' diapers be changed every two hours, whether they were soiled or not. The couple also demanded that all their laundry be ironed, including underwear, according to the lawsuit. The women said in the lawsuit that they were afraid they would be killed if they fled the home. One of the women finally escaped in October 2005 to the home of a neighbor, who called police. The two other women fled a few months later.
Comment: If all this is true, it sounds like one couple brought a little bit of Kuwait with them to McLean, Virginia. (January 17, 2007)
Saeed Mohammed al-Shamsi, the United Arab Emirates ambassador to Australia, stands accused by Nuruddin Bhola Meah, a Bangladeshi man, of being paid just A$500 for working in his Canberra home for an average of 13 hours every weekday, from March 28 to September 23, 2005. Meah prepared a schedule of his average day:
7 am: Arrive at ambassadorial home.
7 am-9 am: Prepare, serve and clear breakfast.
9 am-10 am: Wash and iron, dust, clean floors, vacuum.
10 am: Go to the embassy.
10 am-2:30 pm: Cook and serve meals, clean up, sort mail.
2:30 pm: Return to ambassadorial home.
2:30 pm-6 pm: Clean up from midday meal.
8 pm-10:30 pm: Prepare dinner, wash up.
10:30 pm: Leave ambassadorial home.
When Meah complained that he had not been paid on September 23, 2005, the ambassador allegedly threatened him with deportation. Meah has filed a suit against the government of the United Arab Emirates, claiming domestic slavery and seeking A$48,000 for breach of contract, on the basis that the weekly pay for such work is A$579.30, plus overtime. (March 11, 2007)
Rozina Mohd Ali, 43, of Sugarland, Texas, a Houston householder, pleaded guilty and was sentenced today in federal district court "for her role in holding an Indonesian woman in forced labor as a domestic servant." According to the Department of Justice press release:
Ali admitted she withheld the victim's Indonesian passport in order to force the victim to work for Ali and Ali's family. Ali forced the victim to work long hours over a four to five year period, performing house and yard work and taking care of the defendant and defendant's family members with almost no compensation. In August of 2002, Ali agreed to employ the victim to work as a domestic servant for her in Malaysia for approximately $112 per month. A contract setting up the arrangement was executed. Then, Ali brought the victim to the United States on a temporary visitor's visa to work as a domestic servant. From then until August of 2007, the victim worked tirelessly for Ali or Ali's relatives as was only paid twice for her labor. The total compensation paid to the victim during the nearly five year period of "employment" was approximately $320.

During that time, Ali prevented the victim from returning to Indonesia by withholding her passport (necessary for international travel) and by threatening her with physical harm and other adverse consequences if she did not continue working for Ali. However, on August 19, 2007, the victim successfully escaped Ali's residence. She was then discovered by strangers, who assisted her by taking her to the Indonesian Consulate.
Under the terms of her plea agreement, Ali will spend one year and a day in prison and will pay the victim $72,676 in restitution. (April 3, 2008)
U.A.E. royalty in Belgium: Ensconced for the last year on entire fourth floor of Brussels' luxurious Conrad Hotel, the widow of a senior United Arab Emirates royal figure and her four daughters allegedly enslaved seventeen women from Morocco, Egypt, Turkey, Syria, Iraq, India, and the Philippines for a period of eight months. The seventeen had their passport taken away on arrival in Belgium, were not allowed to leave the hotel, served the Arab royals around the clock, and received monthly salaries as low as £80 a month. "We were not allowed to complain or to ask any questions. We just had to be there at their beck and call," said one of them. The case came to public attention last week, when four Filipina maids attempted to escape their confinement. The royal family's security staff detained three but the fourth escaped and alerted the police who, along with Labour Audit Authority officials engaged in a spectacular raid and took away the remaining women. (June 3, 2008)
Mohammad Atahee and four other Seattle-area Afghan immigrants: Prosecutors say that a 16-year-old girl from an impoverished single-parent home in Afghanistan was informally adopted by another family which then forced her to marry the 34-year-old Atahee in 2005, then brought her to the United States, where they forced her to do chores as her husband beat and sexually assaulted her. U.S. officials don't recognize the marriage. The Associated Press provides details:
Atahee and three of the family's members were already living in the south Seattle suburbs when the girl's adoptive mother, Nasima Yousuf, 70, brought her to the United States in 2006, as part of what prosecutors say was a plot to enslave her. Yousuf's husband, Mohammad, 84, had filed an immigration petition to bring the girl to the United States claiming his wife was her biological mother.

Once in the country, the indictment said, the girl, identified only as JV1, was forced to live with Atahee, who beat her and sexually assaulted her. She was forced to spend at least three days a week at the Auburn home of Maruf Yousufi, 42, and his wife, Nahid, 29 — caring for their children, doing laundry, cooking and cleaning. Maruf Yousufi is Mohammad Yousuf's son.

The girl escaped after some good Samaritans helped her report Atahee to the police in January 2008 for sexual assault, prosecutors said. Since then, she's been at a safe house, but they won't say where. She also called police in August 2006 to report her case, but Nahid Yousufi threatened her and persuaded her to recant the allegations, the indictment said.

All five defendants are charged in U.S. District Court with one count of conspiracy to engage in forced labor, and the Yousufs also face a visa fraud charge for allegedly lying on immigration applications.
(October 17, 2008)

Saeeda Khan, accused slave holder.

Saeeda Khan, 68, a retired doctor from Tanzania living in Harrow, North West London, paid Mwanahanisi Mruke, 46, a slave woman from Africa, £10-a-month for four years, worked her up to 24 hours a day, fed her scraps of bread, and forced to sleep in the kitchen with only a sheet for warmth while living in her three-bedroom £500,000 home. All Mruke's calls were monitored and she could not leave the home without Khan by her side, a cour heard. (September 14, 2010)
Saudi diplomat in Berlin: The case involves an Indonesian woman being worked and beaten. German anger over her abuse could lead to a limitation of diplomatic immunity. The slave's day"
her workday would begin at 7 a.m. and often only end long past midnight. She says she was forced to sleep on the carpeted floor of the daughters' room, and that she was only given a pillow and a thin sheet. In 19 months, she didn't get a single day off, she says, and was only paid a single time, when she was given €150 ($213) for Ramadan, the Muslim holy month of fasting.

When she spoke to the police, Ratnasari also described systematic abuse and humiliation. She said that the diplomat's wife once threw a perfume bottle at her head, that she was regularly beaten on the hands and forearms with a stick, and that she was occasionally punched on her head and brow. She said that the diplomat expressly allowed everyone in the house to beat her, including the wife, the older daughters and the 5-year-old son.
(June 27, 2011)
UAE officer at the U.S. Naval War College: Col. Arif Mohamed Saeed Mohamed Al-Ali, a student at the Naval War College in Newport, R.I. (and where I taught for two years) is accused by Elizabeth Cabitla Ballesteros of the Philippines of withholding her wages, making her work unreasonably long hours, confiscating her passport, and preventing her from speaking to others while working for him. (July 21, 2011)
Saudi Diplomat in Washington: Law enforcement officials have freed two human-trafficking victims from the home of a Saudi Arabian diplomat living in Northern Virginia. (May 2, 2013)
Saudi princess in Irvine, California: Meshael Alayban, 42 and one of the wives of Prince Abdulrahman bin Nasser bin Abdulaziz al Saud, stands accused of one felony count of human trafficking for forcing an unnamed Kenyan woman to work 16 hours a day, seven days a week, for $220 a month at her home in a gated community while keeping the woman's passport and other documents. When the woman demanded her passport, Alayban refused to hand it over.
The servant began working for Alayban's family in Saudi Arabia in March 2012 on the promise of two years' employment of eight hours a day, five days a week for $1,600 a month with a raise after three months. She (and four other women working under similar contracts) accompanied Alayban and her family when they went to Irvine in May 2013. She escaped the complex July 9, apparently inspired by a U.S. State Department pamphlet on human trafficking provided to her at the U.S. Embassy in Saudi Arabia when she was issued a travel visa. She took a bus and started talking to a woman who noticed she was upset and helped her contact the police. The police said officers found four other workers being held under similar circumstances, though charges have yet to be filed for the others. (July 10, 2013)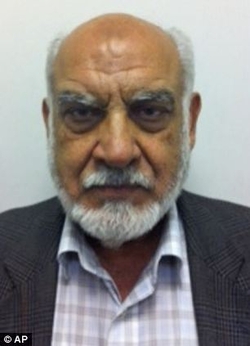 Ilyas Ashar, 84, found guilty of many charges, including keeping a teenage sex slave.

Michelle Malkin adds her voice: Bravo to Malkin for taking up this topic today at "Slavery in America, Saudi-Style." Her taking up tough topics points to the near-total absence of others, including the academy. (July 29, 2013)
84-year-old keeps teenage sex slave in UK: A crown court in Manchester, England, has convicted Ilyas Ashar, 84, of trafficking a deaf and mute girl from Pakistan to his five-bedroom home in June 2000 when she was about 10 years old, keeping her in his basement for nearly a decade, beating her and enslaving her for sexual purposes, as well as stealing £36,045 in government benefits belonging to her. Accused by Judge Peter Lakin of subjecting her to a life of "misery and degradation," Ilyas was found guilty of 13 charges and sentenced to 13 years in jail. His wife Tallat Ashar, 68, was found guilty of 6 counts and sentenced to 5 years. At an earlier trial, Ilyas had been convicted of another 5 counts and their daughter, Faaiza Ashar, 46, had been found guilty then of 3 counts and sentenced to a 300 hours of unpaid work for the community.
Ian Rushton of the Crown Prosecution Service summed up the case against the Ashar family:
The stairs to the Ashars' basement, where the sex slave lived for nearly a decade.

They brought her into this country to use her as forced labour, ill-treated her and with the help of their daughter exploited her financially by fraudulently claiming benefits. Worst of all she was repeatedly raped by Ilyas Ashar over a number of years. We have been determined to bring them to justice for this catalogue of abuse. Despite her terrible ordeal the victim is now making great progress in life generally, and she has shown immense courage and resilience. She is now free from the abuse that she suffered at the hands of Ilyas and Tallat Ashar and today they are facing up to the consequences of their actions as they begin substantial prison sentences.'
(October 23, 2013)
Bangladeshi consul general in New York City accused of keeping enslaved man on W. 57th Street: Mashud Parves Rana, a Bangladeshi, accuses Bangladesh's New York Consul General Monirul Islam and his wife, Fahima Tahsina Prova, of enslavement. He says in papers filed at Manhattan Federal Court that they forced him to work from 6:30 am to 11 pm, seven days a week for 18 months and never paid him.
Bangladesh's Consul General Monirul Islam in New York City stands accused of enslavement.

They kept the man "in forced labor in slavery-like conditions" in their sprawling, $8,000-a-month W. 57th St. apartment, the suit says, barring him "from leaving their residence under his own volition, threatening to beat him or kill him, threatening that the police will arrest him or kill him if he left their residence, physically assaulting him on at least two occasions, (and) maintaining possession over Mr. Rana's passport and visa," says the suit.

Among his tasks, the suit says, was cooking the family's food from scratch, washing their clothes by hand, supervising their 11-year-old son and cleaning the apartment daily. "Mr. Rana would complete his daily tasks by approximately 11:00 pm each night. However, if defendants were attending an event outside of the house, Mr. Rana was required to wait for them to return to let them in and prepare a late meal for them. On these occasions, Mr. Rana did not finish work until approximately 1 am.

"Several times per month, defendants hosted parties and gatherings in their home, for which Mr. Rana was required to cook for all of the guests, and to clean up after the guests left. On these occasions, Mr. Rana did not finish his work until at least 3 a.m.," the suit says — and he was also required to cook for events at the Bangladesh Consulate on E. 43rd St. He wasn't allowed to cook for himself, however - the suit says he was only allowed to eat expired or leftover food.
(March 21, 2014)
(For a similar example in India, see Alana Horowitz Satlin, "Saudi Diplomat Accused of Raping, Abusing Maids." September 10, 2015 and Mohshin Habib, "Diplomatic Immunity: License for Crime? Saudi Arabia at It Again," September 23, 2015.)
Qatari military officer and Emirati wife in San Antonio keep two women as virtual slaves: Hassan al-Homoud, 46, who received military training at San Antonio's Camp Bullis, and his wife, Zainab al-Hosani, a citizen of the United Arab Emirates, pleaded guilty to federal charges. But because the two women they had not paid, barely fed, and forced to live in squalor refused to testify against them, the charges were not for forced labor (which could have meant 10 years' in prison) but visa fraud (him) and knowing a felony was taking place and failing to report it (her). Their punishment is paying $60,000 to each victim and immediately expulsion and never returning to the United States.
In a statement read in court, Homoud said he took full responsibility for his actions: "My conduct has brought shame upon myself, my lovely wife, upon my family and upon my country." (February 10, 2016)
Iraqi Couple in San Diego enslaved an Indonesian maid: According to charges filed in federal court, Firas Majeed and Shatha Abbas forced an Indonesian domestic servant, identified in court documents as W.M., to work up to 18 hours a day with no pay. The couple had employed her in Dubai until their move to California in early 2014, soon after which they brought over W.M. An account in the Daily Beast provides details:
The woman spoke no English and was only able to escape by slipping a nurse a plea for help in her native language. ... The couple's "scheme intended to cause the victim to believe that she would suffer physical restraint if she did not perform labor and services," the government said in a press release. The duo allegedly also hid the domestic worker's passport and restricted her ability to travel. ...

Charges against the couple allege that the domestic worker was previously kept at a relative's home in Dubai, where she worked 20-hour days for five years straight. The woman tried to flee her captors in the UAE when they left the door unlocked one day, the San Diego Union Tribune reports. She made it to the Indonesian consulate, but her employer was called and he took her back, promising to free her after three months and return her to Indonesia.
Majeed and Abbas are charged with forced labor, trafficking with respect to forced labor, and document servitude. These carry a maximum prison sentence of more than 40 years. (April 11, 2016)
Eight UAE princesses guilty in Belgium: In a lawsuit dating to 2008 that due to procedural challenges by the defense only reached court this year, no fewer than eight princesses – a mother and daughters – from the UAE were convicted in a Brussels court of human trafficking and degrading treatment of more than 20 servants they brought on a visit, while staying in an expensive hotel. Sheikha Hamda al-Nahyan and her seven daughters received suspiciously light 15-month suspended jail terms and each ordered to pay €165,000, with half that sum suspended. Details:
The case came to light when one of the servants escaped from the hotel where the princesses had hired a floor of luxury suites. They said they were forced to be available 24 hours a day, had to sleep on the floor, were never given a day off, were prevented from leaving the hotel and were forced to eat the princesses' leftovers.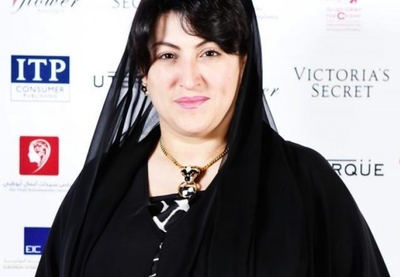 Sheikha Hamda al-Nahyan of Abu Dhabi, UAE.
Nicholas McGeehan, an expert on migrant workers in the Gulf for Human Rights Watch, commented, in paraphrase:
it would be "hugely significant" if one of the wealthiest families in the world was publicly linked with trafficking and slavery. He argued that despite being abolished in law, domestic slavery continues in Gulf states – "perpetuated by ruling elites for whom it serves an important societal purpose in conferring status." He added: "It's top-down and tolerated."
(June 23, 2017)
Former Saudi diplomat on trial in UK: Britain's highest court ruled in favor of Cherrylyn Reyes, a Filipina domestic worker, for being treated like a slave by a Saudi diplomat, Jarallah al-Malki, and his wife. In 2011 Reyes claimed they had subjected her to racial abuse, taken her passport, and paid less than the minimum wage. So long as Malki enjoyed diplomatic immunity, the case could not proceed. But after he left the United Kingdom in 2014, the Supreme Court allowed the case to go forward. (October 18, 2017)
Son of Guinean dictator keeps slave for sixteen years in Texas: Mohamed Touré and his wife Denise Cros-Touré, both 57, stand accused of enslaving a Guinean child as a slave for nearly 16 years, 2000-16, during which time she took care of their children and cleaned their house in Southlake Texas, without pay. Touré is the son of Ahmed Sékou Touré, the radical leftist president of Guinea in 1958-84. If convicted, the couple faces a maximum of 20 years in federal prison. Details:
The victim – now 24 – was allegedly brought over from the West African nation when she was just 5 years old and was made their slave, authorities said. Court records said the girl would "cook, clean, do the laundry, and garden among other things, such as mowing the lawn and painting." ... Investigators said the Toures' have five other children around her age and they were never allowed to interact with her. She often worked long hours without pay.

The couple is accused of taking the victim's documents and keeping her in the United States unlawfully after her visa expired, the Star-Telegram reported. She was also isolated and physically abused, police said. "Slapping led to the use of a belt, which then led to the use of an electrical cord to strike her," the arrest warrant said. The victim was able to escape the home in 2016, after 16 years as a slave.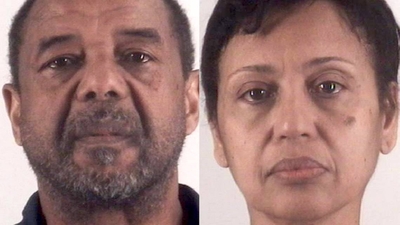 Mohamed Touré and Denise Cros-Touré.
(April 27, 2018)
April 23, 2019 update
: The Toure couple was found guilty, they received
7-year sentences
, were ordered to pay their victim almost $290,000 in restitution, and may be deported after their prison sentences are served.
Jordanian woman keeps Sri Lankan slave: Alia Imad Faleh Al Hunaity, 43, a naturalized United States citizen from Jordan living in New Jersey, was convicted of forced labor, alien harboring for financial gain, and marriage fraud. She forcing an unnamed Sri Lankan woman to work without pay for nine years, taking care of children and cleaning the house.
U.S. Attorney Craig Carpenito: "The defendant in this case treated the victim as a slave. Al-Hunaity kept the victim in this country illegally and hid her away, in order to force her to perform household work for Al-Hunaity without pay, privacy, or the ability to move about freely."
The Department of Justice added: "Hunaity forced the victim to cook and clean her homes in Woodland Park and Secaucus, New Jersey, and to care for her three children, all without pay. She further limited the victim's interactions with the world outside of Hunaity's homes. During this time, Hunaity required the victim to sleep on a bed in a public space in Hunaity's homes, including in the kitchen."
Comments: Marriage fraud? Did Hunaity marry the victim? (May 9, 2019) March 20, 2020 update: Hunaity was sentenced to 70 months in prison.
An unnamed Saudi prince: He enslaved seven women, mostly from the Philippines, in his luxury apartment on boulevard Maurice-Barrès in Neuilly-sur-Seine, next to Paris, in the years 2008, 2013, and 2015, say French prosecutors. The women slept on the floor and were near-starving. (July 5, 2021)
Slavery in a British hashish farm: Two Bradford men pleaded guilty and have been sentenced to prison for trafficking a 14-year-old Vietnamese boy into slave labor at a hashish farm.
Zain Bashir, 25, who committed the offence for a free bag of drugs, received four years and nine months.
Usmaan Tasif, 26, who transported the boy to the drugs factory, received three years and four months.
According to the prosecutor, the child was sold into slavery in Vietnam, transported to China, and brought to the United Kingdom in a truck. (December 21, 2021)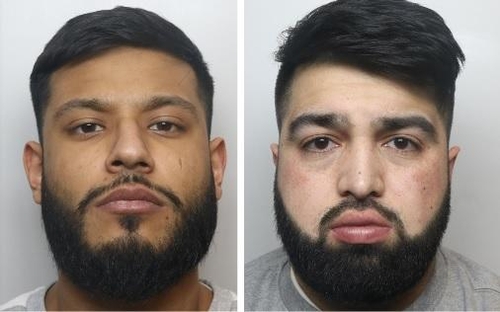 Zain Bashir (L) and Usmaan Tasif.
Mother and two sons charged with enslaving a woman: Zahida Aman, 80, and her two sons, Mohammad Nauman Chaudhri, 54, and Mohammad Rehan Chaudhri, 48, kept an unnamed Pakistani woman (who was married to an unnamed and not-charged third son) against her will in Midlothian, Virginia over a 12-year period, March 2002 to August 2014. The unique feature in this case is the enslaved woman having been married to a third son. The charges read:
the defendants conspired to force the victim, who had been married to Aman's son, to provide labor and services at their Midlothian home, to include cleaning the house, painting the house, and mowing the lawn. The indictment further alleges that the defendants subjected the victim to physical, psychological, and verbal abuse, withheld her food, restricted her communications with family and neighbors, confiscated her immigration and identification documents, limited her access to her own children, and threatened to separate her from her children, among other coercive means.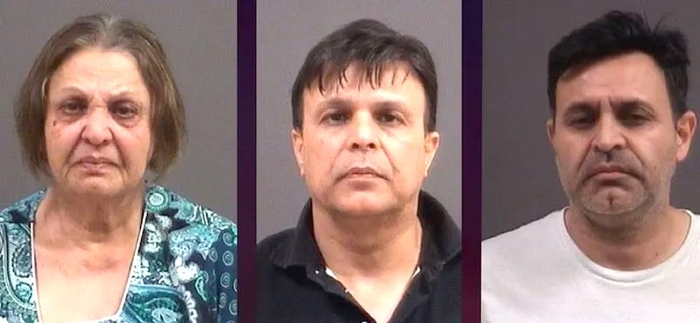 Zahida Aman, Mohammad Nauman Chaudhri, and Mohammad Rehan Chaudhri.
The
Department of Justice
now tells the full story:
Zahida Aman arranged for her son's marriage to the victim in 2002. The victim moved to the United States and lived in a house in Midlothian, Virginia, with her husband and the three defendants (the husband's mother and his two brothers). The defendants compelled the victim to serve the family as a domestic servant, using physical and verbal abuse, restricting communication with her family in Pakistan, confiscating her immigration documentation and money and eventually threatening to separate her from her children by deporting her to Pakistan.

The defendants slapped, kicked, and pushed the victim, even beat her with wooden boards, and on one occasion hog-tied her hands and feet and dragged her down the stairs in front of her children. Even after the victim's husband moved away, the defendants kept the victim in their Virginia home, often forcing her to perform increasingly laborious tasks, including stripping and staining a deck by hand, mowing the one-acre lawn with a push mower, hand-washing and line-drying area rugs, painting the inside and outside of their two-story home, picking out debris from car carpets with a tweezer and constructing a concrete walkway in front of the home — a task that required the victim to haul 80-pound bags of concrete before mixing and pouring cement.

The evidence further showed that the defendants required the victim to work every day, beginning early each morning. They restricted her food, forbade her from learning to drive or speaking to anyone except the defendants' family members and prohibited her from calling her family in Pakistan.
Following a seven-day trial, the jury convicted all of the defendants of conspiracy to commit forced labor, convicted two of the defendants of forced labor, and convicted Zahida Aman of document servitude. After the trial, the prosecutors noted that "The defendants exploited the victim's trust and inflicted cruel and inhumane physical and mental abuse on her, all so they could keep her working in their home as their domestic servant."
The sentencing has not yet been scheduled. Defendants Aman and Rehan Chaudhri face a maximum sentence of 20 years for forced labor. The convictions for conspiracy to commit forced labor and for document servitude carry a maximum sentence of five years each. Restitution in this case is mandatory under the law.
(May 19, 2022)