[Correction: I relied in my original version of this weblog entry on an article by Paul Sperry, "Schumer upends 9/11 Saudi suit bill at 11th hour," New York Post, May 24, 2016 – a known writer in a trustworthy publication.

In it, Sperry argued that the senior senator from New York had gutted the Justice Against Sponsors of Terrorism Act by adding a section titled "Stay of Actions Pending State Negotiations" that allowed the Executive Branch to stop lawsuits at will.

The New York Post a day later published a second article on the topic, "The Truth About the 9/11 Victims' Bill," written by 9/11 families and their counsel. It focuses on two errors in Sperry's analysis concerning that section:

"The stay provision was not offered by Sen. Schumer, but rather by Republican members who had raised objections to the bill.
"The stay provision included in JASTA does not de-fang the bill."

I was further informed by a member of the Senate staff that the 9/11 families themselves who first offered the stay provision to compromise with the Obama administration and win over reluctant senators. From the families' point of view, it adds to bill, and is a marked improvement over a proposal by the administration that the Executive Branch have unilateral power to cancel lawsuits. Instead, JASTA puts this power into the hands of an independent judge.

Accordingly, I have changed the title of this weblog entry from "Cruel Hoax: The Justice Against Sponsors of Terrorism Act" to "The Justice Against Sponsors of Terrorism Act.".]
---
In a unanimous voice vote on May 17, the U.S. Senate approved the Justice Against Sponsors of Terrorism Act (JASTA), which permits victims of terror attacks and their surviving family members of on U.S. soil to bring lawsuits against foreign governments for supporting terrorism. In particular, it permits lawsuits against the Saudi government for its alleged role in 9/11.
Arguing in favor of the bill, Sen. Chuck Schumer noted that, "If the Saudis did not participate in this terrorism, they have nothing to fear about going to court. If they did, they should be held accountable."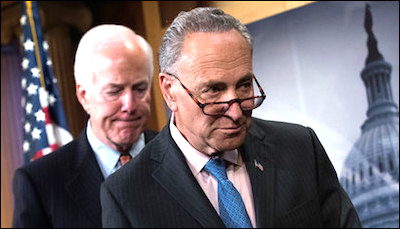 JASTA cosponsors Sen. John Cornyn (R-TX) and Sen. Chuck Schumer (D-NY) exit a news conference on May 17.
In turn, the Saudis threatened to sell off their holdings in U.S. government paper; but while this has been rumored to amount to $750 billion, recent disclosures indicate that it amounts to a not-too-impressive $117 billion, at least in terms of direct ownership (who knows how much Riyadh owns of the Cayman Islands' $265 billion or Ireland's $264 billion).
JASTA passed the Senate without opposition thanks to a section titled "Stay of Actions Pending State Negotiations" that offers a compromise between all the Obama administration's wanting to be able to nix all such lawsuits and the 9/11 families' wanting them all to go through. The stay provision puts this decision into the hands of an independent judge.
But, noting that the House is unlikely to take up the bill, Obama is opposed to it, and the Saudi government has mobilized against it, and the vote does appear to be a noble but futile one.