Islamists have a habit of telling horrible stories of having been tortured that do not pan out on closer inspection. This entry keeps occasional track of such cases.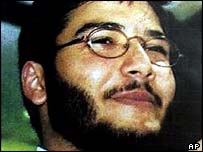 Ahmed Omar Abu Ali: In "[The Abu Ali Case and] Balancing Liberties, Security," I noted how the mainstream media focused not on the charge that this young man was plotting to kill the president of the United States, but on his allegations of torture. As I commented in March 2005,
These liberal analysts evince no concern that an American citizen trained by the Saudi government in Virginia will stand trial for plotting to assassinate the president. They decline to explore the implications of this stunning piece of news. They offer no praise to law enforcement for having broken a terrorism case. Instead, they focus exclusively on evidentiary procedures. They know only civil liberties; national security does not register.
The first specific news about Abu Ali's confession suggests that he was not tortured. Here are excerpts, as described by the Associated Press:
A U.S. citizen accused of joining al-Qaida and plotting to assassinate President Bush said in a videotaped confession that he was motivated by hatred of American support for Israel. Ahmed Omar Abu Ali also said on the tape, played in court for the first time Tuesday, that a top al-Qaida operative in Saudi Arabia "made it clear I became one of them and that I could speak in the name of al-Qaida."

The 13-minute confession was videotaped in 2003 by authorities in Saudi Arabia, where Abu Ali attended college. ... At several points on the black-and-white videotape, Abu Ali could be seen yawning and chuckling to himself. When he discussed his training with a Kalashnikov rifle, he pantomimed a rifle attack. Other parts of the tape appeared to be a monotone regurgitation of a statement that prosecutors have acknowledged was written for him by the Saudis. Prosecutors also have said he was given an opportunity to revise the statement.

In the confession, Abu Ali says he "was interested in jihad and the idea of mujaheedin" because of "my hatred of the United States for support of Israel against the Palestinian people." He said he discussed numerous possible terrorist acts with two al-Qaida leaders in Saudi Arabia, Ali abd al-Rahman al-Faqasi and Sultan Jubran Sultan al-Qahtani. They encouraged him to return to America, integrate into society and establish an al-Qaida cell, he said. Abu Ali said he favored the idea of assassinating Bush rather than attacks on military targets or plane hijackings "because it would be easier to carry out because he appears in so many public places."
(Oct. 11, 2005)
Will there be any media accountability? After months of hyping Abu Ali's claims of torture, the judge in his case, Gerald Bruce Lee, wrote a 113-page opinion explaining that this is implausible because "all of the evidence" indicates the American student was not in pain a few days later.
Mr. Abu Ali testified that after his brutal whipping, he was in such pain that he had to sleep on his stomach for two weeks. Well, two weeks after the whipping of June 9 or June 10, 2003 would certainly include June 15, 2003, and all of the evidence points to the fact that Mr. Abu Ali was not experiencing the pain he now claims. … While Mr. Abu Ali dramatically recounted a brutal beating and humiliating treatment, it is noteworthy that Mr. Abu Ali could not recall, even by texture, shape or dimension, what hit him. Was it a cylinder? Belt? Whip? Stick? Baseball bat?
(Oct. 27, 2005)
"A federal jury in Alexandria, Va., found Ahmed Omar Abu Ali, 24, guilty on numerous charges of conspiracy to commit acts of terrorism. The jury rejected the defendant's accounts that his Saudi captors beat and tortured him into confessing." (Nov. 22, 2005)
U.S. District Judge Gerald Bruce Lee sentenced Abu Ali to 30 years in prison. (Mar. 29, 2006)
Mohammed Salah: The only U.S. citizen designated an international terrorist by his own government, Salah's stories about his interrogation in Israel in 1993 gets worse with the retelling. Chris Hack surveys the evolution in the Daily Southtown. Salah, a Palestinian who faces U.S. terrorism charges, admitted to the Israelis his Hamas duties in the United States and specifically his efforts to raise funds. On completing his prison term in Israel, Salah returned to his home in Bridgeview, Illinois, where he currently lives free on bond. To get out of further trouble, he has several times changed his tune:
In an affidavit filed last month, Salah claimed he was subjected to a monthslong campaign of torture by Israeli soldiers, police and agents of the Shin Bet security service before his conviction there. He said the Israelis and Palestinian collaborators working for them kept him handcuffed to a tiny chair, stuffed him in a refrigerated closet, stripped him naked, threatened rape and made him sit on an upside-down bowl with a pointy bottom that caused permanent intestinal damage.

U.S. prosecutors said that Salah's 1994 statement trying to keep the confessions from being used against him in an Israeli military court is "notably void of many of the more dramatic claims Salah now advances before this court." And they said that in subsequent statements — such as a 1995 affidavit arguing against the extradition of a Hamas leader and a 1998 interview on National Public Radio — Salah added new, more gruesome details about the alleged torture.

"The constantly evolving nature of Salah's claims, which manifest a clear and pronounced trend toward greater detail and theater suggests that Salah's current version of events is on its face not credible," prosecutors wrote.
Assistant U.S. Attorney Joseph Ferguson rejected Salah's claims of torture, pointing out that Salah did not complain about torture at the time and that his visitors did not notice signs of his being abused. Prosecutors therefore believe "Salah's claims of torture and mistreatment to be fictional in that the claims are, in various instances, either total falsehoods or gross exaggerations. The facts ... will demonstrate that Salah's confessions were voluntarily provided and that he has presented a false affidavit to the court." (Nov. 15, 2005)