We who follow U.S. foreign policy, and especially the Middle East, sometimes get asked whether Barack Obama is a community organizing naïf way out of his depth or a brilliant ideologue who knows exactly what he is doing. Is he inept or purposeful? Does he see his foreign policy as a failure or a success? My reply:
Not one or the other but a bit of both. He is a leftist who sees the imperialism, militarism, and corporate greed of the United States as a menace to the outside world. He conceives of his role being to reach out to enemies, reduce America's cowboy ways, make it one of the pack, and render the world a safer place.
But he is also the president on whose watch we find not security but anarchy and despotism. Reduced American influence has led to revolutions in Tunisia and Egypt, renewed civil wars in Iraq and Afghanistan, conflagrations in Libya, Yemen, and Syria, Russian military intervention, and unfathomable future troubles from a nuclear Iran.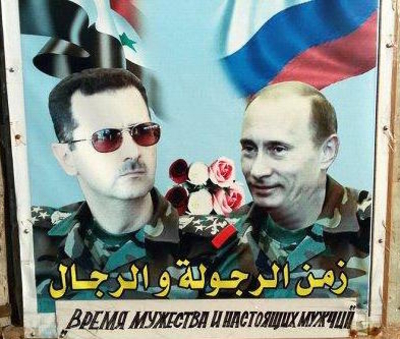 Bashar al-Assad (l) and Vladimir Putin (r); the legend says in Arabic and Russian, "The time of masculinity and men."
In other words, Obama's policy is purposeful but the consequences are not. (October 13, 2015)