I just had an opportunity to learn first-hand about the United States Special Operations Command (SOCOM) at MacDill Air Force Base in Tampa, Florida, headed by the famed Admiral William H. McRaven.
I expected the focus to be on Navy SEALs, Army Rangers, and their air force and marine counterparts. I thought I would hear about the exploits of this 67,000-strong command operating in 84 countries, maybe even about the taking down of Osama bin Laden. But that was not to be. Instead, the command's new mission, starting with the motto, "You can't surge trust," filled the time.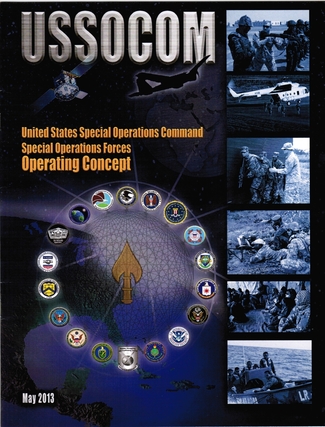 Cover of the SOF "operating concept" booklet, not online.
That new mission took some time to sink in because of SOCOM's turgid language; here's a key paragraph from the
Operating Concept
for special operations forces (SOF):
The Special Operations Forces Operating Concept captures the essence of the SOF heritage as it could be – as it should be in the year 2020 and beyond. The concept moves beyond the first decade of the 21st Century, when SOF primarily supported large-scale contingency operations by conducting counterterrorism operations to find, capture, or kill our adversaries. Although of great value to the Nation, these operations were never intended to be decisive. Operating through the Global SOF Network in support of our Geographic Combatant Commanders and Chiefs of Mission, SOF now have the opportunity to achieve strategic outcomes by working with and through interagency and foreign partners to understand and influence relevant populations.
Translated into English, this says:
Special Operations Forces used to be about capturing or killing America's adversaries; its new mission is to shape public opinion.
Or, in the words of a bullet point in the Operating Concept, the goal is "Elevating SOF non-lethal skills to the same level of expertise as lethal skills." As radical a shift as this is, at least I could comprehend it. Not so the following graphic, "Strategic Appreciation - 2.0," which not only makes no sense to me but has nothing to do with what special forces ostensibly do: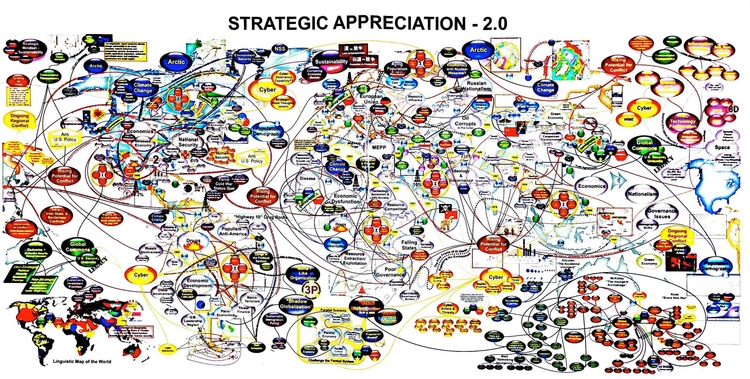 For a full-sized version of this map, click here. For an earlier version of it, namely "Strategic Appreciation - 1.0," click here.
Comments: (1) Does the special operations leadership really believe this stuff or is it mouthing this to distract the public from discussing its real, and lethal, mission? (2) If it's sincere, I worry about our future defense. (March 23, 2014)
Mar. 23, 2014 addendum: It's a minor point, but am I the only one to find it incongruous that a killing machine has embossed cocktail napkins?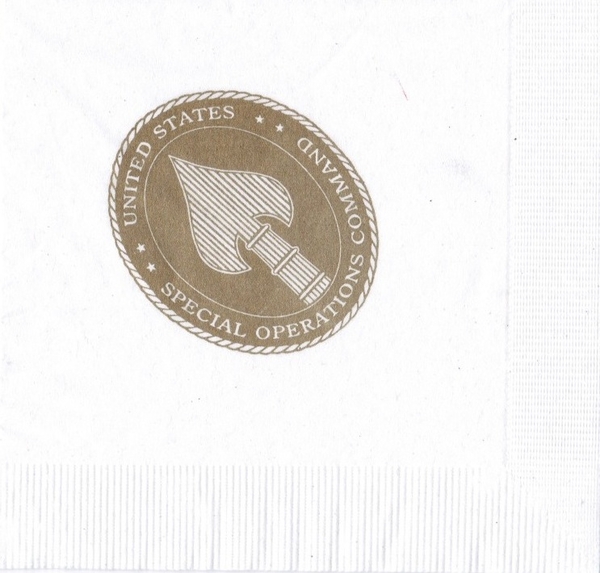 Mar. 26, 2014 update: The following note came today from SOCOM's Public Affairs Officer:
Mr. Pipes,

I read the piece you posted on "The Corner" over the weekend. I was not in the briefings your group received when they visited USSOCOM last Friday, but, based on what you wrote, I believe there is some confusion. Hopefully, I can provide some information that will give you some context and clarify some things.

Despite the impression the quote from the Operating Concept left you with, killing or capturing the nation's adversaries has not been the total focus of US Special Operations Forces for a long time. Working with partner nations and indigenous forces to build their capability to provide for their own defense is by no means a new mission for US SOF. That mission can be traced back at least as far as World War II's Office of Strategic Services, one of the organizations from which SOF traces its linage. Army Special Forces (Green Berets) were established in 1952 with the specific mission of unconventional warfare - working with indigenous groups to build a guerrilla force. The skills required for unconventional warfare are the same skills that are required to successfully work with partner nations to help them build their capacity to provide for their own defense and Special Forces has a long history of working with and helping partner nations.

Before Sep. 11, 2001, US Special Operations Command kept a large number of people deployed around the world. Most of the deployed SOF Soldiers, Sailors and Airmen were conducting foreign internal defense missions— working with partner nations to assist them build their capability to provide for their own defense—or participating in training exercises with partner-nation, special operations units. US special operations units, like Army Special Forces, some SEAL units and some elements of Marine Corps Forces Special Operations Command and Air Force Special Operations Command are designed specifically to work with partner nations and possess advanced training levels, language capability, cultural knowledge and have units that are oriented on specific regions of the world. Because those units have a specific region which they orient on, they habitually deploy to the countries in that region. Deploying repeatedly to the same countries allowed US special operators to develop relationships with their partner-nation counterparts which created an informal special operations network.

After 9/11, the major emphasis for SOF shifted from foreign internal defense to more direct action, combat operations like raids, reconnaissance, etc. Despite the change in emphasis, there were still SOF units conducting building partner-nation capacity missions in places like Colombia and the Philippines. After initial combat operations were complete, most of the SOF units in both Iraq and Afghanistan began conducting direct action missions while simultaneously building Iraqi and Afghan special operations units. US SOF developed and implemented assessment and selection and special operations training programs for Iraqi and Afghan SOF. US SOF used a crawl, walk, and run strategy with Iraqi and Afghan SOF units to get them to the point where Iraqi SOF had the lead for all SOF operations before the US withdrawal from Iraq and Afghan SOF currently have the lead for all SOF operations in Afghanistan.

Because of the demand for SOF in Iraq and Afghanistan, the Geographic Combatant Commands - like US Pacific Command, European Command, etc. - were not getting the SOF they wanted to train and work with the partner nations in their regions. Because of this pent up demand for SOF, USSOCOM knew that even as operations ended in Iraq and are reduced in Afghanistan, a large number of SOF will still be deployed. They will be deployed to meet that pent up demand and their primary focus will again be the building partner-nation capacity mission.

As the US defense budget is cut and the military becomes smaller, the importance of partner nations to the US defense strategy will grow. ADM McRaven realizes how important partner-nations will be to the US in the future and he coined the phrase, "You can't surge trust." What he means is relationships with partner nations are based on trust and we cannot wait for an emergency to take place and expect to build trust and relationships with partner nations overnight. Now is the time to build that trust and those relationships.

Since an informal SOF network has been in place for a long time, we can use that network as a foundation to build trust with partner nations and current communications technology enables us to formalize the network to make it a stronger foundation.

Does all of this mean US SOF is turning in their weapons and we will no longer have a force that can conduct direct, kinetic combat operations? Not by any stretch of the imagination. US SOF has the world's premier counterterrorism capability and it will maintain that capability. Additionally, the rest of the force proved in September 2001 that it can change its focus and successfully conduct direct, kinetic, combat operations as quickly as the nation needs it to change.

I hope the information I have provided clarifies some things for you and eases any concerns you may have about the future of US Special Operations Forces. If you have any questions, please do not hesitate to contact me.
Respectfully,

Ken McGraw
Public Affairs Officer
US Special Operations Command
My response:
These are good points and the briefing should have introduced we outsiders to the topic as Mr McGraw has done here. For example, the important distinction between Special Forces and Special Operations Forces needed highlighting. Instead, the briefers launched into an abstract and technical analysis that left us collectively scratching our heads in puzzlement.
I await an explanation of that bubble graphic posted above, the one about "Green Economy" and "Climate Change."
Mar. 27, 2014 update: Someone familiar with U.S. Special Operations Forces has parsed the key sentence that I quoted above. I provide his explanation here.
ADM McRaven and his staff intended to influence you, yes, but not mislead you. The trouble is, they and we get used to our words then assume they make sense to everyone else too. Plus, being a very famous four-star commander, he's not often surrounded by people who tell him he's not making sense.

I'm very supportive of what the admiral is trying to accomplish and am glad to offer insights into explaining what you heard, saw, and read. To begin with, let me underline seven key phrases in that key quote you provided:

Operating through the Global SOF Network in support of our Geographic Combatant Commanders and Chiefs of Mission, SOF now have the opportunity to achieve strategic outcomes by working with and through interagency and foreign partners to understand and influence relevant populations.

Global SOF Network: A concept advanced by ADM McRaven to build the ability of our SOF to respond to any threat no matter where it occurs. This is SOCOM re-organizing itself to respond to a post-Iraq/Afghanistan environment. It is designed to respond to a crisis as it emerges or prevent crises before they happen. The network includes our entire SOF forces and support personnel as well as the federal intelligence and law enforcement agencies and foreign partners.

Geographic Combatant Commanders (GCC): The four-star commanders of the Combatant Commands (EUCOM, CENTCOM, SOUTHCOM, PACOM, AFRICOM, and NORTHCOM.) Military operations, to include all Special Operations missions, that occur within a particular region of the world are controlled (read: owned) by that four-star combatant commander in charge of that part of the world. When deployed, special operations are subordinate to the GCC commander in charge of that region.

Chiefs of Mission: This refers to ambassadors. All American activities, to include military activities, in that country are ultimately the ambassador's responsibility. The United States military has very few authorities to operate in the world outside of a declaration of war. An ambassador open to a U.S. military presence will allow the US military to operate within the country. Expand that out across as many ambassadors as SOF can build positive rapport with, and SOF's flexibility in responding to crises is that much easier to accomplish.

Achieve strategic outcomes: This is the key notion. The quote "Although of great value to the Nation, these operations were never intended to be decisive" refers to the capture/kill part of SOF, which is only one aspect of SOF, the one called Direct Action. Navy SEALs swooping in through the dead of night to kill Osama Bin Ladin is a Direct Action mission, indeed, it's the very definition of tactical operations. SOF is incredibly well trained to perform this task, especially after a decade and more of experience in two theaters of war.

SOF is not, however, as the admiral stated, intended to be decisive. Killing one guy does not solve a conflict.

The more nuanced aspect of SOF that gets very little play (in comparison with Direct Action) is Unconventional Warfare (UW). The SOF of choice to conduct UW are Special Forces (SF, or more popularly known as the Green Berets). Special Forces are the insurgency and counter-insurgency experts of the U.S. military.

Unconventional Warfare was born out of our experiences in France prior to our invasion at Normandy. At the time, the Office of Strategic Services (OSS) [predecessor to the CIA] trained a cadre of personnel who parachuted into Vichy France to support the French Resistance. Those experiences led to, at least on the military side, the development of 10th Special Forces Group (10th SFG); in the event of a Soviet invasion of Western Europe, 10th SFG personnel, who had military skills (weapons, engineering, communications, medical, etc.) as well as expert level language skills would stay behind and link up with local insurgents to fight the Soviets behind their own lines.

Though trained to conduct Direct Action themselves, the idea behind UW is to use proxies (insurgents) to conduct operations against a defined enemy. SF trains them, supplies them, helps them direct operations, helps them develop their networks, but tries to stop short of actively participating in hostilities if possible.

What does this have to do with UW today and ADM McRaven's vision? If SOF is hoping to achieve a strategic outcome rather than just be the quintessential experts in killing terrorists, it has to expand its operations and how it views the application of SOF in a modern, 21st century environment.

The threats we are most likely to face will be insurgencies which typically emerge from disenfranchised populations, corrupt governments, ungoverned spaces, or incompetent security organizations.

The most common counter-insurgency operation is Foreign Internal Defense (FID): a bunch of SOF guys are sent to a foreign country to train their militaries in counter-insurgency tactics. In the midst of training these foreign military soldiers, we are also building rapport with them. The odds are high that these soldiers will rise in the ranks.

If we maintain those relationships, we will have pro-American senior military personnel in those countries with an expert level of knowledge of what is happening on the ground. That prevents us from having to respond to a crisis with almost no knowledge and "build the plane in flight." This is a strategic investment with a strategic outcome.

Interagency partners: Usually, this refers to the U.S. intelligence community and federal law enforcement agencies. The "Inter-Agency" is the collection of federal agencies with differing authorities operating together. Working together towards a common objective unites information and capabilities available to different agencies (DHS, FBI, CIA, etc.) to better protect our country and to prevent or mitigate crises overseas.

Because problems don't wait for us to get our bureaucracy in order, SOF aims to get ahead of the curve by relying on agencies such as FBI, CIA, and State to join their information with SOF's and unite the federal government's capabilities to our decision-makers a full tool kit. This can mean various things:

Assisting Treasury identify supporters of terrorism so it can freeze their assets.
Identifying where local governance is corrupt, allowing USAID to improve those conditions.

Foreign partners: Foreign SOF militaries. SOF has spent years working side by side with foreign SOF officers in Iraq and Afghanistan. Much like SOF targets coincide with that of the Inter-Agency, Foreign Partners are concerned about a lot of the same issues as we are. If a problem emerges in any country in the world, if we don't have good access there, someone we partner with does if we maintain those relationships even when problems are not occurring.

Influence relevant populations: Whether we need to influence some part of our conventional military, some part of SOF, another U.S. intelligence agency, a Foreign Partner, or someone we have rapport with in the world through past SOF engagement with that person, we want to positively influence to support the goals of SOF. That is the vision of developing a Global SOF Network.