Islamic banks have been crowing of late how well they weathered the financial tumult of the past year but that should not blind investors to the risks associated with these houses. The trouble was already apparent in the 1990s, as Clement M. Henry and Rodney Wilson tell what happened in their book The Politics of Islamic Finance, p. 34: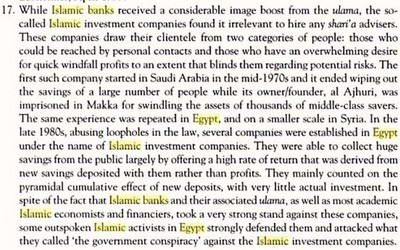 This blog will follow the travails of lariba banking as they unfold.
Le Meridien Towers: see my blog on timeshares in Mecca about fraud at this major project.
East Cameron Gas Co.: The Wall Street Journal's Stephen Fidler explains in "Defaults Pose Latest Snag In Islamic-Bond Market":
The once-booming market for Islamic-friendly bonds, having suffered a contraction amid the credit crisis, now faces a new challenge: default. The fledgling market in recent months experienced its first two defaults, and they aren't expected to be the last as issuers like Saad Group hit financial difficulties. This is taking investors and courts into uncharted territory as they seek to apply Western laws to bonds that were designed to comply with Islamic law, or Shariah. …

In October, East Cameron Gas Co. filed for bankruptcy protection after its offshore Louisiana oil and gas wells failed to yield the expected returns, partly because of hurricane damage. Some $167.8 million of sukuk bonds were affected. And last month, Investment Dar Co., a Kuwaiti investment company that owns a 50% stake in luxury-car maker Aston Martin Lagonda Ltd., missed a payment on a $100 million sukuk, becoming the first company from the Middle East to default on Islamic bonds. …

In what could prove to be a test case, a bankruptcy judge in Louisiana is deciding the fate of holders of bonds tied to bankrupt energy firm East Cameron Partners LP, which in 2006 became the first U.S. company to issue the most popular type of Islamic-friendly instrument, known as a sukuk. One question: whether the bondholders actually own a portion of the company's oil and gas. As such cases work their way through courts, or are resolved without court intervention, "they may give some guidance to investors on the default of sukuk and how this would be resolved," says Mohamed Damak, an analyst with ratings firm Standard & Poor's in Paris.
(June 16, 2009)
Salah Ezzedine, Hezbollah's financier: Avi Issacharoff provides a summary of the problem in Ha'aretz:
At least four senior members of Hezbollah suffered serious financial losses as the result of embezzlement by the Lebanese Shi'ite businessman Salah Ezzedine, according to the London-based newspaper Asharq Al Awsat. … According to assessments in the Arab media and the news agencies, Ezzedine succeeded in defrauding hundreds of investors out of sums totaling between $600 million and $1.3 billion. He was arrested at the beginning of last week after persuading a large number of investors - including businessmen from Qatar and the Gulf states and thousands of villagers from southern Lebanon - to transfer sums of money to him, which he promised to invest with returns of 25-55 percent. After he declared bankruptcy, Ezzedine turned himself over to the Lebanese authorities.

Ezzedine, who was well known as an investor mainly among Lebanon's Shi'ite community, is suspected of having used the money as part of a "Ponzi scheme" in which he transferred the sums invested by new investors to the accounts of more veteran investors, in much the same way as Bernard Madoff did in the United States. It is believed that Ezzedine's family has escaped from Lebanon.

Lebanese reports say that Ezzedine and his associates are being interrogated at present but that no formal charges have yet been brought against them. The Kuwaiti newspaper Al Watan reported last week that Hezbollah's losses in the affair are estimated at some $680 million, a gigantic sum for the organization, most of whose budget comes from Iran. In the past decade, Hezbollah has succeeded in developing economic systems, including drug and real estate deals that brought in good returns.

Ezzedine is the owner of the Dar Al-Hadi publishing company, one of Lebanon's leading publishers of Shi'ite religious texts. It also publishes the writings of Hezbollah officials and has shares in the children's "Al-Hadi" television channel. A Lebanese court on Thursday ordered the closure of the publishing house and all 250 workers lost their jobs suddenly. Ezzedine was also involved in arranging trips to Mecca. Ezzedine's money was invested in iron and energy companies and he lost a fortune when the price of oil plummeted.

"Everyone invested with him, everyone," said the owner of a grocery store, Muhammed Shur, in an interview with Al-Jazeera Television. "He was supposed to be a religious man and gave a lot of money to charity." He said he had placed his family's entire savings, $45,000, in Ezzedine's hands. "You can go through this village one by one," he added. "Some of the people even mortgaged their homes to invest with him."
(Sep. 7, 2009)
UM Financial: Colin Freeze and Tavia Grant document for Canada's Globe and Mail how "Islamic lender's troubles put homeowners in limbo":
Toronto's UM Financial, an Islamic lender backed by a credit union, was put into receivership this month by an Ontario Superior Court order. This has left more than 170 Muslim homeowners with questions such as: Who controls their properties? How much money do they still owe? To whom do they pay the money? How will this accord with religious principles?

"What ... is going on? That's where we are right now," local Muslim leader Mohammad Robert Heft said at a meeting of more than 75 homeowners in a Scarborough strip mall on Saturday. …

UM Financial had effectively served as a buffer between Muslim homeowners and Credit One, a credit union. The deal was that UM Financial would help its Muslim clients buy their homes and be paid in monthly payments – including service premiums – over long periods of time.

The arrangement lasted six years but unravelled as the credit union and UM Financial went to court in a dispute over money. The management of the portfolio has been passed to a receiver, Grant Thorton LLP, which says it is reviewing matters. …

UM Financial circulated a statement on Oct. 12, which said "it is true that UM Financial Inc. has ceased operations," but the overarching company, and CEO Omar Kalair, "continue with business as usual." The statement added that "the UM Group" continues to run separately incorporated credit card, real-estate investment, and financial-advisory arms, among other business lines.

Mr. Kalair last night said he can't comment on the specific business issues, but he stressed that the Islamic financing model is still solid. "A majority of people still want to stay with it. There is a market demand for these products."
(October 23, 2011)
Government of Turkey: It's not a lariba institution but it is an Islamist one, and the amounts that it has embezzled appear to be huge. Here is a commentary by Elias Makris in the Greek newspaper Kathimerini: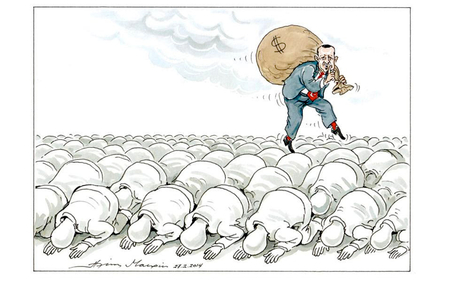 Erdoğan takes off with the loot while the believers pray.
(March 1, 2014)