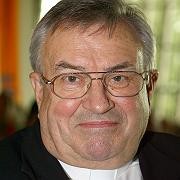 Cardinal Karl Lehmann.
Already in late 2003, the Vatican equivalent of foreign minister, Cardinal
Jean-Louis Tauran
, demanded reciprocity: "Just as Muslims can build their houses of prayer anywhere in the world, the faithful of other religions should be able to do so as well." Especially since the accession of Pope Benedict XVI, I noted a year ago (in "
The Vatican Confronts Islam
") Catholic demands for reciprocity have grown. Today, we learn at "
Kardinal möchte in Saudi-Arabien Messe lessen
," they took a new and specific form, as Cardinal Karl Lehmann, head of the German bishops' conference, has demanded that if Muslims can built mosques in Europe, he should be able to hold a mass in Saudi Arabia. (June 9, 2007)
May 1, 2012 update: Lehmann's tough statement appears to have been the exception. Sergio Itzhak Minerbi of Hebrew University concludes an essay, "Benedict XVI and Islam" in the Israel Journal of Foreign Affairs (not online; vol. 6, no. 3, pp. 63-73) with this comment:
It is impossible to avoid the conclusion that the Catholic Church has not yet defined a clear policy toward Islam. On occasion, Pope Benedict XVI has displayed the will to oppose Islam. However, his Secretariat of State has generally preferred a more lenient attitude in the hope of securing Islamic benevolence toward Catholics. There is little to suggest that such a policy will bear fruit.