Mu'ammar al-Qaddafi, Libya's leader since 1969, is defunct, gunned down in his home town of Sirte.
How fitting that he called the rebels against him "rats," yet his final moments were spent in a reeking drainage pipe under a highway, just like a rat, like his fellow Arab despot Saddam Hussein. Indeed, he is the sixth tyrant on the lam in the past decade to be captured or executed; that leaves only Mullah Omar, the former Taliban leader, on the loose, hiding like a common criminal.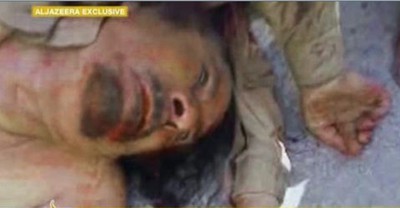 Qaddafi's corpse.
For my take on the Libyan leader, see the biting post-mortem, "Assessing Qaddafi," written after the fall of Tripoli in late August 2011. In it, I noted his enduring impact on oil prices and Islamism, I delineated the four eras of his 42-year rule and argued for its utter futility.
Looking ahead, I nervously wish the Libyans well, hoping that the NATO-enabled overthrow of a brutal eccentric does not lead to the empowerment of brutal Islamist ideologues who do even more damage to Libya and beyond.