The Egyptian publication Al-Masry Al-Youm reports that the U.S. government has supplied five containers carrying 140,000 teargas canisters to Egypt's Interior Ministry. It further reports that this shipment left Wilmington, Delaware, on Mar. 14 aboard the SS Jamestown and that it has just arrived the port of Suez. They cost the Egyptian government just under US$2.5 million. According to ministry spokesperson Hani Abdel Latif, the ministry imported the grenades in order to protect state facilities.
Although shocking, this should not come as a surprise: On Feb. 25, 2013, the State Department spokesman confirmed that "we have approved an export license for the shipment of U.S.-manufactured nonlethal riot control agents to the Egyptian Government." He added that "No U.S. security assistance funds have been used for the purchase of these products" and "we condemn any misuse of these products, of teargas that can result in injury or unlawful death, and any such misuse would jeopardize future exports."
Comments: (1) I have waited six days to see if either government would deny that 140,000 canisters were delivered but neither has, suggesting this is an accurate number. (2) The transfer of this arsenal of crowd-control weapons reveals the depth of the Obama administration's collusion with the wretched Morsi regime. (3) This idiocy alone justifies the title of my lecture in Washington on Apr. 16, "Amateur Hour: The Obama Administration's Middle East Policy." (April 14, 2013)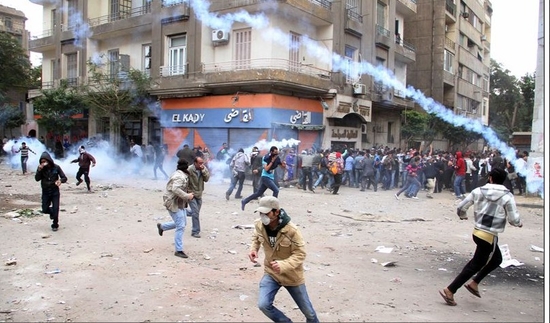 Tear gas in Tahrir Square causes Egyptian protesters to flee in 2011.
June 28, 2013 update: The extremist and notoriously unreliable website Counterpunch carries a specific and seemingly plausible first-hand report by Michael Dickinson indicating that at least some of the teargas used by the Turkish police was manufactured in the United States. Excerpts:
The Sunday before last [June16], while crossing Taksim Square in Istanbul on my way home from a morning visit to inspect the change in Gezi Park which had been wrought the evening before, I came across a spent CS [2-chlorobenzalmalononitrile] gas cartridge lying at my feet. I picked it up.

The cartridge was of shiny thick tin, big and heavy, empty and dented, but clearly labelled with details. It was manufactured by NonLethal Technologies, Homer City, PA 15748 USA. … Apparently, Turkey has imported 62 tons of pepper spray and tear gas worth 21 million dollars in the last twelve years, mainly from America and Brazil. The sell-by-date on the CS gas cartridge was listed as 01/2017. … This empty cartridge had contained 25 grammes of CS gas, I read.