The story about conquering Muslims burning the ancient Library of Alexandria is apocryphal but otherwise Muslim rage against cultural and historical artifacts is real, persistent, and in need of explanation. What is it about Islam that so often turns its adherents against their own patrimony? Consider some examples:
The destruction of Hindu temples in medieval India.
The Mamluks using the Great Sphinx of Egypt as target practice and the Great Pyramid as a quarry.
The Turkish destruction of churches in northern Cyprus since 1974.
The Saudi destruction of antiquities in Mecca since the 1990s,
The Palestinian sacking of the Tomb of Joseph in 2000 and desecration of it in 2009.
The Palestinian dumping of 13,000 tons of rubble from Jerusalem's Temple Mount containing precious ancient materials.
The Taliban destruction of the Bamiyan Buddha in 2001.
Al-Qaeda's bombing of the Ghriba synagogue, Tunisia, in 2002,
The pillaging of Iraqi museums, libraries, and archives in 2003.
The destruction of an historic Malaysian Hindu temple in 2006.
The destruction of L'Institut d'Égypte, Cairo in 2011.
The destruction currently underway in Timbuktu, including the tomb of Sidi Mahmoudou, d. 955, and the doors of the Sidi Yahya Mosque, ca. 1400.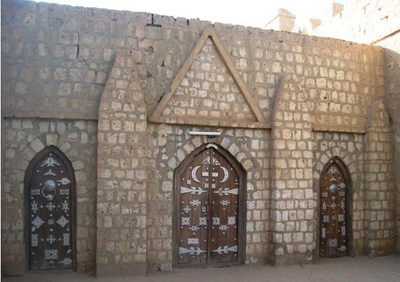 The doors of the Sidi Yahya Mosque, built ca. 1400, which were only to be opened at the end of time, smashed apart today by Islamists.
In addition, some intentions to destroy antiquities (Khomeini contemplated razing Persepolis, a grand mufti of Egypt banned exhibiting statues) might yet be realized. (On the other hand, the story about Muslims burning the ancient Library of Alexandria appears apocryphal.)
Finally, there is another pattern, turning non-Islamic holy places into Islamic ones. As I noted in 2001,
Moslems have habitually asserted the supremacy of Islam through architecture, building on top of the monuments of other faiths (as in Jerusalem and Ayodhya) or appropriating them (e.g. the Ka'ba in Mecca and the Hagia Sophia in Constantinople) This pattern still continues - as recently as October [2000], when it happened at Joseph's Tomb in Nablus.
Although these examples include both non-Muslim and Muslim artifacts, motives differ in the two cases: eliminating infidel remnants establishes the superiority of Islam, while eliminating Muslim ones establishes the superiority of Islamism. In both cases, the motive is foul and the results are, historically speaking, tragic. (July 2, 2012)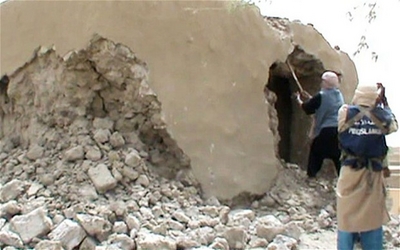 Islamists in the process of destroying a centuries-old Timbuktu shrine.
July 3, 2012 update I am adding a "top comment" endorsements to those commentators who provide other examples of Muslim destruction of antiquities, starting with S.C. Panda's information about Hindu temples post-1947. See those to flesh out the examples above.
July 11, 2012 update: Raymond Ibrahim writes today that "Calls to Destroy Egypt's Great Pyramids Begin."
July 25, 2012 update: Irfan Al-Alawi reports about "More destruction of Sufi tombs shows Islamists are not defeated" in Libya.
Oct. 30, 2012 update: The Saudi authorities are planning to raze Mohammed's tomb in Medina to build larger mosque – according to the not always trustworthy Russia Today Online.
A key Islamic heritage site in Saudi Arabia, which includes the Prophet Mohammed's shrine, is to get a regal makeover. The Gulf Kingdom plans a $6 billion expansion of Medina's holy Masjid an-Nabawi Mosque. ... to start as soon as the annual Hajj pilgrimage comes to a close at the end of November. "After the Hajj this year, in one months' time, the bulldozers will move in and will start to demolish the last part of Mecca, the grand mosque which is at least 1,000 years old," Dr. Irfan Alawi of the Islamic Heritage Research Foundation, told RT. After the reconstruction, the mosque is expected to become the world's largest building, with a capacity for 1.6 million people. ...

Concerns are growing that the expansion of Masjid an-Nabawi will come at the price of three of the world's oldest mosques which are located nearby. The expansion project is set to cost 25 billion SAR (more than US $6 billion), and will reportedly require the razing of the holy sites which date back to the seventh century.

The Saudis insist that colossal expansion of both Mecca and Medina is essential to make a way for the growing numbers of pilgrims. Both Mecca and Medina host 12 million visiting pilgrims each year and this number is expected to increase to 17 million by 2025. ... The Washington-based Gulf Institute estimated that 95 percent of sacred sites and shrines in the two cities have been destroyed in the past twenty years. The Prophet's birthplace was turned into a library and the house of his first wife, Khadijah, was replaced with a public toilet block.
Feb. 11, 2013 update: "Syrian rebels loot artifacts to raise money for fight against Assad" reads the Washington Post article by Taylor Luck. One excerpt:
Since the onset of the conflict in Syria, the international community has expressed alarm over the fate of the country's diverse heritage landmarks and stunning archaeological sites, as rebel and government forces have transformed historical treasures such as the 1,000-year-old Aleppo souk and the crusader castle Crac des Chevaliers into theaters of war. As the war nears its third year, the United Nations and conservationists warn that Syria's historical sites face a new and more dangerous threat: a sophisticated network of smugglers and dealers ­ prime among them members of the cash-strapped insurgency ­ looking to capitalize on the country's cultural riches.
Feb. 16, 2013 update: Michael Curtis provides another take on this same issue today at "Islamists Eliminating History." His introduction:
A new form of warfare by Islamists is being waged. This new offensive is not only a military campaign for jihad and for the creation of Islamic states ruled by sharia law; rather it is explicitly for the elimination of the non-Islamist past—an ideological offensive to remove the memories, historical artifacts, monuments, buildings, or any other evidence of the history and contribution of Judaism, Christianity, and even the moderate forms of Islam to civilization. This offensive is potentially more dangerous than any violence or vandalism or acts of revenge directed against supposed enemies.
Apr. 1, 2013 update: The ancient Jobar Synagogue in Damascus was looted and burned to the ground as Syrian government and rebel forces blamed each other for the destruction. It is one of the oldest synagogues in the world; and while an inscription at the building read, "Shrine and synagogue of prophet Eliahou Hanabi since 720 B.C.," its actual date of founding is disputed.
More broadly, the two-year civil war in Syria has damaged or destroyed six UNESCO-designated World Heritage sites.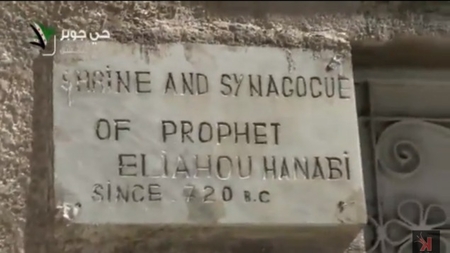 Sign at the Jobar Synagogue in Damascus.
Apr. 14, 2013 update: Abeer Ayyoub writes in "Hamas Military Wing Damages Gaza Heritage Site":
Earlier last month, amid overwhelming criticism from public figures and nongovernmental organizations, the military wing of the Islamic movement of Hamas, Izz ad-Din al-Qassam Brigades, bulldozed a part of the ancient Anthedon Harbor in northern Gaza along the Mediterranean Sea. The Brigades damaged the harbor in order to expand its military training zone, which was initially opened on the location in 2002, according to Ejla.

The Anthedon seaport, which dates back over 3,000 years to the Mycenaean era, is considered one of the most important sites in the Middle East and is the oldest harbor in Gaza. It was designated an international heritage site by UNESCO in 2012. The location was discovered in 1997 on the space of 180,000 square meters. It contains mosaic floors with historical pillars from the Roman, Byzantine and Islamic ages.
May 5, 2013 update: More on Syrian destruction, this time on ancient castles now under fire in the civil war, from an article today in the Washington Post by Abigail Hauslohner and Ahmed Ramadan:
Modern Syria is dotted with medieval castles and citadels, many built high upon the ruins of earlier Roman or Mesopotamian dynasties in an archaeological landscape that experts say is among the richest in the world. But as the fortified structures gain new strategic purpose in Syria's devastatingly modern civil war, archaeologists worry that what withstood ancient armies and earthquakes may now fall victim to airstrikes, shelling and other forms of 21st-century warfare.

Because of limited access, archaeologists and other experts say it is close to impossible to confirm reports of damage and looting to Syria's castles and citadels, including the famed crusader castle Crak des Chevaliers, whose south wall has been nearly destroyed in the fighting, according to Syrian rebels.

But it is certain that they and many other historical and archaeological sites "have been affected by violent fights or occupation by armed forces for military purposes," said Veronique Dauge, chief of the Arab States Unit at the UNESCO World Heritage Centre. Both the rebels and the Syrian government have pledged publicly to protect the nation's ancient structures. But they are intensely battling for their control.
July 2, 2013 update: An inventory of manuscripts in Timbuktu finds, according to David Stehl of UNESCO, that "Of the 46,000 manuscripts that were held by the Ahmed Baba Institute of Higher Learning and Islamic Research, 4,203 manuscripts were either burned by the Islamists or stolen." Mar, 10 2022 update: Remarkably, thanks to a Timbuktu librarian and Google, 40,000 manuscript have been saved and digitalized at a site called Mali Magic.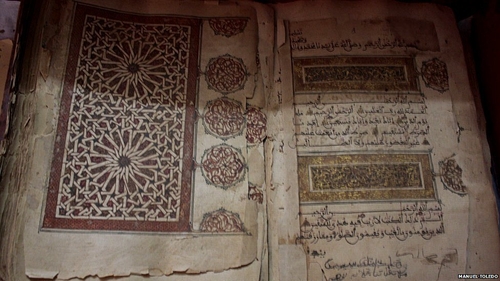 A manuscript at the Ahmed Baba Institute in Timbuktu.
July 19, 2013 update: The Archaeological Institute of America reports from Istanbul that
Byzantine-era walls in the historic Yedikule Gardens have been damaged by earthmovers constructing a new park, according to a warning issued by the Istanbul branch of the Association of Archaeologists. "The area lies in a protected strip of land walls that are on UNESCO's World Heritage List and is also a part of the historical peninsula, which is protected," reads the report. Vegetable plots had been growing in the area, which is slated for a decorative pool.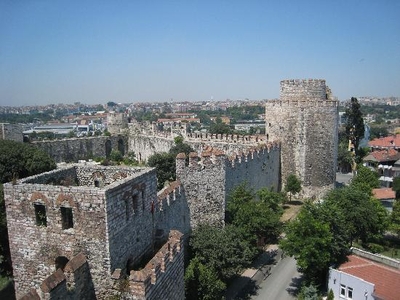 Yedikule.
Jan. 6, 2014 update: Arsonists destroyed an estimated 2/3s of the Saeh Library in Tripoli, Lebanon, on the grounds that its founder, Father Ibrahim Sarouja, a Greek Orthodox priest, had written an anti-Islamic article and that the library contained anti-Islamic materials. Founded in 1972, the library held about 80,000 books, meaning 50,000 were burned.
Jan. 25, 2014 update: In a variant on this weblog entry, Sultan Sooud Al Qassemi writes in "Regional strife destroying historical Arab treasures" at Al-Monitor surveying the recent toil on historical artifacts. He begins with yesterday's truck bombing of the Museum of Islamic Art in Cairo, "destroying priceless treasures of the largest Islamic museum in the world in an attempt to target a state security bureau. Egypt's minister of antiquities declared that the museum had been 'completely destroyed'." But that is just the beginning:
In August 2013, looters stole or damaged 1,060 of 1,089 objects housed at Egypt's Mallawi Museum in Minya, killing a security guard. The following month 400 artifacts were recovered. ...

Algeria's centuries-old Kasbah ... is threatened with decay and neglect. ...

In 2012, al-Qaeda in the Arabian Peninsula videotaped themselves destroying the ancient mausoleum of al-Ja'dani outside Jaar in Abyan province in Yemen. ...

While Libya's National Museum in Tripoli survived the 2011 war largely intact, a "collection of priceless coins, jewelry and small statues" known as the "treasures of Benghazi" dating back to the age of Alexander the Great, were stolen from a bank vault in May 2011. Following the war, Libyan Salafists desecrated graves of World War II soldiers then turned their attention to historic Sufi shrines, many of which they ransacked, burnt down or bulldozed.
The Syrian civil war is taking a terrible toll:
Three years on, it is impossible to document the extent of the damage to the country's historical sites. A 2012 report by Time magazine found that rebels were looting and smuggling ancient artifacts to fund the war effort. As a result of the war, "all six of Syria's UNESCO World Heritage Sites have reportedly been damaged or destroyed." Aleppo was especially hit hard, losing its ancient market and parts of its historic Umayyad Mosque and citadel. In July 2013, the Syrian government launched an airstrike against the medieval Krak des Chevaliers castle, damaging one of its towers in an apparent attempt to target rebels.
In conclusion, Qassemi expects that this destruction "will likely persist as long as these states continue to witness civil strife and a lack of stable governments." Fair enough, except that the campaign against history started earlier and runs deeper than the current round of upheavals.
Jan. 31, 2014 update: More details on the truck bomb that went off in Cairo on Jan. 24, presumably intended for a police headquarters but also hitting the 111-year old Museum of Islamic Art across the street, "blowing out windows and sending metal and glass flying through its halls," killing 4 and injuring 76. The museum contains artifacts dating from the Umayyad to the Ottoman periods, a span of some 1,200 years.
Egypt's minister of antiquities, Mohamed Ibrahim, said on Friday[, Jan. 31] that 74 precious artifacts had been destroyed and that 90 were damaged, but repairable. The museum had nearly 1,471 artifacts on display in 25 galleries and 96,000 objects in storage.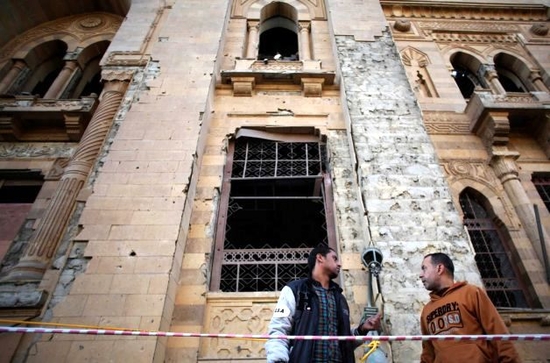 Cairo's Museum of Islamic Art was struck by a truck bomb, "blowing out windows and sending metal and glass flying through its halls."
In addition, several manuscripts and papyri of Egypt's National Library, housed on building's second floor, were also damaged. "The blast also burst a pipe in the fire-prevention system, causing water from the library to pour into the museum galleries below."
The New York Times article also reports on rampant looting in the anarchy of Egypt's post-Mubarak period:
Looters have dug a honeycomb of holes around the famous Black Pyramid of Dahshour, in Giza. They have stolen an entire minbar, or pulpit, from a Mameluke mosque near Cairo's Citadel, as well as beautiful brass details, marble plaques and wood inlays from some of the city's most splendid mosques. Last August mobs attacked the Mallawi museum in Minya, 190 miles south of Cairo, stealing 1,050 of the 1,089 artifacts on display, including Pharaonic statues and jewelry and Greco-Roman coins. ...

While Egypt has always had its share of antiquity theft, now it's more frequent, more efficient and more outrageous. Thieves have struck Pharaonic, Greco-Roman and ancient Christian sites from Abu Rawash north of Cairo to Luxor in the south. And they're selling these treasures faster than ever, sometimes within hours.

"The last three years, there's been a drastic situation, where you see at every archaeological site excavating without permission," said Saleh Lamei Moustafa, a conservator of Islamic architecture. "They're even bringing loaders. There are only 300 in the antiquities police, armed with pistols, and they're fighting people with heavy weaponry."
Feb. 5, 2014 update: Francesco Bandarin, UNESCO's assistant director-general for culture, is appalled by the destruction of ancient Syrian sites such as Mari, Ebla, Palmyra, and Apamea. "All of them have been subject to this phenomena [of illegal digging], some of them to an extent that is unimaginable. Apamea - it's completely destroyed." The Associated Press continues that Bandarin "lamented the destruction of landmarks in the civil war including Aleppo's medieval marketplace and the 11th-century minaret of the Umayyad Mosque that was the ancient heart of Aleppo's walled Old City, as well as the looting of the Krak des Chevaliers, one of the world's best preserved Crusader castles."
Feb. 11, 2014 update: Ahmed Sharaf, director of the Egyptian Ministry of Antiquities museums division, reports on theft during the country's unrest:
During the previous period, waves of rioting caused a lot of losses, damages and museum thefts. On Jan. 28, 2011, the Egyptian Museum was broken into via the lighting rooms on the upper floor. The thieves then descended to the halls and stole 54 pieces, 28 of which have been recovered. On the day when the Rabia [al-Adawiya] sit-in was broken up, the Malawi Museum was broken into. Of its 1,079 pieces, 1,000 were stolen and 14 were destroyed. The police have recovered 900 pieces so far. And then there's the latest destruction to the Islamic Museum.
Feb. 12, 2014 updates: In a Counterpunch piece of propaganda for the Assad regime, Patrick Coburn documents some of the devastation wrought by the rebels against antiquities in Syria:
Islamic fundamentalists in Syria have started to destroy archaeological treasures such as Byzantine mosaics and Greek and Roman statues because their portrayal of human beings is contrary to their religious beliefs. The systematic destruction of antiquities may be the worst disaster to ancient monuments since the Taliban in Afghanistan dynamited the giant statues of Buddha at Bamiyan in 2001 for similar ideological reasons.
Details follow.
Apr. 13, 2014 update: A retired Egyptian army general, Ahmed Ragai Attiya, has declared that St. Catherine's Monastery in the Sinai, dating from the sixth century, should be demolished and its 37 monks deported on the grounds that it and they present a threat to the country's national security. Oh, and he claims the building dates only from 2006.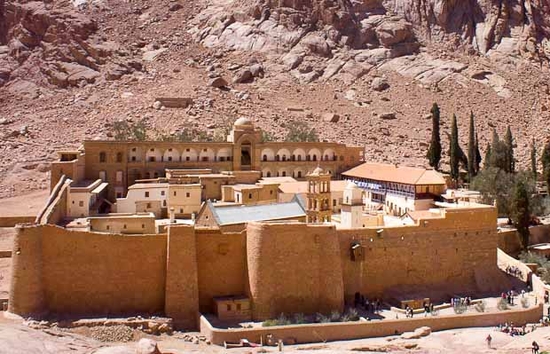 St. Catherine's Monastery in the Sinai, dating from the sixth century.
May 22, 2014 update: The Islamic State of Iraq and Syria (ISIS, also known as Islamic State in Iraq and the Levant, ISIL), writes Ilan Ben Zion, has damaged antiquities in the parts of Syria they dominate. Its fighter appear, appear, in pictures made available by the Association for the Preservation of Syrian Archaeology,
to smash a 3,000-year-old Neo-Assyrian statue illegally removed from a nearby archaeological site. Another image shows a man placing his foot — an act of disrespect in Arab culture — on the face of the Assyrian statue before its destruction.

Islamic State of Iraq and the Levant at work destroying Syria's archeological past.

Last month, the Syrian antiquities authority said in a statement that it had received notice that artifacts that "appear to be the result of an unauthorized digging" had been plundered from Tell Ajaja, the ruins of the Assyrian provincial capital Shadikanni on the Khabur River, a tributary of the Euphrates. ...

The destruction of Assyrian antiquities was not the first assault against Syrian archaeological treasures committed by ISIL. In January 2014, the radical Islamist group blew up and destroyed a sixth-century Byzantine mosaic near the city of Raqqa, the Independent reported. The pristine Roman-style mosaic had only been discovered in 2007. Syria analyst Aymenn al-Tamimi, one of those who tweeted the images of ISIL smashing the idols in Hasakeh, also shared a photo of the Islamists taking a bulldozer to a statue outside a Raqqa museum.
June 17, 2014 update: A Saudi national has been arrested, accused of smashing three historic stone statues (60-100 centimeters high) and bronze statue (200-centimeter high) at the Senso-Ji Buddhist temple, Tokyo's oldest and one of its most significant temples. The Saudi embassy has condemned his actions.
July 7, 2014 update: The conquest by the Islamic State in Iraq and Syria of Mosul and other regions of Iraq has led to an orgy of violence against historic edifices and artifacts, including the blowing up of Shi'i mosques, the bulldozing of churches, the pulverizing of shrines, and the plundering of museums. The repercussions of the ISIS victories will likely be deep and abiding for antiquities.
July 24, 2014 update: In addition to the destruction noted above (see the July 7, 2014 entry), ISIS has now destroyed two sites in Mosul revered as the burial place of Biblical prophets, Daniel and Jonah (the one swallowed by a whale). About the latter:
"ISIS militants have destroyed the Prophet Younis (Jonah) shrine east of Mosul city after they seized control of the mosque completely," a security source, who kept his identity anonymous, told the Iraq-based al-Sumaria News. "The militants closed all of the mosque doors and prevented worshipers from entering to pray," the source said. A witness who did not wish to give his name said that ISIS militants "first stopped people from praying in it, they fixed explosive charges around and inside it and then blew it up in front of a large gathering of people," according to Agence France-Presse. An endowment official, who spoke on condition of anonymity, and Mosul residents told AFP it took the Sunni extremists an hour to rig the shrine with explosives.
The building was "turned to dust." In total, in and around Mosul, ISIS is now said to have destroyed or damaged 30 shrines and 15 husseiniyas and mosques.
July 28, 2014 update: An inspiring tale, for a change: ISIS militiamen arrived at the Crooked Minaret (al-Minara al-Hadba) in Mosul, built about AD 1173. The mis-shapen minaret has a role in the Middle East's folklore roughly equivalent to the Leaning Tower of Pisa in Europe's (see the 10,000-dinar note, below). The ISIS thugs planned to blow it up. But "When fighters ... loaded with heavy explosives converged on the site, Mosulis living nearby rushed to the courtyard below the minaret, sat on the ground and linked arms to form a human chain" and the ISIS troops backed off and left – for the moment. No one expects this to be the end of the story but, as the Associated Press says, it was "a startling show of bravery."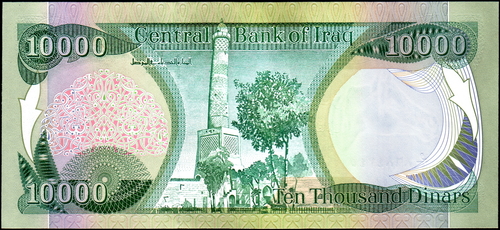 The Iraqi 10,000-dinar note shows the Crooked Minaret, which still stands - for now.
Aug. 24, 2014 update: Archaeologists and other academics, both in the West and in the Middle East, are doing their best to respond to the wanton destruction in Syria, reports Ursula Lindsey of the Chronicle of Higher Education.
Scholars can do little to stop the fighting and looting, but they have created blogs, websites, Facebook pages, and Twitter accounts to monitor the destruction and raise awareness about it. By sharing excavation records, scholars outside the Middle East have helped their counterparts in the Arab world to compile online lists of missing or stolen objects.
Lindsy then provides specifics, such as the Association for the Protection of Syrian Archaeology and Egypt's Heritage Task Force.
Sep. 2, 2014 update: Three co-authors write in "ISIS' Antiquities Sideline" about the Islamic State in Iraq and Syria's system to make money off of Syrian historical artifacts from a wide range of eras – the ancient Mesopotamian, Assyrian, Hellenistic, Roman, Byzantine and Islamic periods. They report that ISIS is involved in the illicit antiquities trade "in a way that is more complex and insidious than we expected." How the system works:
In general, ISIS permits local inhabitants to dig at these sites in exchange for a percentage of the monetary value of any finds. The group's rationale for this levy is the Islamic khums tax, according to which Muslims are required to pay the state treasury a percentage of the value of any goods or treasure recovered from the ground. ISIS claims to be the legitimate recipient of such proceeds.

The amount levied for the khums varies by region and the type of object recovered. In ISIS-controlled areas at the periphery of Aleppo Province in Syria, the khums is 20 percent. In the Raqqa region, the levy can reach up to 50 percent or even higher if the finds are from the Islamic period (beginning in the early-to-mid-seventh century) or made of precious metals like gold.

The scale of looting varies considerably under this system, and much is left to the discretion of local ISIS leaders. For a few areas, such as the ancient sites along the Euphrates River, ISIS leaders have encouraged digging by semiprofessional field crews. These teams are often from Iraq and are applying and profiting from their experience looting ancient sites there. They operate with a "license" from ISIS, and an ISIS representative is assigned to oversee their work to ensure the proper use of heavy machinery and to verify accurate payment of the khums.

In addition to the looting, ISIS seems to be encouraging the clandestine export of archaeological finds, which is primarily centered on the border crossing from Syria into Turkey near Tel Abyad, an ISIS stronghold. There is reason to suspect that ISIS has approved and encourages the transborder antiquities trade.
This system, the authors conclude, "provides ISIS with one of its many diversified income streams" and is also causing "irreparable damage to Syria's cultural heritage."
Sep. 19, 2014 update: The Associated Press offers an overview of ISIS depredations:
For more than 5,000 years, numerous civilizations have left their mark on upper Mesopotamia — from Assyrians and Akkadians to Babylonians and Romans. Their ancient, buried cities, palaces and temples packed with monumental art are scattered across what is now northern Iraq and eastern Syria. Now much of that archaeological wealth is under the control of extremists from the Islamic State group. The militants have demolished some artifacts in their zealotry to uproot what they see as heresy, but they are also profiting from it, hacking relics off palace walls or digging them out to sell on the international black market. Antiquities officials in Iraq and Syria warn of a disaster as the region's history is erased.
ISIS controls on area replete with antiquities:
When the militants overran the northern city of Mosul and surrounding Ninevah province in June, they captured a region were nearly 1,800 of Iraq's 12,000 registered archaeological sites are located. They snapped up even more as they pushed south toward Baghdad. Among the most important sites under their control are four ancient cities — Ninevah, Kalhu, Dur Sharrukin and Ashur — which were at different times the capital of the mighty Assyrian Empire. The Assyrians first arose around 2500 B.C. and at one point ruled over a realm stretching from the Mediterranean coast to Iran.
Its treatment of ancient artifacts parallels its brutality toward living people:
The heaviest damage confirmed so far has taken place in the grand palace at Kalhu, from which Assyrian King Ashurnasirpal II reigned in the 9th century B.C., [head of the state-run Museums Department, Qais Hussein] Rasheed said. The palace walls are lined with reliefs describing the king's military campaigns and conquests or depicting him hunting lions or making sacrifices to the gods. "They are cutting these reliefs into small parts and selling them," Rasheed continued. "They don't need to excavate. They just need a chain saw to cut the king's head or legs if they want." Recently they carved off a relief depicting a winged demon holding a sacred plant and sold it abroad, he said. "It is now beyond borders."
More might be coming:
Authorities fear other sites will soon face destruction, including Mosul's city museum, which has rare collections of Assyrian artifacts, and the 2,300-year-old city of Hatra, a well preserved complex of temples further south. From both locations, militants ordered out antiquities officials, chastising them for protecting "idols," Rasheed said. So far, it appears the militants have not done anything with the artifacts at the sites because they are awaiting instructions from their religious authorities, he said.
Things are no better in neighboring Syria, where
looting of archaeological sites is believed to have increased tenfold since early 2013 because of the country's chaos, said Maamoun Abdulkarim, Syria's director-general of antiquities and museums. The past year, the Islamic State group has overrun most of the east, putting a string of major archaeological sites in their hands. In one known case, they have demolished relics as part of their purge of paganism, destroying several Assyrian-era statues looted from a site known as Tell Ajaja, Abulkarim said. Photos posted online showed the gunmen using hammers to break apart the statues of bearded figures.
Dec. 12, 2014 update: In a happy exception to the general pattern of plunder and destruction, the Prince Salman bin Abdulaziz Center for Restoration and Preservation of Historical Materials at the King Abdulaziz Foundation for Research and Archives (Darah) has, according to an Al-Monitor article, "restored, sterilized and photocopied more than 10 million old documents, manuscripts and historical materials, some dating back more than 900 years."
Jan. 2, 2015 update: ISIS threatens to destroy the surviving walls of Nineveh, capital of the ancient Assyrian Empire and one of the most important archaeological sites of Iraq, should the Iraqi army attempt to seize Mosul from ISIS control.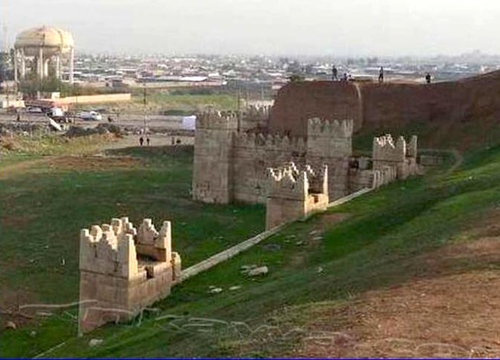 Remains of the Assyrian walls in Nineveh, northern Iraq.
Jan. 28, 2015 update: ISIS made good on its threats and did blow up the walls of ancient Nineveh, AINA reports:
Jihadists resumed bombings against historic sites in Nineveh and destroyed remains of the ancient wall of Mosul, specialized sources reported today; while politicians accused the United States of hampering the counterterrorist fight. A historian living in Mosul, the second largest in Iraq, told the publication Shafaq News that militants of the Islamic State (IS) destroyed on Tuesday night much of the historic city wall located on Tahrir neighborhood on the left coast of Mosul. Using a great amount of explosives, 'Takfirists' (Sunni Islamic terrorists) blew pieces of the wall considered the most important historical monument of the Iraqi province and the whole region, dating back to the civilization of the Assyrian kings in the eighth century BC.
Feb. 1, 2015 update: According to a somewhat opaque Associated Press report by Sinan Salaheddin, ISIS has burned the books in most libraries of Mosul, including the Central Library, the University of Mosul's library, the archives of a Sunni Muslim library, the library of the 265-year-old Latin Church and Monastery of the Dominican Fathers, and the Mosul Museum Library with works dating back to 5000 BC. They left only Islamic texts unburnt.
Items of great historical value are presumed destroyed including a "collection of Iraqi newspapers dating to the early 20th century, maps and books from the Ottoman Empire, and book collections contributed by about 100 of Mosul's establishment families."
Two historical precedents come to mind. (1) The rationale for these conflagrations, which reminds one of that for the supposed burning of the great library in Alexandria: "These books promote infidelity and call for disobeying Allah. So they will be burned." (2) The Mongol conquest of Baghdad in 1258: Hakim al-Zamili, who leads the Iraqi Parliament's Security and Defense Committee, notes the only difference being that "the Mongols threw the books in the Tigris River, while now Daesh [ISIS] is burning them. Different method, but same mentality."
Feb. 25, 2015 update: More ISIS barbarism from Mosul, this time destroying "idols," as reported by the Associated Press:
The Islamic State group released a video on Thursday purportedly showing militants using sledgehammers to smash ancient artifacts in Iraq's northern city of Mosul, describing them as idols that must be removed. ... The five-minute video shows a group of bearded men inside the Mosul Museum using hammers and drills to destroy several large statues, which are then shown in pieces and chipped. The video then shows a black-clad man at a nearby archaeological site inside Mosul drilling through and destroying a winged-bull Assyrian protective deity that dates back to the 7th century B.C. ...

"Oh Muslims, these artifacts that are behind me were idols and gods worshipped by people who lived centuries ago instead of Allah," a bearded man tells the camera as he stands in front of the partially demolished winged-bull. The so-called Assyrians and Akkadians and others looked to gods for war, agriculture and rain to whom they offered sacrifices," he added, referring to groups that that left their mark on Mesopotamia for more than 5,000 years in what is now Iraq, eastern Syria and southern Turkey. "Our prophet ordered us to remove all these statues as his followers did when they conquered nations," the man in the video adds.
Feb. 28 , 2015 updates: (1) The Iranians have just offered to protect antiquities in Iraq from ISIS; what a clever cover for acquiring yet more power in that country.
(2) On a brighter note, the Iraqi National Museum in Baghdad (which I visited in 1972 and 1987) will open for the first time since the invasion 12 years ago, and is doing so precisely to respond the ISIS barbarism in Mosul. Deputy Tourism Minister Qais Hussein Rashid explained, using an Arabic acronym for ISIS, that "The events in Mosul led us to speed up our work and we wanted to open it today as a response to what the gangs of Daesh did." He says that about 4,300 of 15,000 looted pieces have been recovered since 2003.
Mar. 8, 2015 update: ISIS has committed three major archeological atrocities in as many days: It bulldozed the ancient cities of Nimrud, Hatra, and Korsabad, all in Iraq, three of the world's greatest archaeological and cultural sites – but not before ripping out select antiquities to sell for profit.
Apr. 4, 2015 update: Today, ISIS destroys the ancient city of Hatra.
May 22, 2015 update: Al-Azhar, Egypt's Sunni mosque and university, has replied to ISIS by issuing a fatwa that condemns the destruction of antiquities.
July 2, 2015 update: Today, the ISIS destruction of Palmyra began.
Aug. 21, 2015 update: ISIS destroyed the ancient Assyrian Christian monastery of Mar Elian in Qaryatain, Syria.
Sep. 14, 2015 update: As though inspired by the ISIS depredations, Iran's regime is destroying the Sassanid-era Castle of Kouh Mobarak in the town of Jask on the Persian Gulf.
Sep. 25, 2015 updates: (1) Sean Durns notes how "Palestinian Groups Ahead of ISIS in Destroying Antiquities" for CAMERA. His conclusion:
In seeking to destroy Jewish history in Jerusalem and elsewhere, some Palestinian Arabs are—similar to the more widely covered actions by ISIS, also known as the Islamic State or Islamic State in the Levant—attempting to rewrite history for their political ends. Major media would do well to note that ISIS is far from original in its revisionism by demolition.
(2) Haroon Moghul in Quartz: "If you think the Islamic State's war on antiquities is horrifying, you are right. But it is not exceptional. It has its roots in a perverse and excessive iconoclasm, which has seen Saudi Wahhabist mandates literally crush, demolish, smash, erase, and break down the very sites and landscapes that Muslims worldwide know so well."
Oct. 21, 2015 update: An analysis by Dartmouth University scholars, published in Near Eastern Archeology, finds that, in addition to ISIS, the Syrian Kurdish group YPG, other Syrian rebel organizations, and the Assad regime all have been pillaging Syria's antiquities.
Jan. 20, 2016 update: ISIS has completely destroyed the oldest Christian monastery in Iraq, the 1,400 year old St. Elijah's in Mosul. It is but a small part of the group's handiwork, having joined
a growing list of more than 100 demolished religious and historic sites, including mosques, tombs, shrines and churches in Syria and Iraq. The extremists have defaced or ruined ancient monuments in Nineveh, Palmyra and Hatra. Museums and libraries have been looted, books burned, artwork crushed — or trafficked.
Apr. 12, 2016 update: In "Erasing Christian History," Khaled Abu Toameh tells about the recent discovery of the remains of an 1,800-year-old church in Gaza while digging a shopping mall. Instead of stopping everything carefully to excavate the important discovery, the authorities had bulldozers plow into church artifacts. Why would the Islamists of Hamas want to preserve or study a church, anyway? And for that matter, the Palestinian Authority stayed conspicuously silent on the matter.
June 7, 2016 update: An ISIS figure has vowed to blow up the Egyptian pyramids.
Nov. 14, 2016 update: Arsonists damaged a Second Temple era archaeological site on the eastern side of the Old City of Jerusalem in the Kidron Valley near the Mount of Olives. The site includes the Tomb of Absalom and the Cave of Jehoshaphat.
Nov. 16, 2016 update: The ancient Iraqi city of Nimrud, including the great and famed ziggurat, is almost no more.
Jan. 20, 2017 update: According to the Syrian regime news service, ISIS "has destroyed the façade of the Roman Theatre and the Tetrapylon in the archeological site of Palmyra."
June 21, 2017 update: ISIS blew up the historic Nuri Grand Mosque in Mosul as Iraqi government forces reached about 50 yards of the building. Ironically, this was the venue where Caliph Ibrahim announced the founding of his caliphate. Comment: It's unusual for ISIS to destroy a Sunni artifact.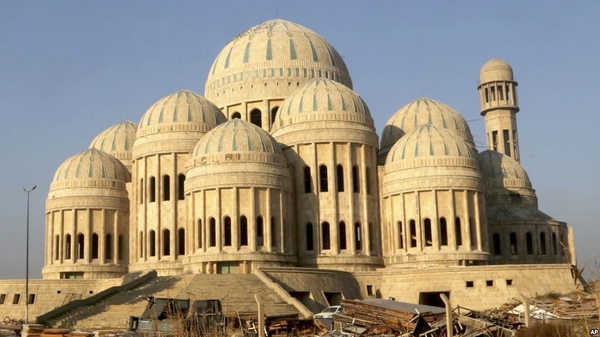 The once-Nuri Grand Mosque in Mosul,
June 22, 2017 update: (1) Another day, another Mosul Islamic monument blown up by ISIS. Today, it's the famed twelfth-century leaning Hadba minaret.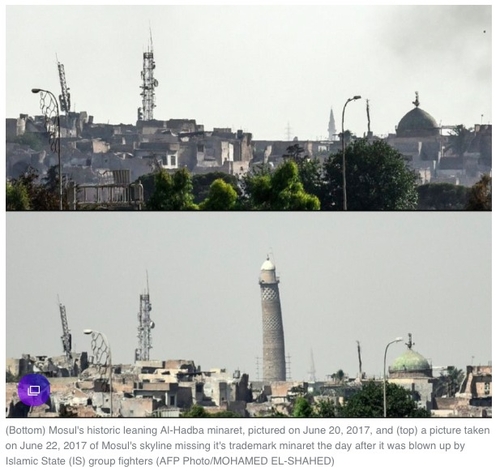 After and before the destruction of the Hadba minaret.
(2) Agence France-Presse has helpfully collected the ravages of ISIS destruction in Syria and Iraq in a map.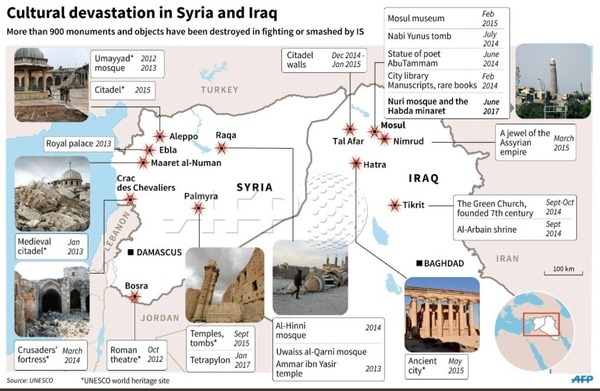 Oct. 6, 2017 update: Hamas bulldozed most of a Bronze Age, Canaanite archaeological site in Gaza, the 4,500-year-old Tel Es-Sakan. Why? For a military base and other priorities.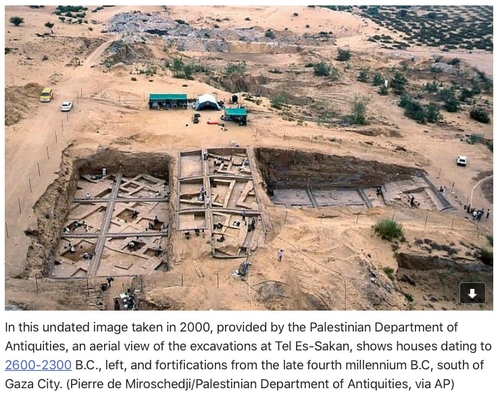 Nov. 30, 2017 update: UNESCO's new leader, Audrey Azoulay, has announced that of 82 World Heritage sites located in Arabic-speaking countries, a dismaying 17, or 21 percent, are on its "danger" list. She also noted that all six World Heritage sites in Syria have been "severely affected."
Dec. 19, 2017 update: The Palestinians' treatment of Jewish antiquities is as nasty and brutal as one would expect. A report on Herod's Third Palace, which lies within Area A, in Israel Hayom:
Recently, a team from the Kfar Etzion Field School visited the site and was appalled to find that the Palestinians, who received the excavated and orderly site as part of the Oslo Accords, had built housing around it. Some homes were constructed on the grounds of the palace itself. The remains of the palace are being systematically demolished to construct a road. The historic edifice is being stripped of its stone, and the supporting pillars and arches have been defaced.
Feb. 18, 2018 update: The Islamic Art Museum Malaysia in Kuala Lumpur features a photographic exhibition, "Syria, Yemen, Iraq: The Risk of Forever Being Lost," that focuses on the destruction of historic monuments. Good. But it treats this phenomenon like a force of nature, ascribing blame to no one. So, it makes no progress toward solving the problem.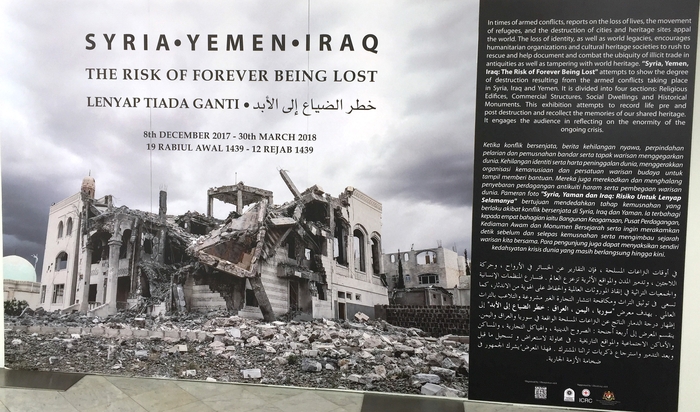 Sep. 22, 2018 update: Police with axes, concrete saws and ropes destroyed human statues located in the over- and under-water "Coralarium" art work at the Fairmont Hotel Sirru Fen Fushi Island. Why? Because Prime Minister Abdulla Yameen wants to win the Islamist vote and breaking statues is a crowd pleaser.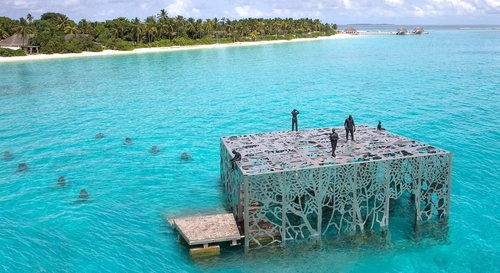 The Coralarium in the Maldives from the air.
Apr. 13, 2020 update: With ISIS mostly out of business, the violent and ostentatious destruction of historical monuments has stopped. But the quiet decay goes on unabated, as Ali Abdulhadi al-Mamouri demonstrates today at "Baghdad's monuments fall apart or destroyed despite laws." In short, "Many of the old buildings in Iraq's capital are falling apart. Some have already been left to collapse so the land can be used to build modern buildings."
June 21, 2021 update: "Uzbek jihadis affiliated with Hayat Tahrir al-Sham, which controls the northwestern province of Idlib, destroyed some antiquities such as statues in the Idlib Museum on June 11, claiming they were "false idols" that should not be displayed."
Oct. 8, 2021 update: "This is reminiscent of what ISIS does." So spoke Adi Shargay of the Shomrim al Hanetzach about increased Palestinian destruction of Jewish archaeological sites in the West Bank. She continued:
Unfortunately, in recent years we have received more and more reports from hikers and field officers regarding destruction of antiquities in Judea and Samaria, with no enforcement, and we understood that something big and bad is happening here. ... Our goal is a national emergency plan to save the antiquities in Judea and Samaria - that the Israel Antiquities Authority will operate there in an organized fashion. ... We discovered that 80% of the sites had been moderately or severely damaged. This is a national heritage disaster. ... Three thousand years of history have been erased within a short time. There's no possibility to restore a site which was damaged.