I wrote recently about Tariq Ramadan's "usual excuses for the pattern of extremism that follows him like a cloud" – and here is a most interesting example of this, made available to me and translated from Italian by Lorenzo Vidino of the Investigative Project.
The Italian magazine Panorama interviewed Ramadan and posted the result on Sept. 13. Dissatisfied, Ramadan wrote the magazine, alleging that it misquoted him. Unfortunately for Ramadan, the interview with him was taped, so Panorama replied by publishing the following update by Silvia Grilli on p. 23 of its Sept. 23 issue, titled "L'arte di 'spiegare' l'omicidio degli ebrei" ("The art of 'explaining' the killing of Jews"):
After the publication of the last issue with his interview, Ramadan sent this letter: "Panorama attributes me unacceptable sentences that I never pronounced and that would lead people to believe that 'it is comprehensible to kill children.' Nothing can justify the killing of children and the innocent and these acts are in contradiction with the principles of Islam. My condemnation is clear."
The interview with Ramadan was recorded. Here is the full transcript of his answer to the question of whether it is right to kill children and Israeli civilians because they are considered soldiers.

I don't believe that an eight year old child is a soldier. These acts are condemnable; therefore one has to condemn them in themselves. But I say to the international community that they are contextually explicable, and not justifiable. What does this mean? It means that the international community today has placed the Palestinians in a situation where they are delivered political oppression, which explains (not justifying it) that at a certain point people say: we don't have arms, we don't have anything, and so we cannot do anything other than this. It is contextually explicable but morally condemnable.

Saying that killing Israeli children is "contextually explicable" is tantamount to a "clear condemnation"? Justifying that there is no choice but to kill is a "clear condemnation" of the culture of death? Is it a "clear" position to say that an Israeli eight year old child is not a soldier, but his parents who ride the bus and get blown-up are soldiers? Who then are the "innocent" in Ramadan's eyes? Why did he not reply to this question, as did Magdi Allam [a prominent Italian journalist of Egyptian Muslim origins], that "human life is sacred"?
Comment: It's case closed on the matter of both Ramadan's being moderate or truthful. He is neither one nor the other. (September 23, 2004)
Mar. 5, 2007 updates: (1) I document how Ramadan's strange accusation against me rebounds against him in "Is Tariq Ramadan Lying [about Magdi Allam]?" (2) Gudrun Eussner offers more instances of Ramadan lying at "Tariq Ramadan is lying all the time!"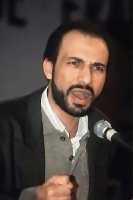 Tariq Ramadan, fined for insulting the French border police.

Mar. 7, 2007 update: At "Tariq Ramadan forced to retract defamatory statements," Jean-Charles Brisard offers another case of the accuser standing accused.
Mar. 13, 2007 update: Brisard tells about Ramadan making trouble at a French airport. He
was briefly detained and charged for "insulting a public agent" on Sunday at Paris Roissy Charles de Gaulle International Airport, while in transit to London. From informed police sources, we have learned that when Ramadan tried to enter a prohibited area, a young policewoman stopped him. He began shouting at her and was then taken into police custody; the officer filed a complaint against him. While in custody, he admitted the offense and was ordered to appear before a criminal court of Bobigny on April 6. Tariq Ramadan faces up to 6 months of imprisonment and 7,500 Euros of penalty.
For a news report on this incident, see "Tarik Ramadan brièvement interpellé à l'aéroport de Roissy."
June 6, 2007 update: Ramadan was fined €2,500 for the "outrage" of his insulting two border police back in March.