Major Jewish institutions show a marked propensity to hire, promote, and celebrate the enemies of Israel and even antisemites. Here are some examples, working backwards chronologically, with updates as pertinent:
Movie poster for "Rachel."

Cardozo Law School of Yeshiva University: Gave its International Advocate for Peace Award to Jimmy Carter, author of Palestine: Peace Not Apartheid, on April 10. Previously, it gave that same Peace Award to Desmond Tutu, known for saying that "Israel is like Hitler and apartheid."
92nd St. Y: Scheduled (but then postponed) a talk by Roger Waters of Pink Floyd, leading exponent of artistic boycotts of Israel and purveyor of antisemitic canards. It then hosted the novelist Alice Walker, who calls Israel the "greatest terrorist" of the Middle East.
Jewish Federation of Greater Philadelphia: Hosted a keynote address by Sari Nusseibeh, who rejects the existence of Israel as a Jewish state.
San Francisco Jewish Film Festival: Showed Rachel, a film hailing anti-Israel activist Rachel Corrie, and had Corrie's mother speak at the showing.
Brandeis University: Bestowed an honorary degree on Tony Kushner, who says "it would have been better if Israel never happened" and accuses Israel of "ethnic cleansing" Palestinians.
Republican Jewish Coalition: Invited Christopher Hitchens to address it, despite his calling Ariel Sharon "vile" and Zionism a "false messiah for the Jews." (Protests against Hitchens led to the event being canceled.)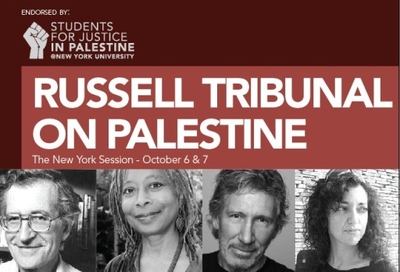 Alice Walker, 2nd from left, Roger Waters, 3rd from left. The 92nd St. Y invited both of them to speak. (Yes, that's Noam Chomsky 1st on the left.)
What is it about Jewish organizations that they acclaim their opponents? A belief that treating opponents generously will inspire reciprocity, even though this almost never works.
Here is a more serious example of this same impulse, concerning the Israeli government in 2000, as explained by David Wurmser in an article published a few days ago, "The Geopolitics of Israel's Offshore Gas Reserves":
To help the development of the Palestinian economy – which was seen as key by Israeli and American leaders to politically moderating the Palestinian population and solidifying peace – and lay to rest any potential arguments in the future over the resource, Israel carved from within the demarcation of its proposed Exclusive Economic Zone (EEZ) between itself and Gaza an indentation rather than run the demarcation line straight from the coast as is done in every other EEZ demarcation across the globe. Israel agreed to allow the line to be indented to Israel's disadvantage so that the entirety of Gaza Marine will be included in the Palestinian Authority area. The gas, which was to be used both inside Gaza for electricity production and exported to Israel, was to help the Palestinian Authority fund itself, have resources to build up its stature among Palestinians, and by stimulating development, to encourage political stability and moderation.
Comment: One watches and waits in vain for a recognition that being nice to enemies does not solve problems. (April 8, 2013)
Apr. 10, 2013 update: This story is richer and more personal than I knew on writing it two days ago. Note the reference to Sari Nusseibeh above and then read this excerpt from "Israel Advocacy Stirs Passion" in the Philadelphia Jewish Exponent by Bryan Schwartzman, discussing the Jewish Federation of Greater Philadelphia:
Old left-right disputes surfaced during a recent debate over whether Federation should co-sponsor an April 23 address, backed by Aish Philadelphia, with Frank Gaffney and Daniel Pipes, two thinkers on the right of the political spectrum. Ultimately, Federation decided not to sponsor the event because it wasn't balanced, according to several sources. But the organization is supporting a corresponding teen workshop earlier in the day in which college students will address high school students about the Israel debate on campus.

Lee Bender, an Israel advocacy committee member who is co-president of the Greater Philadelphia District of the Zionist Organization of America, was among those who argued that Federation should have sponsored the Gaffney-Pipes event. "Not every program has to be balanced in and of itself," Bender said, arguing that such balance could come over the course of, say, a year. "Too pro-Israel? What is wrong with this? Are we supposed to get someone who is against U.S. security?"
Comment: So, Nusseibeh does not need balancing and I do? He is worthy of Jewish Federation sponsorship and I am not?
Community Day School, a Jewish institution in Pittsburgh employs David Harris-Gershon as a teacher, although he is an activist and author who encourages the boycott, divestment, and sanction of Israel.
Feb. 27, 2014 update: Alexander Joffe of the Middle East Forum points today to
an uncomfortable reality of American Jewish life. There is no institution, no space, no conversation that is immune from anti-Zionism. At every turn Jews in their communal homes are required, often by other Jews, to debate Israel. As often as not the terms of the conversation are harsh and prejudicial; ethnic cleansing, apartheid, boycott, the one-state solution. This increasingly pertains to synagogues and communal organizations as much as to educational and cultural ones. …

only American Jews are required to open their institutions to "competing narratives," and only they are condemned as bigots if they refuse. With the trap thus sprung, the future of American Jewish institutions is more fraught than ever.
Joffe explains this phenomenon as a consequence of Jewish insecurities.