Spain's Islamic Board wrote a letter to Pope Benedict XVI to be allowed to pray in Cordoba Cathedral, on the grounds that the building was originally a mosque before being transformed into a church in the thirteenth century. "What we wanted was not to take over that holy place," reads the Islamic Board's letter, "but to create in it, together with you and other faiths, an ecumenical space unique in the world which would have been of great significance in bringing peace to humanity."
The Islamic Board took this initiative after senior Catholic clergy announced they "did not recommend" this step and indeed declared themselves unprepared to permit the cathedral's shared use with any other faith. On an operational level, security guards in the cathedral are said often to prevent Muslims from praying inside the medieval mosque that surrounds its church structure.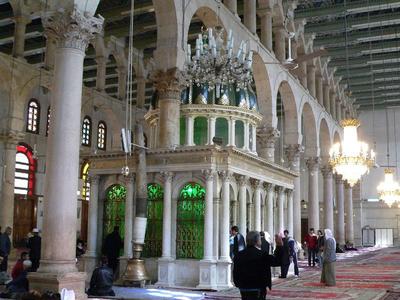 St John's Shrine, which is inside the Umayyad Mosque, Damascus.
The Islamic Board's general secretary, Mansur Escudero, complained that some in the Church feel threatened by Spain's growing Muslim population. "There are reactionary elements within the Catholic Church, and when they hear about the construction of a mosque, or Muslim teachings in state schools, or about veils, they see it as a sign we are growing and they oppose it."
Comment: The Muslim demand is all very reasonable – but only if Muslims permit reciprocal rights to Christians. For example, the Umayyad Mosque in Damascus is built over a Byzantine church and to this day contains a shrine said to contain the head of John the Baptist; Christians should be granted leave to pray there. Or the grandest church of Byzantium, Hagia Sophia in Istanbul, for centuries a mosque and now a museum – it too should be made available for Christian services. The Vatican has made reciprocity the cornerstone of its relations with Muslims, and this looks like a simple place to start implementing that policy. (December 26, 2006)
---
Dec. 26, 2006 addendum: This dispute fits into a larger context that I summarized in a 2001 article: Muslims
have habitually asserted the supremacy of Islam through architecture, building on top of the monuments of other faiths (as in Jerusalem and Ayodhya) or appropriating them (e.g. the Kaaba in Mecca and the Hagia Sophia Church in Constantinople)
Mar. 19, 2007 update: A reader, "gus3," reminds me that a mosque was, in turn, built atop the Visigothic monastery of San Vicente, which in its turn was built atop a Roman temple dedicated to Janus. One suspects that Christians did not get to pray in the mosque, nor devotees of Janus in the church.
Apr. 11, 2007 update: Another reader, "Marcus," takes this point to its elegantly logical extreme: "The mosque builders used the Roman and Visigothic columns to make the mosque. So . . . while the site was a mosque, Muslims have no particular claim on the site. I guess if the remnants of a Roman cult of Jupiter would like to make a claim, we'd have to listen to them."
Apr. 1, 2010 update: Why am I not surprised to read this headline in the Guardian, "Two arrested after fight in Cordoba's former mosque: Trouble erupts as tourists break ban on Muslim prayers in Spanish cathedral which was once world's second biggest mosque"? Some details:
The Cordoba Cathedral looks like a mosque.

A confrontation between Muslim tourists and guards employed by the Roman Catholic bishop at the world-famous Cordoba mosque saw two people arrested and two guards injured last night. Trouble broke out when the visitors knelt to pray in the building. ... Half a dozen members of a group of more than 100 Muslims from Austria had started praying among the marble columns and coloured arches of the vast building when security guards ordered them to stop. "They provoked in a pre-planned fashion what was a deplorable episode of violence," the bishop's office said in a statement.

Cathedral authorities said the guards had invited the visitors to continue viewing the inside of a 24,000 sq metre building that was once the world's second biggest mosque, but without praying. "They replied by attacking the security guards, two of whom suffered serious injuries," the bishop's office said. Local newspapers reported that a dozen police officers had been called into the building and that these, too, had been attacked when they tried to arrest the two visitors. The local Diario de Cordoba newspaper quoted anonymous police sources as saying that a knife had been taken off one of those arrested.
Comment: Still no word of militant Christians praying in the Umayyad Mosque in Damascus, much less tussling with guards there.
Apr. 5, 2010 update: How ironic that a planned $100 million dollar "Muslim-led project which will build a world-class facility that promotes tolerance, reflecting the rich diversity of New York City" is to be called the Cordoba House. With a stated aim of building back an "atmosphere of interfaith tolerance and respect," the name Cordoba would seem to be, given current disputes in that city, the wrong name.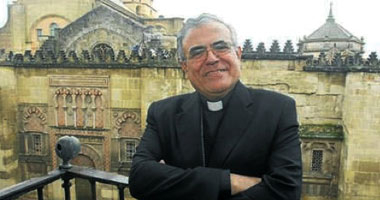 Bishop Demetrio Fernández of Cordoba, with the cathedral in back of him.
June 13, 2010 update
: Spero News quotes Bishop
Demetrio Fernandez
of Cordoba stating that any "joint use" of the Catholic cathedral is "a euphemism that means: Catholics, get out!" To this, Fernandez replies: "We will not leave, except if we are kicked out, since for 16 centuries there has been Christian worship here ... while the Muslims have been here but four and a half centuries." He explained in more detail:
the bishop pointed out that it is important "to know, that where Muslims pray, no one else may pray, which is to say, if I permit Muslims to pray in the Cordoba Cathedral, we could go the day after tomorrow; then, to permit the Muslims to pray in the Cathedral is equivalent to telling Catholics to saying goodbye and good night, and that would be irresponsible." Bishop Fernandez averred that "some things may be shared and others are not; and the Cathedral of Cordoba is not to be shared with Muslims."
The article, by Martin Barillas, a former US diplomat, also notes an increase in security at the cathedral since the altercation in April 2010.
Oct. 1, 2010 update: The push in Cordoba is not unique; comes news from Turkey that the government has approved a request by the Nationalist Movement Party (MHP) to hold Muslim prayer service in the Holy Virgin Cathedral, an Armenian church built in 1001 in Ani, the one-time capital of a medieval Armenian kingdom. One of the largest churches of medieval Armenia, it is one of the few extant buildings of medieval Armenian civilization.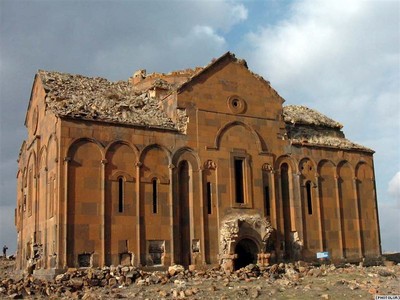 The Holy Virgin Cathedral, an Armenian church built in 1001 in Ani, now in the Turkish province of Kars.
Nov. 4, 2010 update: Rachel Donadio updates the Cordoba monument debate for the New York Times in "Name Debate Echoes an Old Clash of Faiths."
Today, signs throughout this whitewashed Andalusian city refer to the monument, a Unesco World Heritage site, as the "mosque-cathedral" of Córdoba. But that terminology is now in question. Last month, the bishop of Córdoba began a provocative appeal for the city to stop referring to the monument as a mosque so as not to "confuse" visitors.
Bishop Demetrio Fernández also mentioned the church in Damascus:
There's no problem saying that the Muslim caliphs built this temple to God. But it is completely inappropriate to call it a mosque today because it has not been one for centuries, and to call it a mosque confuses visitors. In the same way, it would be inappropriate to call the current mosque of Damascus the Basilica of St. John or to expect that it could be both a place of Muslim and Christian worship.
Also this week, Donadio reports, "a judge in Córdoba charged eight Austrian Muslims with disturbing the peace when they entered the monument in small groups on Good Friday this year, began to pray loudly and scuffled with security guards and local police officers who tried to stop them."
Sep. 2, 2012 update: Muslims turn the buildings of other religions into their mosques (think Hagia Sophia) but don't mess with a former mosque. That's the message coming from the Organization of Islamic Cooperation and the Government of Turkey concerning the planned wine festival on Sep. 5-6 in the courtyard of the Ottoman-era Beersheva Mosque, now an archeological museum.
In the words of Today's Zaman, OIC Secretary-General Ekmeleddin İhsanoğlu
described the recent plan as a violation to be added to the crime of closing the mosque and preventing Muslims from praying there. "This violation is part of a series of ongoing attacks against Islamic sanctuaries and antiquities in Palestine aimed at obliterating and desecrating them, which is a deliberate provocation of Muslims in all parts of the world."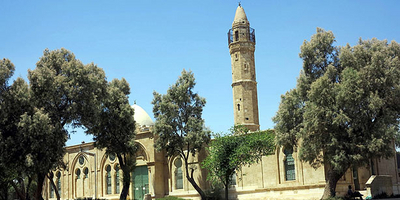 The Beersheva mosque.
Turkish Deputy Prime Minister Bekir Bozdağ called on the Israel government to "stop this violation." Religious Affairs Directorate President Mehmet Görmez called on the Israeli government "to act with reason and avoid such a disrespectful act against a house of worship that belongs to another religion."
Sep. 5, 2012 update
: Under pressure from Israel's president, Shimon Peres, the
mayor of Beersheva
moved the planned wine festival from the former mosque's courtyard.
Feb. 14, 2013 update: In a major surprise on Feb. 4, the Criminal Court of Cordoba acquitted eight Muslims accused of using violence in the Cordoba cathedral. Soeren Kern provides background for this (he traces the new Muslim bellicosity to a bin Laden statement from 2004), context (it should have been an easy guilty verdict, given the abundant evidence), the implications (an emboldening of Islamists in Spain). the judge's possible motives (Juan Luis Rascón is a multicultural leftist), and, most interestingly, the response of the Bishop of Cordoba, Demetrio Fernández. Kern explains: the bishop says
the recent violence shows the impossibility of sharing a house of worship with Muslims, which would be akin to "sharing a wife between two husbands." As a result, he says, the ban on Muslim prayers must remain in place. Fernández asks: "Would they be happy to do the same in any of their mosques? Absolutely not. I understand their religious feeling and they have to understand ours as well. The religious feeling is the deepest one in the human heart, so it is not possible to share."
He also makes the exact same comparison that I did above, to Damascus:
In an opinion article in the Spanish newspaper ABC, Fernández compared the situation in Córdoba to the Basilica of Saint John the Baptist in Damascus. ... Says Fernández: "We wouldn't think of asking for the Damascus mosque, because it belongs to the Muslims and for them it is an emblematic place. It is the same for Christians because Saint John's basilica is very important to us, but we understand that history does not go back. It only goes forward. So, it does not make sense to ask for the Córdoba Cathedral to convert it into a mosque. It does not make sense because history is irreversible."
Apr. 10, 2015 update: Eric Calderwood, an Arabic studies instructor at the University of Illinois, has penned a long essay on the Cordoba problem, "The Reconquista of the Mosque of Córdoba," in which he excoriates the Catholic authorities while never touching on the reciprocal situation in Damascus, Istanbul, or elsewhere. No context, no sense of judgment, no utility.
May 29, 2017 update: I discuss today at National Review Online the Cummer Museum in Jacksonville, Florida, celebrating the loss of Hagia Sophia.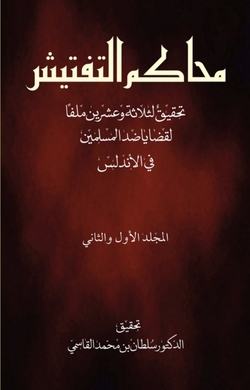 July 17, 2020 update: In anticipation of the Turkish government turning the Hagia Sophia into a museum, the ruler of Sharjah, Sultan bin Muhammad Al Qasimi, demands that Cordoba Cathedral also be made back into a mosque. (It has been a Christian building since 1236.) "At the very least, we demand the return of Cordoba Mosque, which was granted to the church, as this is a gift which doesn't belong to those who don't deserve it".
July 24, 2020 update: Amid enormous publicity, Hagia Sophia reopened as a mosque today after nearly a century as a museum. Already, it has excited a demand for more church-to-mosque transfers. Leading the way is Sultan bin Muhammad al-Qasimi, the ruler of Sharjah in the United Arab Emirates, who has published a book Mahakim at-Taftish, on the topic.