Ethnic Arabs play a disproportionately large in the public life of Latin America. This occasional weblog entry notes some prominent examples of that pattern.
---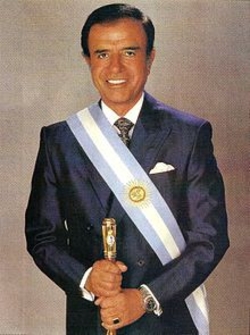 Carlos Saúl Menem.
"In the run-up to the 1996 presidential elections, all of the three most likely candidates were of Lebanese extraction: Vice President Alberto Dahik Garzozi; the mayor of the capital city, Jamil Mahuad Witt; and former governor Jaime Nebot Saadi." No, this is not a description of the Lebanese or Syrian presidential elections, but those of
Ecuador
, from my review of
a book about the Lebanese role in that country's politics
. (The eventual winner turned out to be a fourth Lebanese-origin politician, Abdala Bucaram Ortiz.) Outsiders tend to forget not just the presence of a (mostly Christian) Levantine and Arab population in Latin America, but even more its out-sized political importance, such as Carlos Saúl Menem, president of
Argentina
from 1989 to 1999.
This comes to mind on reading an account of the March 2004 presidential elections in El Salvador by Matthew Ziegler in Beirut's Daily Star newspaper. The election was bitterly fought between what Ziegler calls a hard-line capitalist with strong American ties and a Cuban-style communist. The first is Tony Saca, the second Schafik Handal, and both descend from families that emigrated from Bethlehem in 1913. More than 100,000 of El Salvador's 6 million population are of Middle Eastern descent and almost all them from Bethlehem; names like Siman, Dabdoub, Safie, Nasser, Gadala and Jacir fill the country's highest social and economic strata. (April 27, 2004)
Aug. 4, 2004 update: Another reminder comes from a Syrian Arab News Agency report on a meeting between Syria's minister of expatriates, Buthaina Shaaban, and the Greek Orthodox archbishop of Mexico, Venezuela and central America, Anton Shedrawi. According to the news report, not only did the two stress the "necessity of boosting Syrian-Mexican relations in all domains" but Shedrawi pointed out that 12 percent of Mexico's Senators, Parliamentarians, and provincial governors are of Arab origins, "a matter that requires coordination and efforts to display the true image of Syria's history and position abroad." His Eminence also noted the importance of Arabs in the media. For her part, Dr. Shaaban reiterated her ministry's interest in working with expatriates and stressed the role of clergymen in both keeping children conscious of their patrimony and communicating with the old country.
Jan. 24, 2006 update: The death today of Schafik Hándal, communist commander of the Farabundo Mart National Liberation Front (FMLN) during El Salvador's 1980-92 civil war, brings to mind a story that the Washington Post ran in the 1980s: Asked how his Catholic grandparents from Bethlehem ended up in the late nineteenth century in Central America, he recounted how his grandfather boarded a ship for "America," only to find on arrival, to his dismay, that he was in El Salvador.
July 3, 2007 update: It's not politics, but worth noting: Sentido Común, a financial website, has crowned Carlos Slim Helú, a 67-year-old turnaround Mexican specialist of Lebanese Christian origins, the world's richest person. His $67.8 billion exceeds the $59.6 billion belonging to Bill Gates of Microsoft.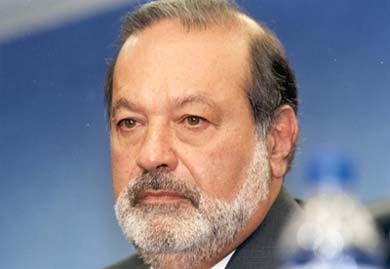 Carlos Slim Helu, the world's richest person.
May 12, 2016 update: Michel Temer, the new president of Brazil, is of Lebanese Maronite origins.
Jan. 4, 2017 update: Tareck El Aissami, of Lebanese and Syrian parentage, today became vice president of Venezuela.
July 12, 2017 update: Lamia Oualalou writes in "The Arabs of Latin America":
In South America, the son of Arab immigrants rising to become a national leader is nothing new. There are precedents in Argentina (Carlos Menem, 1989–99), Ecuador (Abdalá Bucaram, 1996–97, and Jamil Mahuad, 1998–2000), El Salvador (Elías Antonio Saca, 2004–9), Honduras (Carlos Flores Facussé, 1998–2002), and Colombia (Julio César Turbay, 1978–82). People of Arab descent are well represented across the political spectrum, and they're prominent in other fields as well: for example, the Brazilian writers Raduan Nassar and Milton Hatoum, the Argentinian actor Ricardo Darín, and the Colombian singer Shakira.
This is good place to note that Abdalá Bucaram's sister, Martha Bucaram Ortiz, was the wife of Ecuador's President Jaime Roldós Aguilera.
Aug. 16, 2018 update: Mario Abdo Benítez, 46, of Lebanese ancestry, became president of Paraguay today.
Oct. 28, 2018 update: Fernando Haddad, the former mayor of São Paulo and of Lebanese Christian Orthodox parentage, lost the second round of the election for president of Brazil to Jair Bolsonaro.
Feb. 7, 2019 update: "His paternal grandparents were Christian Palestinians from Jerusalem and Bethlehem. His maternal grandparents were also Christians; she a Catholic and he Greek Orthodox. His father later converted to Islam and became an imam. And his wife has Jewish roots. Meet Nayib Bukele, the president-elect of El Salvador." Bukele, 37, is a non-practicing Christian. June 1, 2019 update: Bukele became president today.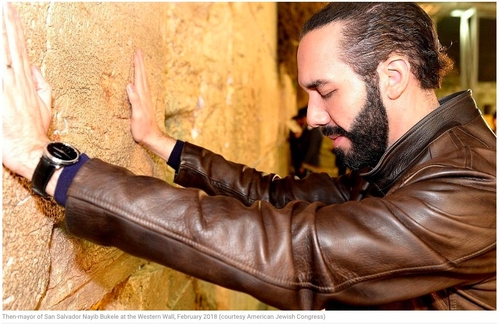 Then-mayor of San Salvador Nayib Bukele at the Western Wall, February 2018 (courtesy American Jewish Congress)
July 6, 2020 update: Luis Rodolfo Abinader, a businessman whose paternal grandparents immigrated from Lebanon, was elected president of the Dominican Republic. His wife, Raquel Arbaje Soni, is also of Lebanese descent. He will not be the first ethnic Lebanese to serve as president of the country: Jacobo Majluta Azar filled this role for 42 days in 1982. Aug. 16, 2020 update: Abinader became president today.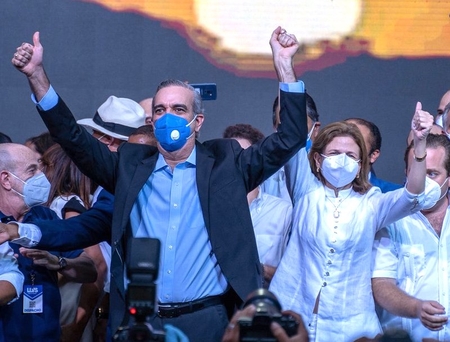 Luis Abinader, left, and his vice presidential running mate, Raquel Pena, celebrated the presidential election results.
Jan. 27, 2022 update: Salvador Nasralla, of Palestinian background, became the first vice president of Honduras.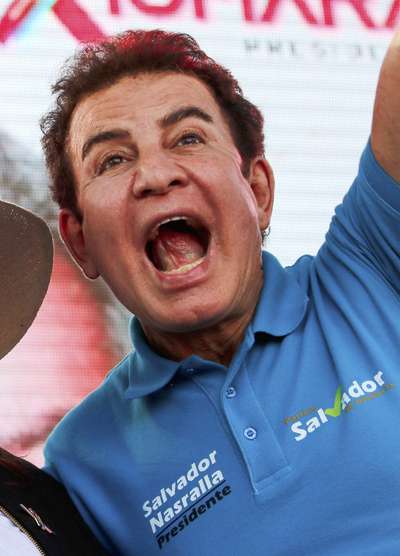 Salvador Nasralla.