That is the important question asked today by Steve Coll:
Will Egypt's counter-revolution inspire Turkey's fragmented, avowedly secular military—which once dominated the country's politics, via coup-making—to reorganize and reassert itself? Could the military do so if it tried? … recent events in Egypt will surely stir and tempt Atatürk's heirs in the opposition.
My take: It is hard to imagine, given how the top Turkish brass submitted so meekly to AKP control and permitted the imprisonment of so many of its members that, at this late date, it will find the gumption to challenge Erdoğan & Co.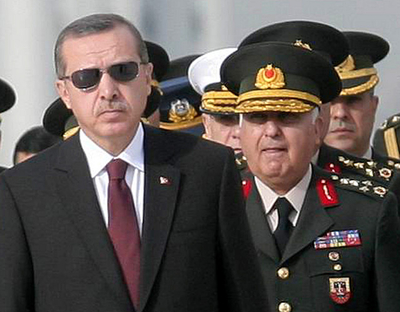 Prime Minister Recep Tayyip Erdoğan (left) and his newly appointed tame chief of the general staff, Necdet Özel, on July 31, 2011..
If there were to be a revolt, therefore, it would more likely come not from the ranks of the generals – who carried out all of Turkey's prior coups d'état – but from some disgruntled colonel fed up with his superiors' supine responses to Islamist domination and inspired by Sisi's bold action in Egypt.
In all, my guess is no, Turkish officers will likely not rebel because of developments in Egypt. But the country's Islamist politicians, who cannot take this outcome for granted, will likely tread more cautiously. (July 31, 2013)
Aug. 1, 2013 update: The AKP's effort to prevent military coups d'état culminated today with President Abdullah Gül approving a legal amendment to Article 35 of the Turkish Army's Internal Service Code that had in effect authorized a militarily intervention against the violation of the republic's principles.
Aug. 3, 2013 update: Turkey's Supreme Military Council (YAŞ) makes senior appointments once a year in August, so it's a bit coincidental that those just announced follow so soon after the military coup in Egypt – still, it is noteworthy that the AKP government has removed all four force commanders of the army from office. By doing so, it excludes anyone with wayward thoughts (for example, about negotiating with the PKK) and further tightens control over the military brass.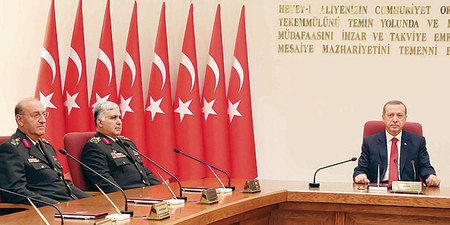 Recep Tayyip Erdoğan (right) chairing the Supreme Military Council.
Aug. 6, 2013 update: Confirming that the leadership of the Turkish Armed Forces (TSK) has apparently fully submitted to the AKP government, it released a statement asserting the TSK's belief that the Ergenekon trial - which is a self-evident fraud - "will be concluded in a fair manner within boundaries of the principle of fair trials."