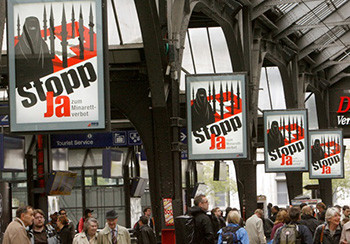 Zurich's main train station had many posters in favor of the minaret ban. Credit: Arnd Wiegmann
On one level, the vote to ban minarets in Switzerland is a triviality. The constitutional amendment does not ban mosques, it does not pull down the country's four existing minarets, nor does touch the practice of Islam in Switzerland or bear on the many issues concerning Swiss Muslims. In all likelihood, the political establishment in Bern, which abominates the amendment, will find some way to overturn it.
But on another level, the 57.5 to 42.5 percent vote represents a possible turning point for European Islam, one comparable to the Rushdie affair of 1989. That a large majority of those Swiss who voted on Sunday explicitly expressed anti-Islamic sentiments potentially legitimates such sentiments across Europe and opens the way for others to follow suit. That it was the usually quiet, low-profile, un-newsworthy, politically boring, neutral Swiss who suddenly roared their fears about Islam only enhances their vote's impact.
Nov. 30, 2009 update: Responding to this analysis, Matthew Yglesias of ThinkProgress writes that I see it as "a good thing" that the Swiss explicitly expressed anti-Islamic sentiments. I do? I did not write that. My intent in this brief comment was objectively to note the impact of the Swiss vote, not to condemn or condone it. Re-read my words and that is what you find there, with no hint of my personal view about the vote being "a good thing" or even a bad thing.
Comment: Yglesias' manipulation of my words fits into a long and ignoble tradition in which Leftists distort my words or my intent. I collected some of the most egregious examples at "Mangled by Leftists and Islamists."
Dec. 9, 2009 update: (1) A scientific poll of Belgians sponsored by Le Soir weekly and carried out by iVOX finds that 59.3 percent of the Belgian population favors a Swiss-like prohibition on building new minarets and 56.7 percent want to ban the building of mosques. The poll of 1,050 persons was taken on December 3 through 5 and has an accuracy of within 3 percent.
(2) For other European opinions, see here and here.
(3) Publication of this article prompted mail with other examples of non-reciprocity.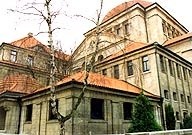 Synagoge Beth-Hamidrasch in Frankfurt, Germany
James Caplan of Philadelphia informed me about his offer in 1999 to erect an abstracted Star of David on the roof of the copula of Synagoge Beth-Hamidrasch, the main synagogue in Frankfurt Germany. He relates that the rabbi turned him down, saying he did not want to invite trouble with the local Muslim population.

A Christian prelate writes me from Turkey: "There are no Swiss church towers in Turkey despite a friendship between the two nations for hundreds of years. ... The 430-year old Anglican Chaplaincy in Turkey once was a symbol of Turkey s advances of 19th century but now has a crumbling tower (The Crimean Memorial). Likewise, other churches in Turkey endure endless struggles to get restoration permits."
(4) I elaborate on this topic in my column out today, "Swiss Minarets and European Islam."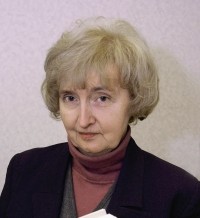 Anne-Marie Delcambre, French specialist on Islam.
Dec. 10, 2009 update
: Anne-Marie Delcambre, the eminent French specialist on Islam, writes in "
Faut-il interdire les minarets
" that "paradoxically, the quiet Swiss who don't want to be talked about, will go down in history as the ones who dared to say "Stop" to the spread of Islamic or Islamist ambitions" ("paradoxalement, ce peuple suisse, tranquille, ne cherchant pas à faire parler de lui, restera dans l'Histoire comme celui qui a osé dire halte à la progression des revendications islamiques ou islamistes").
Dec. 15, 2009 update: Daniel Williams reports for Bloomberg on the other side of this equation in "Egypt Forces Copts to Hide as Muslims Hit Swiss Minaret Ban." Some excerpts:
While Muslim leaders criticized the Nov. 29 vote in Switzerland that banned construction of minarets, they don't support Christians who want to build churches in some Islamic countries. Restrictions in Egypt have exacerbated sectarian violence and discrimination, say Copts, a 2,000-year-old denomination that comprises about 10 percent of the population.

The day after the Swiss vote, Ali Gomaa, one of Egypt's top Muslim clerics, called the decision "an attempt to insult the feelings of the Muslim community in and outside of Switzerland."

Copts quickly said that neither Gomaa nor any other Islamic leader mentioned the Christian situation in Egypt. "Without the merest attempt to put our house in order, are we in any position to taunt others to put theirs?" Youssef Sidhom, editor-in-chief of the Cairo-based Egyptian Coptic weekly newspaper El-Watani, said in a telephone interview. "They should be ashamed."
Williams quotes one Harbi Muhammed Ali, a café owner in Cairo. "The Copts are a minority. Why do they need more churches? There are other churches around. If you have one car, do you need two?" He goes on to explain the larger context:
Local officials oversee permits for church construction and renovation, which must receive endorsement from Muslims in the neighborhood and final approval from President Hosni Mubarak. "Church and human-rights leaders complain that many local officials intentionally delay the permit process," the State Department report said. "As a result, congregations have experienced lengthy delays, years in many cases, while waiting for new building permits." ...

There are about 40 Coptic churches in Egyptian cities and scores more in towns and villages, especially in south Egypt, along with larger numbers of clandestine prayer houses, said Bishop Thomas, a Coptic priest who operates a retreat outside Cairo.
Williams then reviews several cases, including the one in Nazlet al-Badraman that I cited in my article:
Parallel to these incidents are clashes over such issues as conversion and alleged harassment of Muslim girls by Copts and Coptic girls by Muslims. "It's a challenge to hold onto the concept of love and peace," said Thomas, 52. After he founded his retreat 10 years ago, Muslims set up four small mosques, complete with minarets—towers from which Muslims are called to prayer, just outside the four corners of the rectangular enclosure. "They make a point that if we are here, the Muslims must be, too," he said.
Attempt to discuss the imbalance with officialdom got nowhere:
Requests for interviews with government officials and state-controlled Al-Azhar University in Cairo, Egypt's largest institution of Islamic learning, went unanswered. Requests for interviews at the Islamic conference's Geneva office, which issued the criticism of the Swiss ban, were rejected because officials were too busy, said a person who answered the phone there.
Nor is this hypocrisy limited to Egypt. The Organization of the Islamic Conference condemned the vote in no uncertain terms ("The decision of the Swiss people stood to be interpreted as xenophobic, prejudiced, discriminative and against the universal human-rights values") even as many of the 57 member states disallow equal rights for non-Islamic faiths.
Members include Saudi Arabia, where non-Muslims are arrested for worshipping privately; Maldives, the Indian Ocean atoll where citizenship is reserved for Muslims; Libya, which limits churches to one per denomination in cities; and Iran, where conversion from Islam is punished by death, according to a 2009 U.S. State Department report on religious freedom.
Dec. 25, 2009 update: The Associated Press carries an article, "Vatican's top cleric in Arabia walks a thin line" by Barbara Surk, that amplifies on some of these points. It tells about Archbishop Paul Hinder, the top Roman Catholic cleric to the approximately 2 million Catholics resident in six countries (Bahrain, Oman, Qatar, Saudi Arabia, United Arab Emirates, and Yemen) on the Arabian peninsula.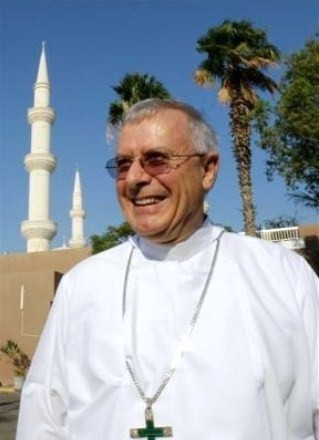 Archbishop Paul Hinder walks out of his residence at the Christian compound, which happens to be right next to a mosque, in Abu Dhabi. (AP Photo by Kamran Jebreili)
"We are tolerated, but not popular here," Hinder said in an interview in the archbishop's living quarters inside a Christian compound in Abu Dhabi, the capital of the United Arab Emirates. He spoke wearing the traditional hooded robe of his Capuchin order. The white garb blends in just fine with the Arab robes worn by men in the region, so he wears it in public - but without a cross around his neck or the belt of three knots that also mark the order. "People here know who I am, although I never wear a cross when I go outside out of respect for local conditions," said Hinder, a Swiss citizen. ...

The cathedral is in a downtown compound that's also home to Anglican, Greek Orthodox and Egyptian Coptic churches. Crucifixes, icons, rosaries and other religious symbols are allowed within the walled compound. But the buildings' exteriors are spare and flat-roofed, avoiding any church-like architecture. ...

Yemen is the only country under his purview that had indigenous Christians. Except for two priests, however, all of Yemen's 10,000 Christians, most of whom lived around the southern port city of Aden, were driven out during communist rule in South Yemen in the 1960s. Four old churches are slowly being restored there, though it is not clear how many indigenous Christians have returned, if any.

The first Catholic church in the Gulf was opened in Bahrain's capital, Manama, in 1939. Now there are seven in the UAE, four in Oman, three in Kuwait and one in Qatar, where five churches of other Christian denominations are under construction. ... inter said he is careful not to do anything that could be construed as proselytizing or seeking conversions - a major taboo in Islam.

Hinder, who has been in his post for seven years, says members of his flock are tested in areas beyond religion, particularly exploitation by their employers and fear of losing their jobs in the recession. Some are not allowed to attend a church service at all by their employers, who often strictly control the lives of their maids, gardeners, cooks, drivers and nannies. "Their struggles are enormous," Hinder said. ...
Hinder travels to Saudi Arabia "several times a year, but only as a private citizen, not as an archbishop."
Jan. 26, 2010 update: An analysis of the minaret vote by "Vox Analysis" concludes that it concerned the spread of Islam rather than reflecting a bias against Muslims, much less foreigners in principle. Hans Hirter of Bern University explained that "For many voters it wasn't against Muslims in Switzerland." About two-thirds of "yes" voters consider Swiss and Muslim lifestyles to be compatible. About 40 per cent of them favor equal opportunities between Swiss and foreigners.
The most popular reason (24 percent) to vote in favor of the ban was "The minaret is a symbol of Islamic supremacy"; the ban's supporters primarily wanted to make a "symbolic gesture" against the spread of Islam in Switzerland. About 16 percent wanted to respond to the discrimination against churches in Muslim-majority countries.
Mar. 7, 2021 update: The 2009 Swiss referendum to ban building minarets passed 57.5-42.5 percent. A referendum today to face coverings passed 51-49 percent. James Hookway of the Wall Street Journal sees the new result as "a further sign that a pushback against Islam is gaining ground in Europe." But, given the significant reduction in votes for a ban on something associated with Islam, I see it as just the opposite, actually.