Founded by the Saudis on the basis of a conspiracy theory (concerning the Aqsa Mosque fire of August 1969), the 57-member Organization of the Islamic Conference has always had a disreputable quality to it, a quality hardly purified by the recent decision that the U.S. government to send to it a "special envoy."
This year's meeting in Senegal has found the OIC particularly bellicose on the question of the Shari'a (Islamic law), perhaps as a result of the surging price of oil. In particular, it has taken two novel steps: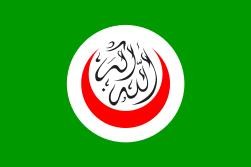 The flag of the Organization of the Islamic Conference with "Allahu Akbar" ("God is the Greatest"), at its center.
Put non-Muslims on notice that it is ready to take legal action against those seen to insult their religion or its symbols. OIC Chairman (and Senegal's president) Abdoulaye Wade explained how Islamic imperatives trump Western ways: "I don't think freedom of expression should mean freedom from blasphemy. There can be no freedom without limits."

Put Muslims on notice that if they want to benefit from the oil spoils, they must apply the Shari'a. On contributing US$1 billion to support poor OIC countries, the Saudi representative, Interior Minister Prince Naif stated that "Our government has set a condition that no rules and regulations in the country should contradict Islam or the Qur'an and Sunnah."
Comment: Shari'a is coming at the West every which way, from economic institutions to hotels, from harems to law courts, no-go areas to no-freedom of speech codes. Do Westerners have the will to resist it? (March 15, 2008)
Mar. 16, 2008 update: I referred glancingly above to the U.S. special envoy to the OIC; he's Sada Cumber, a Pakistani-American technology tycoon from Texas, who has now downloaded on the Senegal meeting: as paraphrased by Agence France-Presse, he found "a new more moderate leadership in the Islamic world." He will report to President Bush and Secretary of State Rice that the OIC is changing: "the way things are going on in this conference I can almost see the new leadership moving into moderation and that alone is very encouraging news."