In his call to adapt the North Atlantic Treaty Organization to the problem of radical Islam, former Spanish prime minister José María Aznar deems bringing Israel into the alliance "an extremely important step." To some, it might also seem an extremely remote one, too.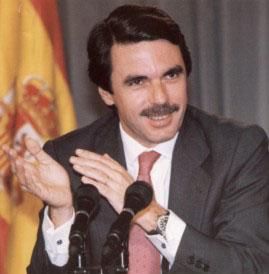 José María Aznar, former prime minister of Spain.
But a close look by Joshua Brilliant of United Press International, "
Israel assesses NATO ties
," finds the prospect not all that distant. In fact, both sides are warming to the idea. On the Israeli side,
Foreign Minister Tzipi Livni Tuesday [Oct. 24] addressed the opening session of a conference that NATO, the Israeli Atlantic Forum and the Institute for Policy and Strategy held in Herzliya. "Israel's traditional long-term policy has been one of self-reliance," she said. However, "the current threats necessitate international cooperation and multilateralism." NATO is "most essential" to meet these strategic threats because it has a just value system, a special ability to rapidly adapt to current strategic threats, and a unique approach that combines diplomacy with the use of military force when necessary, she said.
On the NATO side:
Al-Qaida's Sept. 11 attacks in the United States demonstrated that the major threat and challenges come from outside Europe, that terrorism is globalized, noted Patrick Hardouin, a deputy assistant secretary-general at NATO's Political Affairs and Security Policy Division. NATO decided to upgrade its dialogue with Mediterranean states. It launched Operation Active Endeavor in which its ships, submarines and aircraft carry out naval anti-terrorist patrols. Israel contributes to Active Endeavor. It will post an officer at NATO's headquarters in Naples to help with intelligence gathering so that the units at sea can be more effective.
Some of the cooperation is already quietly underway:
An Israeli corvette this summer participated in a NATO exercise in Romania. Infantrymen joined war games in the Ukraine and a NATO AWACS plane was in Israel demonstrating its capabilities. … Recently, Israel became the first country to conclude an Individual Cooperation Program with NATO. It covers 27 areas, including the fight against terrorism and joint military exercises, and goes beyond cooperation through the Mediterranean Dialogue.
That said, full membership in NATO will probably require full resolution of the Arab-Israeli conflict, something nowhere in prospect. In the meantime, Oded Eran, Israel's representative to NATO, emphasizes the benefit of a multilateral umbrella, without the attack-on-one-is-an-attack-on-all obligations. (October 26, 2006)
Jan. 23, 2007 update: Closer relations are proceeding, according to the Jerusalem Post's Yaakov Katz and Tovah Lazaroff in "NSC drafting strategy to make Israel a member of NATO": "government ministries are, for the first time, working on drafting a position paper that will include guidelines and a strategy for turning Israel into a full-fledged member of NATO." The article also notes several Western figures who support this move: former Spanish prime minister José María Aznar (whose deep thinking on this topic I have devoted a column to), former Senator John Edwards (Democrat of South Carolina), and General Lord Charles Guthrie of Craigiebank, former chief of the UK Defense Staff. In contrast, it quotes Josef Joffe, editor and publisher of Die Zeit, dubious that the deal would be good for Israel, as it would restrict Israel militarily.
June 26, 2007 update: Yaakov Katz reports on the visit to Israel of Assistant NATO Sec.-Gen. John Colston and the progress made in terms of bringing the Israel Defense Forces closer to joining global NATO missions. In brief, "the IDF agreed to upgrade relations and joint military training and exercises to enhance interoperability with the Western military alliance." In addition, the IDF plans to send a naval intelligence officer to participate in NATO's Active Endeavor anti-terror operation based in Naples and intelligence sharing was discussed.
Oct. 11, 2007 update: Rudy Giuliani, Republican candidate for U.S. president, adopted the Aznar approach of expanding NATO membership beyond Europe in remarks delivered today in Norfolk, Va. , making this his "second principle for the future of NATO":
let's not be afraid of expansion. Expansion has helped NATO and there's no reason why today we can't reach responsibly into other parts of the world. If anyone wants to look at the value of expanding NATO, go ask people in Warsaw of Prague or any of the other new states that have joined. It's been good for them. It's been good for us. So, I mean, we know there are countries that would be interested in joining.

We know that there are countries that should be considered for that. Many of them cooperate with NATO already in training missions, in particular organizational structures whether it's Australia or South Korea or Israel or India or Japan, Singapore. We should consider all these countries if they want to be considered, and based on our collective wisdom, there may be some others that you can think of that should be considered. There probably are a lot of others that should be considered, but the main thing is rather than any one particular state, NATO should be open to expanding its membership.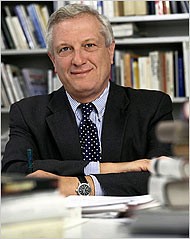 Josef Joffe.

May 25, 2009 update: Josef Joffe, the distinguished German analyst, gives his view in a study titled "Israel and NATO: A Good Idea Whose Time Will Never Come." In brief, he holds that "While Israel is an ideal partner for the European Union and NATO, this will not happen for various reasons. Israel will lose important freedom of action while the EU/NATO are reluctant to expand into the Middle East."
Nov. 20, 2009 update: Israel-NATO ties are growing:
An Israeli missile ship will join NATO's Active Endeavor naval force, aimed aimed to prevent the passage of terrorists and weapons of mass destruction as well as improve the security of the region's shipping industry. Israeli defense officials say Israel already has a liaison officer with the naval force. They say the dispatch of the ship within months marks an important step up in Israel's relationship with the NATO alliance.
Feb. 10, 2012 update: Ankara has blackballed Israel's participation in what would have been its first active engagement in a NATO operation, called Active Endeavor, namely contributing a missile ship in the Mediterranean Sea.