In 2009, my elder two daughters both had plans to move to western Europe, so they asked me to apply for Polish citizenship. This would allow them in turn to derive citizenship through me and acquire a European Union passport that allows them freely to live and work in 28 countries. Nothing loath, I began what turned into a four-year process of bureaucratic challenges to request the president of Poland to grant me citizenship.
While not easy nor routine, I had hopes for success based on the fact that both my parents, Richard and Irene, were born in Poland and lived there until their mid-teens, plus the fact that my father had had a major role while in the Reagan White House during the Polish crisis of 1981-82, my mother is the long-time president of the American Association for Polish-Jewish Studies, their both receiving medals from the Polish government, my own good relations with Radek Sikorski, the country's foreign minister, and my mother having been granted Polish citizenship.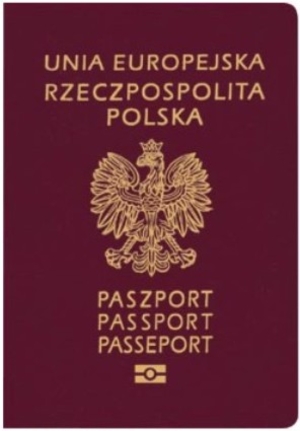 The cover of a Polish passport
Then, partially through the process, the terms of application changed. According to a court decision, not only I but also my daughters had been born Polish. What had once required presidential authrorizaton became a routine bureaucratic process. Things moved quickly and, capped by a visit to Consul General Ewa Junczyk-Ziomecka in New York City in September 2013, I received a Polish passport the next month.
In the beginning, it was just a paper document. Then, on a recent trip to the European Union, my first with the new citizenship, I pulled out the Polish passport on arrival at customs. I also used it to register at hotels, as well as entering museums and government buildings. To my amusement, the passport prompted occasional questions whether I speak English.
More interestingly, for the first time since I was born in the United States and left its shores at the age of three in 1953, I had full rights in another place – and not just any place but in a near-continent comprising a population of over 500 million. More profoundly, I felt a new connection to the land of my ancestors, Poland. I first visited there in 1976, have supported select non-profits there, host a Polish-language web page that features over 300 articles on it, have future plans to travel there, and even intend to study some Polish, a notoriously difficult language. The old country has become the new country.
In short, what began as convenience and formality has in a small way shifted my sense of identity. (March 26, 2014)
Mar. 27, 2014 updates: (1) The Polish Ministry of Foreign Affairs posted an item about my citizenship at "Powrót do kraju przodków. Felieton historyka Daniela Pipesa o Polsce."
(2) And Minister of Foreign Affairs Radek Sikorski himself tweeted a "Welcome home, Daniel," followed by the URL of this weblog entry, for which I thank him.