My political awakening took place fifty years ago today. I had followed the 1960 Nixon-Kennedy presidential race and even stayed up late on election eve to watch and meticulously tally the results; my parents were Democrats, so I was gratified by the outcome.
But it was the presidential inauguration on a bright, cold, snowy day in Washington, with an aged Robert Frost stumbling over his new poem, and Kennedy calling on Americans, "ask not what your country will do for you – ask what you can do for your country," that inspired my sustained interest in public affairs.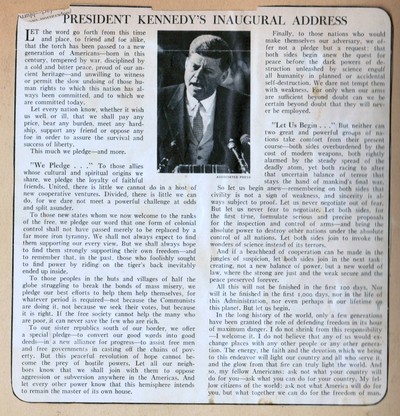 As a symbol of this interest, I started a scrap book with pictures of political leaders and even a transcript of that speech from, I think, U.S. News & World Report. I still have the scrapbook and am posting here the inaugural address transcript that I saved, so impressed with it was I. (January 20, 2011)
Nov. 22, 2013 update: At the end of an article about the continued significance of the Kennedy assassination, I conclude with some memories about its personal impact on me.