In an analysis of the Islamic State's declaration of a caliphate on June 29, I predicted yesterday that this "will leave a legacy" because Caliph Ibrahim and his associates "have successfully resurrected a central institution of Islam, making the caliphate again a vibrant reality. Islamists around the world will treasure its moment of brutal glory and be inspired by it." This weblog entry follows up and keeps an eye on those new caliphates:
---
Bangladesh: A group of Islamists pledged allegiance to Caliph Ibrahim. (August 6, 2014)
Boko Haram: Abubakar Shekau, the leader of Boko Haram, declared Groza, a just-seized town in northeastern Nigeria, to be placed under caliphate rule: "Thanks be to Allah who gave victory to our brethren in Gwoza and made it part of the Islamic caliphate" he stated in a 25-minute speech on video obtained by Agence France Press. AFP notes:
In a July video, Shekau voiced support for the leader of the Islamic State (IS) militants Abu Bakr al-Baghdadi, who in late June declared himself "the caliph" and "leader of Muslims everywhere." But there was no indication from Shekau in the latest video that he was associating himself with Baghdadi, whose Sunni Muslim fighters have taken over parts of Iraq and Syria. As such, it was not clear if Shekau was declaring himself to be a part of Baghdadi's call or if he was referring to a separate Nigerian caliphate.
(August 24, 2014)
Turkey: Faruk Köse, a columnist for the pro-AKP newspaper Akit, wrote yesterday that the newly-appointed prime minister of Turkey, Ahmet Davutoğlu, "should take concrete rebellious actions against the international system that is not producing happiness and security for Muslims. A Turkey under Davutoğlu should immediately end the treason of 1924 and take its historic responsibility by reviving the caliphate." (August 27, 2014)
Al-Qaeda: Having fallen behind ISIS, Al-Qaeda's chief, Ayman al-Zawahiri, now announces a new South Asian branch and urged the umma to "wage jihad against its enemies, to liberate its land, to restore its sovereignty and to revive its caliphate." This could signal an Al-Qaeda intent to declare its own caliph. (September 3, 2014)
Turkey: Turkish Minute, an important new source of information on Turkey, has collected various statements of support for Erdoğan becoming caliph at "AKP member: Erdoğan will be caliph, Allah will complete the divine light." (January 16, 2017)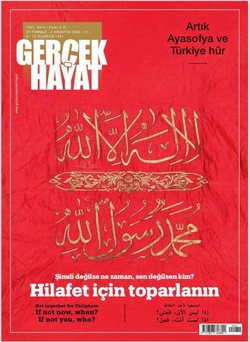 Gerçek Hayat cover: "Get together for Caliphate: If not now, when? If not you, who?"
Turkey
: The Turkish branch of
Hizb ut-Tahrir
, an international organization dedicated to resurrecting the caliphate, has been active at its annual conferences in calling for a new caliph. (March 29, 2017)
Turkey: Inspired by the conversion of the Hagia Sophia into a mosque, an Islamist magazine, Gerçek Hayat, has called for the declaration of a caliphate in Turkey. A highly provocative cover that includes Arabic and English ("Get together for Caliphate: If not now, when? If not you, who?") helped spur the massive debate that followed. (July 27, 2020)