Kamal Nawash, an immigration lawyer and legal director of the American-Arab Anti-Discrimination Committee (ADC) since 1997, has thrown his hat in the ring as a Republican candidate for state senator in the 31st district of Virginia. His campaign website offers stances only on the sort of issues a state senator might deal with (baseball stadium construction, traffic, property taxes, etc.) but, as a long-standing staffer of the extremist ADC and a colleague of the notorious Hussein Ibish (who endorses Nawash as "an extremely patriotic and dedicated American"), one cannot wonder what Nawash thinks on national issues such as the need to take steps to protect the country from Islamist terrorists who wish to enter it. (September 10, 2003)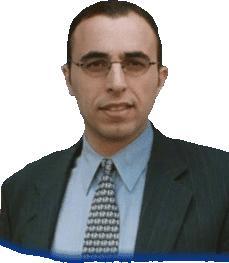 Kamal Nawash, Republican candidate in Virginia.

Sept. 11, 2003 update: A reader points out that Mr. Nawash's views on at least one national issue are known. He was quoted extensively in June 2000 responding to the just-issued, anondyne recommendations of the National Commission on Terrorism. Nawash took the opportunity to make it known that he does not support an effective self-protection against terrorism, holding that this would violate "basic Constitutional rights." He added that "if implemented, the recommendations by the Commission would more likely than not severely damage civil liberties and facilitate abusive behavior by the government." Of particular interest (given that several 9/11 hijackers used a student cover), is Nawash's objection to the U.S. government tracking foreign students, protesting (nonsensically) that this step would indicate "a willingness to restrict scientific knowledge and scholarship to certain classes of people and to flout, basically, principles of academic freedom." Sounds like this man opposes the war on terrorism; in any case, he sure makes for a strange Republican candidate.
Sept. 14, 2003 update: Nawash is getting support for his candidacy from some suspicious quarters. Abdurahman Alamoudi, former head of the American Muslim Council whose contribution was returned by Hilary Clinton, sent out a fundraising letter urging support for Nawash: "I am urging you today to ask that you join me in supporting ... Kamal Nawash ...Toward that end I have personally contributed money to Kamal's election campaign." And Grover Norquist, the Republican activist who paved the way for militant Islamic groups to enter the Bush White House, is hosting a fundraiser for Nawash in his own house.
Sept. 15, 2003 update: Another reader points out that Nawash wrote an interesting note that begins, "Recently, ADC has received many questions about why we don't sue pro-Israeli organizations," and goes on to explain how expensive this course of action is, but then adds that "this is not to say that we are not interested in suing" and expresses his hope that ADC will be in a financial position to do so in the future. Nawash might argue that in writing this he was "just doing his job" at ADC, but of course bashing Israel is inherent to what the legal director at ADC does.
Sept. 23, 2003 update: According to a web-posting, Nawash spoke at a "Muslim Solidarity Day for Justice and Peace" rally near the White House on May 24, 2003, promoted by International ANSWER, an organization that David Horowitz has identified as a "front for a Marxist-Leninist party with ties to the Communist regime in North Korea." Pretty curious company for a Republican, no?
Sept. 25, 2003 update: U.S. Senator John Warner (Republican from Virginia) is quoted on the Nawash website stating that "Kamal is an impressive candidate" and asking for votes for him: "Please join me in supporting Kamal." It's an impressive endorsement and Virginians might wish to inform their senior senator that he is, to put it mildly, going out on a limb on this one.
Sept. 26, 2003 update: Something called the "Islamic Political Party of America," an organization whose mission, among other goals, is "to establish the first Islamic political party in America" and which invites only Muslims to join, lists Nawash as one of the three candidates it endorses in this year's elections. (And in case an Islamic Political Party of America does not sound serious, take a look at the Islamic Party of Britain, founded in 1989, which is quoted by the major media and is a factor in UK Muslim politics.)
Sept. 27, 2003 update: Nawash penned a long analysis, "Are Arab Americans Being Unjustly and Illegally Deprived of Their Constitutional Rights?" for "Al-Hewar Center for Arab Culture and Dialogue" sometime between February and August 1998, in which he made some interesting statements.
He indicates that what the U.S. government deems Palestinian terrorist organizations are for him merely "Palestinian groups who have differing views than the U.S. government concerning the Arab/Israeli peace process."
He criticizes the Anti-Terrorism and Effective Death Penalty Act of 1996, a Clinton-era law that allows the Secretary of State to designate foreign terrorist organizations, for what he calls the "criminalization of international fundraising and humanitarian aid."
He dismisses the whole notion of terrorism by arguing that "any liberation movement that takes up arms against a repressive regime that is friendly with the president serving at the time could receive a terrorist label," and gives as one example "those colonial soldiers who took up arms against the British during the U.S. War of Independence."
With such a record of apologetics for terrorism, do the good folk of the 31st district of Virginia want Kamal Nawash serving as their state senator?
Sept. 28, 2003 update: Nawash seems not to be bothered by honor-killings (when family members kill a relative, usually female, for alleged sexual trespasses). Here he discusses the subject on National Public Radio's "All Things Considered," talking about the perpetrators of such murders:
While they think what they're doing is bad, they don't see that what they're doing is similar to a killer who kills, for example, for financial gain or anything, because these people who do honor killings could be the most moral of people, but they - you know, because this is something that means so much to him, it will get all the rage out of him that he's never seen before and might make him react irrationally, such as killing a female member in the family.
The way Nawash puts it, these killings sound constructively therapeutic.
Oct. 1, 2003 update: Abdurahman Alamoudi, the prominent Islamist leader, was arrested on terrorism-related charges on Sept. 28 (on which, see "United States of America v. Abdurahman Muhammad Alamoudi") and Alamoudi-Nawash ties quickly emerged.
(1) Alamoudi and his wife, Shifa, made the single largest donations to Nawash's campaign, in March and May 2003.

(2) In August 2003, "after an emotional conversation with Alamoudi," Nawash returned the money because, as Nawash put it in the The Washington Post, "I think it could hurt me more than help me."

(3) Despite this distancing of his campaign from Alamoudi, Nawash had this to say in defense of Alamoudi after the latter's arrest: "He is just a liberal Muslim, who wants more Muslims to be involved in the U.S. military and politics to be part of America."
Oct. 22, 2003 update: Legal papers filed today indicate that Alamoudi is being represented by a team of three lawyers: Stanley L. Cohen, an independent practioner in New York City; James P. McLoughlin, Jr., of Moore & Van Allen, PLLC in Charlotte, N.C.; and May Kheder, of Hanania, Kheder & Nawash, P.C. in Falls Church, Va. The last of these, of course, is a partner of Kamal Nawash.
Oct. 27, 2003 update: Chris Arabia has come out today, at FrontPageMagazine.com, with the first analysis of the Nawash campaign at "Islamists' Favorite Republican."
Oct. 30, 2003 update: "She is a mean-spirited racist," Nawash is quoted in today's Washington Times, speaking about his opponent in the general election, Democrat Mary Margaret Whipple. The reason that Whipple focuses on Nawash's connection to Alamoudi, he says, "is because she wants to draw innuendo and say, 'Look at this guy. He is a Muslim and he has ties over here to terrorists.'" But then Nawash goes on to concede that (1) he commented publicly on the Alamoudi case, (2) he identified himself as someone who knows Alamoudi, and (3) he was identified as Alamoudi's attorney by the Islamist Internet site islam-online.net, not by Whipple. So why the vituperation against Whipple? Is this the ADC style of politics?
Nov. 5, 2003 update: The Nov. 4 election results are in and with 94 percent of precincts reporting today as of 3:00 p.m. EST, the Commonwealth of Virginia declares that Mary Margaret Whipple received 70 percent of the vote and Kamal M. Nawash 30 percent. Despite newspaper accounts suggesting that Nawash raised more money than Whipple, the Virginia Public Access Project indicates otherwise, with $95,267 for him and $121,738 for her.
Nov. 10, 2003 update: In a post-mortem on the election race, Nawash credits the "numerous hits" he received from this blog as contributing to his defeat.
May 16, 2004 update: Nawash has begun the Free Muslims Against Terrorism, "a nonprofit organization made up of American Muslims and American Arabs of all backgrounds who feel that religious violence and terrorism have not been fully rejected by the Muslim community in the post 9-11 era." It sounds good and it has been getting great publicity, but given Nawash's record on terrorism, as established here (his dismissing the concept, his close ties to a person alleged to fund terrorism), I need to be convinced that this leopard has changed his spots.
March 31, 2005 update: Despite my prior doubts about Nawash, I endorse his "Free Muslims March against Terror" in a separate weblog entry.
May 15, 2005 update: That "march against terror" included Khaleel Mohammed denouncing CAIR.
March 8, 2006 update: CAIR does not care for Nawash, one can see from an internal CAIR memo today written by its Chicago director, Ahmed Rehab, that I quote in full at "CAIR plans clandestine opposition research." Of special interest is the reference there to "fringe Muslims like Nawash and [Stephen] Schwartz." For Muslims to be thus insulted by CAIR in its private deliberations is a serious commendation in my eyes.
June 3, 2008 update: Nawash ran for another Republican positions in May 2008, hoping to serve as a party leader of Fairfax County, Virginia. His campaign stressed change and diversity: "We have to attract new people and improve our image. We will welcome new people." But, Paul Sperry reports, this tactic failed and he won only 30 votes out of 219 at the convention.