In April 2013, I published an article with the slightly inaccurate title, "Support Assad." Better would have been "Support Whichever Side Is Losing in the Syrian Civil War." Back then, it seemed that the regime of Bashar al-Assad was doomed; but already a month later, that was no longer the case and eight months on, a consensus has emerged that Assad is slowly winning.
For example, Jeffrey White, a Defense Fellow at the Washington Institute for Near Eastern Policy, writes in "The Syrian Regime's Military Solution to the War" that the Syrian civil war
could indeed have a military outcome, and in light of current trends, that outcome could be a regime victory. The outlines of a regime strategy for winning the war are visible. This strategy hinges on the staying power of the regime and its allies, the generation of adequate forces, operational success, and continued divisions within rebel forces. It is subject to serious constraints, especially limitations on the size and effectiveness of regime and associated forces, and "game changers" could alter its course. But a regime victory is possible—and that is what the regime is counting on. …

Barring a sudden collapse of the armed resistance, which for the Islamist core seems unlikely, the regime will only slowly defeat rebel forces and recover territory. But the regime is implacable and its allies are steadfast.
In light of these developments, it comes as no surprise that, John Hudson reports, "U.S. Weighing Closer Ties With Hardline Islamists in Syria":
As the moderate faction of the Syrian rebellion implodes under the strain of vicious infighting and diminished resources, the United States is increasingly looking to hardline Islamists in its efforts to gain leverage in Syria's civil war. The development has alarmed U.S. observers concerned that the radical Salafists do not share U.S. values and has dismayed supporters of the Free Syrian Army who believe the moderates were set up to fail.

On Monday, the State Department confirmed its openness to engaging with the Islamic Front following the group's seizure of a Free Syrian Army headquarters last week containing U.S.-supplied small arms and food. "We wouldn't rule out the possibility of meeting with the Islamic Front," State Department spokeswoman Marie Harf said Monday. "We can engage with the Islamic Front, of course, because they're not designated terrorists ... We're always open to meeting with a wide range of opposition groups. Obviously, it may make sense to do so at some point soon, and if we have something to announce, we will."
Hudson notes that "Though the Islamic Front is not a U.S.-designated terrorist group, many of its members hold intensely anti-American beliefs and have no intention of establishing a secular democracy in Syria." Well, of course. But that need not be a problem, for neither side is pro-Amerian or intends to establish any kind of democracy, and we should not support either side in the hope that it will win, only that it will block the other side from winning.
In this light, I swallow hard and endorse supporting the Islamic Front. Again, not support it to win but to live to do battle another day against the foul Assad regime along with its Iranian and Hezbollah backers.
Comment: Looked at in a larger context, helping the Sunni jihadis in Syria against the regime in Damascus serves to balance the Geneva deal last month, which promoted the interests of the Islamic Republic of Iran. It's a crude balance and far from ideal but better than none at all. (December 19, 2013)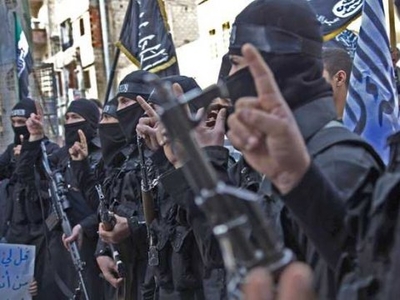 Syria's Islamist rebels remain enemies, but they can be useful ones.