In "Sudden Jihad Syndrome," I looked at the case of Mohammed Taheri-azar's attempt to kill students at the University of North Carolina in Chapel Hill by driving a rented Jeep Cherokee into a campus plaza on March 3, drawing conclusions about free-lance jihadis who appear out of nowhere and go on a rampage. I did so with just the barebones of information about the perpetrator and will report as more becomes public about his background and his attempted murder spree.
To start with, a local television station made available today a handwritten letter that Taheri-azar wrote on March 10 from prison, responding to its request for an interview, in which he explained his goals in the attack (thanks to PipeLineNews for the digital version):
March 10, 2006
Amber Rupinta
111 Liberty St.
Durham, NC 27701

In the name of Allah, the merciful the compassionate

Dear Ms. Rupinta:

I've included a visitor's application. I left a one page letter for the police in the bedroom of my apartment at 303 Smith Level Rd. A-34 but in brief;

I live with the holy Koran as my constitution for right and wrong and definition of injustice.

The Koran also spelled Quran is a scientific and mathematical miracle so there can be no doubt that it is from a supernatural source, i.e. Allah the creator and controller of all things. Those who follow the Koran, i.e. the truth, are members of one family, as the Koran states. Allah in the Koran gives permission for those who follow Allah to attack those who have waged war against them, with the expectation of eternal paradise in case of martyrdom and/or the living of one's life in obedience of all of Allah's commandments found throughout the Koran's 114 chapters.

I've read all 114 chapters about 20 times since June of 2003 when I started reading the Koran. The U.S. government is responsible for the deaths and torture of countless followers of Allah, my brothers and sisters. My attack on Americans at UNC-CH March 3, was in retaliation for similar attacks orchestrated by the U.S. government on my fellow followers of Allah in Iraq, Afghanistan, Palestine, Saudi Arabia and other Islamic territories. I did not act out of hatred for America but out of love for Allah instead. I live only to serve Allah by obeying all of his commandments of which I am aware by reading and learning the contents of the Koran.

I would be glad to have an on-camera interview.

Sincerely

Mohammed Taheri-azar
Comment: That sentence about "I did not act out of hatred for America but out of love for Allah" deserves special pondering.
Then a local newspaper, the Herald Sun, published a second letter from Taheri-Azar:
3/10/2006

Mohammad Reza Taheri-Azar
T328156
1300 Western Blvd.
Raleigh, NC 27606

In the name of Allah, the Merciful, the Compassionate

Dear Ms. Velliquette;

To get right to the point, I will answer each of your questions:

The Koran, the truth from Allah, the creator of all things, dictates in numerous places, e.g. Chapter "Muhammad," that Allah's followers have permission to attack these who have waged war against them, with eternal paradise as an expected reward so long as Allah's followers abide by all commandments listed throughout the Koran. The fact that the Koran is a scientific and mathematic miracle proves that it is from a supernatural source.
Judging by the U.S. government's continuing invasions and killing of my fellow followers of Allah in Islamic territories in the Middle East, even after the deaths of more than 1,000 U.S. soldiers, I concluded that I didn't want to attack in the Middle East since there would likely be no significant change in the U.S. government's military presence in Islamic territories.
I therefore decided to attack within the U.S. borders, hoping that the U.S. government would understand that my fellow followers of Allah will do everything necessary to defeat our enemies, even giving up a college degree from UNC Chapel Hill, as I did myself.
I have no hatred for anyone. I only act out of love for Allah and I never hesitate to do as Allah has commanded in the Koran, which I have read all 114 chapters of approximately 15 times now, beginning in June 2003.
In response to the 9/11/2001 attacks, I have always believed that the U.S. government should have immediately seeked peace instead of war.
I discussed my plans with no one but Allah when I prayed to him in the days prior to March 3rd.
I turned myself in to assure the world that I wasn't some insane person who went on a killing rampage suddenly.
With Allah's help, I am prepared and will be prepared for a life sentence. I only fear and only respect Allah.
Please see to it that this letter is broadcast throughout the world in its entirety.

Sincerely yours,
Mohammad Taheri-Azar
Then there is this reportage from Athena at "Terrorism Unveiled," dated March 6. First on Taheri-azar's marijuana smoking:
After speaking with someone who knew Taheri-Azar, a little bit more interesting details come into view. The guy I spoke with said Taheri-azar pledged his fraternity, Sig Ep, and that the frat "blackballed" him, meaning kicked him out because he was such a recluse and antisocial. They referred to him as "Mo." Sig Ep is a typical fraternity, fairly popular, and while "Animal House" would be an exagerration, it's a site of frequent parties. And while all frats do some form of community service, Sig Ep isn't your co-ed service fraternity that exists soley for that function.

The Sig Ep brother said that Taheri-azar was from a wealthy family, a frequent marijuana smoker and "most always high" and that he drank heavily as well. So much for being religiously pious. Though, it is reported that in the past year he turned away from these habits and became more religious.
Then on his lone-wolf behavior:
The guy I spoke with also said he seemed to have few friends and didn't "fit-in" socially. From this and his actions, Taheri-azar fits well as a "lone wolf" actors that go out and try to do the "will of Allah." Socially awkward and looking for something to legitimize themselves, to make them feel "worth" something---they turn to this type of behavior.

They find a purpose in a religious ideology because they are empty. He had money, he had an education from one of the finest schools in the country [I am biased], he had a job (although it was at a local fast food restaurant--Jimmy John's subs) he turned to this. Once again, this shows that it's not necessarily poverty that drives people to take on these type of causes. (See Marc Sageman's book Understanding Terror Networks)
(Mar. 14, 2006)
Mar. 16, 2006 update: The News & Observer makes available much additional biographical detail, all of which adds up to Taheri-azar sounding like a normal teenager with no hints of his future career as an ideological murderer.
Taheri-azar, a U.S. citizen, was born in Iran. His parents, Lily and Latif, were married in Tehran in 1972, but divorced in 2003, records show. Mohammed was the middle child with older and younger sisters. … The upper middle class household wasn't overtly religious, friends said. At South Mecklenburg High School, Taheri-Azar wore polo shirts and khakis, did not drink alcohol, ate fast food and played video games. "He was somewhat socially awkward, not to the point that he would shy away from people, but he would never make an effort to go out," said Justin Kirschbrown, a UNC-CH senior and high school classmate who also worked with Taheri-azar at a Best Buy in Charlotte.

He was reserved—"He didn't even cuss," said Sean Cordova, another high school friend—but also stubborn. Taheri-azar was known for making provocative comments in class, just to challenge teachers. "He would dig his heels in even when he was in the wrong," said Phillip Bush, a classmate at South Mecklenburg and UNC. "In high school, you kind of respected it."

Cars revealed a wild side. Taheri-azar claimed to have gotten his license at 12 and talked about driving cars in the Iranian desert, Kirschbrown said. "That was the thing with Mo—you never knew if he was lying," Kirschbrown said last week. A South Mecklenburg yearbook caption labeled him "South's Speedster." In his souped-up Eagle Talon, Taheri-azar would race on Charlotte's highways, often topping 100 mph, friends said. "I think he had the fastest car in school," said Cordova, who remembered watching Taheri-azar lose control in a street race, resulting in two 360-degree turns on a Charlotte highway. Between 2001 and 2003, police ticketed Taheri-azar four times for unnecessary honking, driving down the middle of two lanes of traffic, and failure to obey directions at a police checkpoint. He was last ticketed in June 2003 for traveling at 74 mph in a 45-mph zone along N.C. 54 in Carrboro.

At UNC-CH, Taheri-azar spent time with high school friends at first. He and his first freshman year roommate—a friend from South Mecklenburg—didn't get along, and Taheri-azar moved out in fall 2001. Taheri-azar dropped out the next semester, UNC officials said, but he re-enrolled that summer. He volunteered as an emergency department aide at UNC Hospitals in 2001-2002 and 2004-2005, said Stephanie Crayton, a spokeswoman for UNC Health Care. He did menial chores—stocking medical supplies, fetching wheelchairs and delivering food trays.

In his sophomore year, he was set to move in with another high school acquaintance, Philip Brodsky, but started hanging out with a different group. Brodsky rarely ran into Taheri-azar after that. At one point, out of the blue, Taheri-azar sent e-mail to old friends. "I think the e-mail was like, 'We haven't talked in a while but we used to be friends. I just wanted to say if I ever did anything to offend you, I'm sorry,' " Brodsky recalled.

Taheri-azar graduated from UNC-CH in December, and apparently had considered graduate school, but at the time of the attack, he was working on Franklin Street in a sub shop.
As for the attack itself:
Police say he plotted the attack for months. About two weeks before, Taheri-azar went shopping for an SUV—a Porsche Cayenne, some of which cost more than $110,000. He strolled into Performance Automall in Chapel Hill. "He just came in and looked at them, ... said he might want to buy one," said Scott Trombley, retail sales manager. In the end, Taheri-azar rented a Jeep Grand Cherokee.
And about Taheri-azar's motives and plans, from a letter he wrote to a News & Observer reporter, received on March 15:
It was fair for me to attack those people because, whether they claim to or not, they support the U.S. government as long as they are in its territory and they are not attacking it to overthrow it, attacking by physical and violent force, to be exact. … If Allah wills, I will plead guilty to all 18 charges currently against me and I expect a life term in prison.
Taheri-azar clamed that the Koran permits him to "to punish the U.S. government, the enemy of my brothers and sisters in religion." He looks forward to using his court proceedings to broadcast his message to the world.
Mar. 24, 2006 update: The letter Mohammed Taheri-azar left in his apartment for police to find on March 3 has now been published in full.
In the name of Allah, the merciful, the compassionate.

To whom it may concern:

I am writing this letter to inform you of my reasons for premeditating and attempting to murder citizens and residents of the United States of America on Friday, March 3, 2006 in the city of Chapel Hill, North Carolina by running them over with my automobile and stabbing them with a knife if the opportunities are presented to me by Allah.

I did intend to use a handgun to murder the citizens and residents of Chapel Hill, North Carolina but the process of receiving a permit for a handgun in this city is highly restricted and out of my reach at the present, most likely due to my foreign nationality.

I am a servant of Allah. I am 22 years of age and I was born in Tehran, Iran. My father, mother and older sister immigrated to the United States in 1985 when I was two years of age and I've lived in the United States ever since.

I attended elementary, middle and high school in North Carolina and I was accepted into the University of North Carolina at Chapel Hill. I began my college career in August 2001 and graduated in December 2005 with a bachelor's degree in psychology and philosophy with Allah's help.

I do not wish to pursue my career as a student any further because I have no desire to amass the impermanent and temporary fame and material wealth this world has to offer. However I made the decision to continue my studies and to graduate from the University of North Carolina at Chapel Hill so that the world will know that Allah's servants are very intelligent.

Due to the killing of believing men and women under the direction of the United States government, I have decided to take advantage of my presence on United States soil on Friday, March 3, 2006 to take the lives of as many Americans and American sympathizers as I can in order to punish the United States for their immoral actions around the world.

In the Qur'an, Allah states that the believing men and women have permission to murder anyone responsible for the killing of other believing men and women. I know that the Qur'an is a legitimate and authoritative holy scripture since it is completely validated by modern science and also mathematically encoded with the number 19 beyond human ability. After extensive contemplation and reflection, I have made the decision to exercise the right of violent retaliation that Allah has given me to the fullest extent to which I am capable at present.

I have chosen the particular location on the University campus as my target since I know there is a high likelihood that I will kill several people before being killed myself or jailed and sent to prison if Allah wills. Allah's commandments are never to be questioned and all of Allah's commandments must be obeyed. Those who violate Allah's commandments and purposefully follow human fabrication and falsehood as their religion will burn in fire for eternity in accordance with Allah's will.

Sincerely yours,
Mohammed Reza Taheri-Azar
| | |
| --- | --- |
| | Mohammed Taheri-azar read a paperback copy of the Koran he brought with him during almost all of the witness testimony against him at his two-hour long probable cause hearing on March 24, when probable cause was indeed found on multiple counts and he will be going to trial. (News & Observer photo by Harry Lynch) |
| | |
Mar. 25, 2006 update: Taheri-Azar's older sister Laila read a statement to the press after the conclusion of his probable cause hearing yesterday. She
described her brother as a "kind, gentle and pure soul," and as someone who loved animals, fishing, camping and race cars. He wouldn't permit people to kill "a spider, a fly, a roach" in his presence. She said Taheri-Azar, a U.S. citizen who was born in Iran, had moved to the United States with his family when he was 2. He speaks no Arabic and only rudimentary Farsi, the native language of most Iranians that is not related to Arabic.

Laila Taheri-Azar said the family condemned her brother's actions and was shocked and saddened by them. She apologized to the victims on behalf of the family. "We beg of you not to rush to judgment," she said, adding that the family was concerned about her brother's state of mind.
May 12, 2006 update: JihadWatch.org links to pdfs of six letters from Taheri-Azar to the Daily Tar Heel, the University of North Carolina student newspaper. Robert Spencer comments on their contents:
There is a strong apologetic content to these letters. He is engaging in da'wa, trying to convert those who read them to Islam. They are also revealing of the jihadist mindset. He also describes what he did on the day of the attack in great detail, including which sections of the Qur'an he read at which hours leading up to his attack. He also says that he rises at 3AM in his jail cell to...read the Qur'an.

A few other observations about them:
Taheri-azar is not insane. He is articulate and perfectly in control of what he is saying.

He was not motivated by poverty or deprivation. Nor was he an ignorant bumpkin manipulated by sophisticated machiavels.

He firmly believes that he acted in obedience to Qur'anic dictates.
Sep. 18, 2006 update: The Daily Tar Heel provides an update on Taheri-Azar in "Pit attack leaves wake" by Shannan Bowen.
"While in prison, Taheri-Azar has written more than 30 letters to The Daily Tar Heel describing his unguided quest into Islam and the religious book he says grants him permission to kill."

"At his last hearing June 21, Taheri-Azar initially voiced a request to represent himself and dismiss James Williams, his court-appointed public defender. Judge Carl Fox told Taheri-Azar he would have to undergo psychological evaluations in order to represent himself, and Taheri-Azar agreed to keep his legal counsel."

"Taheri-Azar has yet to enter a plea. In a letter dated May 23, Taheri-Azar writes he will plead not guilty, and he will never carry out additional attacks and hopes to continue working in the country. 'Whether I intend to uphold the promise is something known to myself and Allah, which I can neither confirm nor deny, for the court,' he writes in a letter dated May 30. But Taheri-Azar announced at his last court appearance June 21 that he would enter a guilty plea."

"Taheri-Azar writes that he was not raised a Muslim. He was born in Iran and came to the United States when he was 2 years old. He and his family attended a Baptist church in Charlotte when he was about 4, and he attended Catholic school in ninth grade. Just three years ago, Taheri-Azar began reading the Quran out of curiosity of his heritage. In one letter he states: 'Gradually I took it upon myself to read the Quran as much as I could each evening, and I began to abide by its commandments, e.g. praying and being kind to my parents, etc. However, after beginning to study Islamic fundamentalism on my own in about July 2004, I began to focus more on the militant verses throughout the Quran.' After graduating from UNC with degrees in psychology and philosophy, he wanted to join an Iraqi insurgency or enlist in the military so he could drop a nuclear bomb over Washington, D.C. Taheri-Azar also writes that he has received no formal training on the Quran."

"Taheri-Azar writes that several verses in the Quran grant Allah's followers the right to kill in his name. 'Allah demands of believers to retaliate violently against persons responsible for attacking them or their fellow believers around the world,' Taheri-Azar writes in a letter dated April 27."

"Taheri-Azar also distances himself from MSA and other organizations. In a letter dated June 3 he writes that MSA 'is an organization meant to lead people astray from truth'."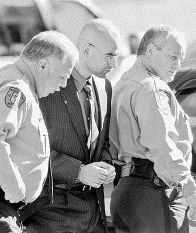 Mohammed Taheri-Azar is taken into Orange County Superior Court, where he pleaded not guilty to all charges.

Jan. 25, 2007 update: Taheri-Azar had repeatedly stated his intention to plead guilty to the March 3, 2006, rampage with a rented SUV into students at the University of North Carolina in Chapel Hill. But yesterday, in a hearing that of under three minutes in Orange County Superior Court, he pleaded not guilty to nine counts of attempted first-degree murder and nine counts of felonious assault. Orange-Chatham District Attorney Jim Woodall responded by noting that the earlier statements could be entered as evidence against.
Woodall said he expects to subpoena people who received letters from Taheri-Azar, who is thought to have written dozens of letters to media outlets and law enforcement agencies. In some of those letters, including to The News & Observer, Taheri-Azar said he planned to plead guilty. He has made similar statements in court. "Public statements can be entered as evidence," Woodall said, adding he likely would subpoena some members of the media.
Mar. 5, 2007 update: During a court hearing, Mohammed Taheri-Azar announced, "Everybody, I hate all Americans and all Jews. … Death to Israel." (A Fox News account can be watched on HotAir.com.) He then demanded of Superior Court Judge Ken Titus that he tell him his name and how to spell it. Turning to Public Defender James Williams, his attorney, Taheri-azar asked, "Who is this fool? Who is this moron? I don't know who this moron is," before being removed from the courtroom. On his way out, Taheri-Azar made obscene gestures and yelled profanities. After this outburst, Titus ordered Taheri-azar sent to a hospital for testing about his competence to stand trial.
According to Taheri-Azar's sister, Laila, he tried at least twice to kill himself in prison, once by fasting and once by ingesting a hair lotion. She also provides some background on his transformation into his present self:
The Taheri-Azars moved from Iran when Ray, as close family and friends call him, was 2. They went briefly to California, then to Charlotte, where Taheri-Azar grew up. Now, family is scattered, with his mother working in Afghanistan, his father in California and Laila Taheri-Azar, 30, studying in a Miami cosmetology school. His youngest sister is in college in Charlotte.

Mohammed Taheri-Azar led away from the courtroom on Mar. 5, 2007, after his outburst.

Taheri-Azar, a U.S. citizen, speaks rudimentary Farsi and no Arabic, Laila Taheri-Azar said. He was raised in a largely secular household, sometimes attending a Baptist church though the family had a Muslim background. After moving to Chapel Hill to attend UNC-CH, a family friend exposed Taheri-Azar to Islamic beliefs that the family thinks bordered on extreme. By August 2005, he had begun to distance himself from family, communicating mostly by e-mail and avoiding the phone.

In December 2005, Taheri-Azar graduated from UNC-CH with dual majors in psychology and philosophy. But he skipped an annual family get-together in Charlotte even though the other family members traveled several time zones to be together. Instead, he went to Canada to be with the family friend who was his religious mentor, Laila Taheri-Azar said.

Taheri-Azar applied to graduate schools, worked at the Jimmy John's sub shop on Franklin Street and often delivered sandwiches to campus locations. "He was very anti-social," said Atif Mohiuddin, a Muslim student at UNC-CH who ran into Taheri-Azar a few times in the prayer room and also spent several hours a day studying at Jimmy John's. "He couldn't converse with the rest of the employees," he said. Similarly, in the prayer room, Taheri-Azar refused to pray toward Mecca and only prayed in English, suggesting other worshippers do the same.
June 11, 2007 update: Whoops, it was all a mistake, he did not mean to hurt anyone or offend anyone. In a letter dated May 20 sent to Orange County Superior Court, Mohammed Taheri-azar wrote that he is "very sorry for the crimes which I committed in Chapel Hill, North Carolina, on March 3, 2006. I sincerely regret what I did on that day. Please release me from state custody so that I may pursue my goal of living a productive life in California," where he would like to work for his father's general contracting company in Anaheim and "re-establish myself as a good, caring and productive member of society." Taheri-Azar also apologizes for his courtroom outburst when he declared "I hate all Americans and all Jews. … Death to Israel." Now, he says, "I ... apologize for my distasteful conduct in your courtroom on March 5, 2007. I promise you that I will never again in my life display such poor, ignorant behavior."
June 13, 2007 update: Superior Court Judge Ken Titus considered a mental health evaluation of Taheri-azar and concluded that the defendant is competent to stand trial, though that decision remains subject to change.
Oct. 10, 2007 update: The judge may consider Taheri-azar competent to stand trial but the defendant plans to "offer at trial a defense of insanity, mental infirmity and/or diminished capacity," according to a court notice filed by his public defender, James Williams. The trial has tentatively been scheduled for March 2008.
Aug. 12, 2008 update: Taheri-Azar pleaded guilty today to nine counts of attempted first-degree murder charges. In response, in its part of a plea bargain, prosecutors dropped nine counts of aggravated felonious assault charges.
Aug. 26, 2008 update: Taheri-Azar was sentenced today to between 26 years, two months and 33 years in prison, the maximum penalty allowable. He did not speak at the sentencing.