A little-known organization, the Los Angeles-based "Project Islamic H.O.P.E.," grandly announced on Oct. 21 (along with several other equally obscure groups: the Muslim Electorate's Council of America; The ILM Foundation; Masjid Ibaadillah) that it is boycotting President George W. Bush's 2003 Ramadan dinner at the White House. Or as it more colorfully put it, "Let President Bush eat by himself at his Ramadan dinner." Al-Jazeera's website today quotes the project's director, Imam Naji Ali, explaining that he took this step because he is "fed up with Bush's 'anti-Muslim' policies." (The first of those policies mentioned, incidentally, is my appointment to the U.S. Institute of Peace.) This news prompts two reflections:
My sources in the White House tell me that Imam Naji Ali was not invited to the Ramadan dinner, called the iftar, in the first place (only diplomats are invited this year). Philosophical query: is it possible to boycott a party to which one was not invited?
This is a good precedent; I hope other Islamist organizations should follow suit and publicly exclude themselves from U.S. government-sponsored iftars, thereby providing an opening for moderate Muslims to fill.
(October 23, 2003)
Oct. 29, 2003 update: Confirming the illogicality of Naji Ali's "boycotting" a dinner to which he was not invited, another Islamist leader not invited to the iftar, Mahdi Bray of the Muslim American Society, responded to his exclusion by stating that he does not want to give the president "a photo op to the Muslim world saying all is right with Muslims in America. All is not right. Our community is not on sale for dinners or anything else."
Mar. 27, 2009 update: American Islamist organizations have again returned to this pattern, as David J. Rusin explains:
A coalition of Muslim groups, including the Council on American-Islamic Relations (CAIR), has threatened to suspend outreach efforts with the FBI following news of the agency planting informants in California mosques. That the man under investigation has been charged with a host of crimes and allegedly was recorded discussing jihad is apparently irrelevant. According to the coalition, the FBI has lost the trust of Muslims by seeding mosques with "agents provocateurs."
Rusin goes on to note the irony that, with this move, "CAIR might cut off the FBI after the FBI cut off CAIR."
July 14, 2014 update: Another White House iftar, another boycott. This time, the American-Arab Anti-Discrimination Committee (which is not even Muslim in identity, but Arab) is calling for non-attendance at the president's breaking of the fast, on the grounds that he condones the Israeli killing of Palestinians in Gaza and spying on some American Muslims. "We ask that all government iftar invitees stand together on behalf the community and reject the normalization of the continuous breach of our fundamental rights."
But, as in the case of Project Islamic H.O.P.E. back in 2003, there's a wee catch here: no one from ADC was even invited to the event.
July 21, 2014 update: More sour grapes by one Sahar Aziz of the Texas A&M School of Law. Not invited to the White House iftar, she castigates Obama for his "gratuitous lecturing of Muslims at a White House iftar, about Israel's right to defend itself as unarmed civilians in Gaza died by the hundreds" and the Muslim attendees, whom she calls a "group of Muslim individuals ... hand-picked by government bureaucrats who reward them for good behaviour."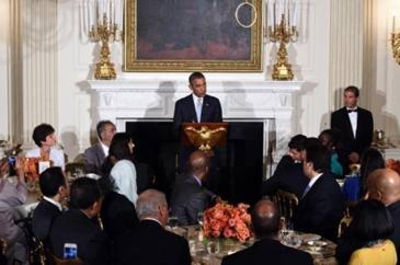 The 2014 White House iftar.
Aug. 31, 2016 update: In a similar spirit, ADC, CAIR, ICNA, and a host of other organizations have written an open letter to Department of Homeland Security Secretary Jeh Johnson grandiloquently informing him that they will not apply for the department's Fiscal Year 2016 Countering Violent Extremism Grants because the CVE program has what they call a "Muslim-focused approach." To which I ask, who wants them to apply in the first place?
May 14, 2021 update: The White House iftar event this year is virtual, so it differs from the 2003 version. On May 7, CAIR urged "all Americans" (i.e., not just Muslims) to attend it. Then, after Hamas initiated war with Israel and the Biden administration standing with Israel, it joined with American Muslims for Palestine, other Islamist, and miscellaneous groups (such as Jewish Voice for Peace) to call for a boycott of the event.