One would think that the "Islam = peace" nonsense would not still need correcting, but it keeps popping up – just yesterday a hostile questioner raised the equivalent at a talk I gave at Ashland University, today it came up in an oped. So, for the record: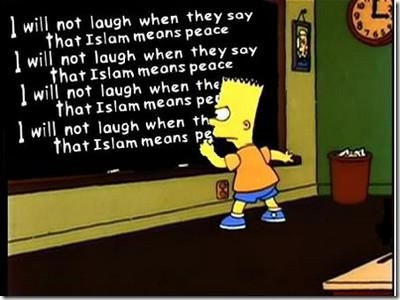 Most Arabic words are based on a trilateral root system, such as k-t-b or s-l-m. The words formed from these roots often have a connection to one another (kataba is to write, kitāb is a book, maktaba is a library, and so on), but not always (a katība is a squadron of soldiers). In other words, roots have a core meaning but also include unrelated words.
In the case of s-l-m, salām means peace and salāma means safety. But the root also has many meanings unconnected to this core, such as salam (a variety of acacia) sullam (ladder), sulāmā (digital bone in the hand or foot), sulaymāni (mercury chloride), aslama (to betray) ... and islām (submission).
There is no connection in meaning between salām and islām, peace and submission. These are two distinct words with unrelated meetings. In brief, "Islam = submission."
Comment: Not only is it common for the same root to mean roughly the opposite, as in the case of peace and submission, but Arabic words famously have Janus-like features, meaning themselves and their opposite. As I put it in a 1980 article, "Mawlas: Freed Slaves and Converts in Early Islam": "Arabists amuse non-initiates with the exaggeration that every Arabic word has four meanings – a basic one, its opposite, one related to sex, and a final one referring to camels." (October 9, 2005)
Oct. 19, 2005 update: Ahmed Bedier of CAIR said (according to Carl Mario Nudi of the Bradenton Herald in Florida) that Islam
comes from the root word of "As-Salamu," or "peace."
Assuming the newspaper account to be sound, then CAIR is guilty of yet another inaccuracy.
Dec. 9, 2006 update: Islam Means Peace is the title of a brand-new book by the Indian writer Javed Jamil and published by Mission Publications. It received a rapturous reception from the publication Milli Gazette.
Apr. 8, 2007 update: Parvez Ahmed, the national board chairman of CAIR, says that "Islam does not only mean peace, Islam emphasizes peaceful coexistence as a supreme goal."
June 10, 2007 update: Mujeeb Chaudhary, Pakistani immigrant who arrived in the United States in 1972 and imam of a mosque in Philadelphia, tells the Philadelphia Inquirer that Islam means peace, and that if someone does not see it that way, "he is not a Muslim."
Apr. 1, 2008 update: Nor does Islam mean "a strong commitment to God." That's the bizarre translation offered by John L. Esposito and Dalia Mogahed in Who Speaks for Islam? What a Billion Muslims Really Think (p. 7), presumably adopted to avoid the accurate translation submission, which has a too-strong quality for a Western readership.
Aug. 21, 2014 update: Mahathir Mohamad, the former Malaysian prime minister: "There is no place for violence in Islam. Islam is a religion of peace and some people have wrongly interpreted the religion."
Sep. 18, 2014 update: George Brandis, attorney general of Australia, stated: "The suggestion that mainstream Islam is anything other than a religion of peace is arrant nonsense."
Oct. 18, 2014 update: Seen in Philadelphia: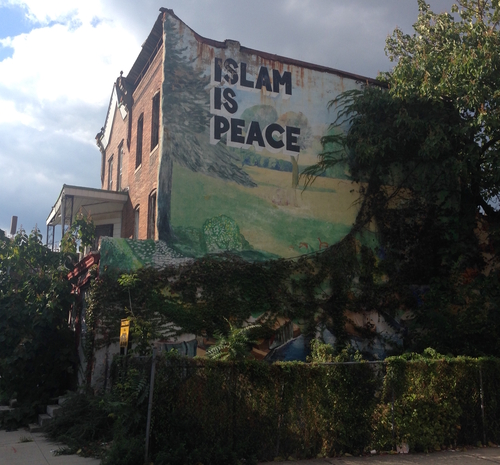 "Islam is peace" declares the side of this house in Philadelphia, with more enthusiasm than accuracy.
Feb. 3, 2016 update: In a major speech on Islam, Barack Obama announces that "the very word itself, Islam, comes from salam — peace."
June 13, 2016 update: The esteemed scholars at CAIR inform us that "Islam = PEACE."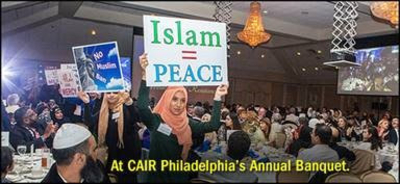 June 19, 2017 update: The BBC is slightly less inaccurate than others, informing us that the word Islam "comes from an old Arabic word meaning 'peace'."
Oct. 5, 2017 update: The Muslim Speakers Network FAQ page misinforms readers that "The word 'Islam' means 'finding peace through surrender to God'."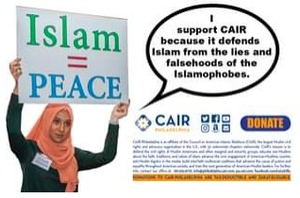 CAIR: Islam = PEACE
Apr. 1, 2020 update: Jacob S. Dorman's website complementing his fine book on the Moorish Science Temple of America unfortunately includes the following statement: "Islam. For centuries, Americans idealized and romanticized the religion whose name means peace."

May 4, 2020 update: CAIR repeats this simplistic error by showing that same woman with that same sign, "Islam = PEACE," although this time she is abstracted from the banquet crowd.
Nov. 15, 2020 update: ISIS agrees that Islam ≠ peace; its scholars, however fanatical, know their stuff. The Rabi' ath-Thani 1442 edition of its publication The Voice of Hind includes an article, "Islam doesn't mean peace." It contends that Muslims pretend otherwise to "appease the West." In fact, "salam [peace] is not the basis of the word 'Islam,' although it shares the same consonant root and is one of the outcomes of the religion's sword."