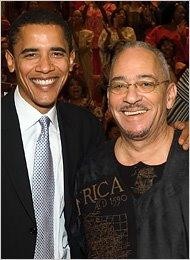 Barack Obama and the Rev. Jeremiah Wright.
The Rev.
Jeremiah Wright, Jr.
of Chicago's Trinity United Church of Christ, and Barack Obama's pastor since 1988, told his congregation in a sermon on Sept. 16, 2001, "The Day of Jerusalem's Fall," that U.S. terrorism had precipitated Al-Qaeda's attack. "We bombed Hiroshima, we bombed Nagasaki, and we nuked far more than the thousands in New York and the Pentagon, and we never batted an eye. We have supported state terrorism against the Palestinians and black South Africans, and now we are indignant because the stuff we have done overseas is now brought right back to our own front yards." Wright concluded that "America's chickens are coming home to roost."
That last phrase has a history.
On Dec. 1, 1963, immediately after the assassination of John F. Kennedy, the Nation of Islam leader Malcolm X responded to that event with the comment that, "Being an old farm boy myself, chickens coming home to roost never did make me sad; they've always made me glad," prompting the audience, according to a newspaper account, "to loud applause and laughter." When, shortly after, Malcolm X explained his comment in an interview with Louis Lomax, his views closely anticipated Wright's:
I meant that the death of Kennedy was the result of a long line of violent acts, the culmination of hate and suspicion and doubt in this country. You see, Lomax, this country has allowed white people to kill and brutalize those they don't like. The assassination of Kennedy is a result of that way of life and thinking. The chickens came home to roost; that's all there is to it. America—at the death of the President—just reaped what it had been sowing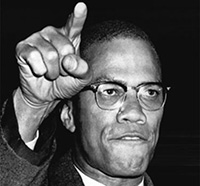 Malcolm X
Malcolm X's remark featured the next day in the
New York Times
("MALCOLM X SCORES U.S. AND KENNEDY; Likens Slaying to 'Chickens Coming Home to Roost'") and led not just to his being silenced by Elijah Muhammad, head of the Nation of Islam, but it contributed to Malcolm X being thrown out of the Nation of Islam altogether, and then to his becoming a normative Muslim. Through the decades, "chickens coming home to roost" became one of his most famous remarks; it featured prominently, for example, in the 1992
Spike Lee movie
,
Malcolm X
.
Comments: (1) There can be no doubt that Wright knows of the Malcolm X statement and, conscious or not, forty-five years later, chose to echo, repeat, and confirm it in the context of another new American tragedy. (2) In 1963, Malcolm X denigrated the president; in 2008, Jeremiah Wright is closely tied to a presidential candidate – not a sign of progress. (March 13, 2008)
Mar. 15, 2008 update: A reader points out that the "chickens came home to roost" phrase has been celebrated by leftists in the title of books, including ones by Harry Elmer Barnes (1973) and Ward Churchill (2003).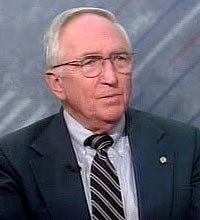 Edward Peck, former U.S. ambassador.

Mar. 21, 2008 update: Roland Martin points out at CNN.com that Wright referenced Malcolm X by name in the preamble to his "chickens are coming home to roost" remark, as well as Edward Peck. Who? I'll let the reverend explain in his own words (with minor edits of the transcript by me):
I heard Ambassador Peck on an interview yesterday – did anybody else see or hear him? He was on Fox News. This is a white man, and he was upsetting the Fox News commentators to no end. He pointed out, a white man, an ambassador, he pointed out that what Malcolm X said when he was silenced by Elijah Mohammad was in fact true. He said America's chickens are coming home to roost.
Apr. 1, 2008 update: Another reader notes that Obama himself more-or-less quoted Malcolm X. Ben Smith of Politco.com provides details:
"They're trying to bamboozle you," Obama said for the first time Wednesday[, Jan. 23,] in Sumter, S.C., to a predominantly African American crowd while refuting e-mails falsely identifying him as a Muslim. "Don't let people turn you around because they're just making stuff up. That's what they do. They try to bamboozle you, hoodwink you." Obama repeated those lines frequently as he traveled around the state.

The lines echo the best-known version of the Malcolm X speech, which comes from Spike Lee's biopic. It's a stinging address full of blunt racial division, which warns blacks about being "hoodwinked" and "bamboozled" by "the white man." "You've been had. You've been took. You've been hoodwinked. Bamboozled. Led astray. Run amok," Malcolm says in the speech.
Two YouTube clips make it possible to see the similarities in delivery of these two statements.
Apr. 28, 2008 update: Asked at a National Press Club breakfast by the moderator, Donna Leinwand, about the "chickens" quote, Wright buoyantly specified what he had initially stated in 2001.
Leinwand: You have said that the media have taken you out of context. Can you explain what you mean in a sermon shortly after 9/11 when you said the United States had brought the terrorist attacks on itself, "America's chickens are coming home to roost"?

Wright: Have you heard the whole sermon? (Laughter, applause.) Have you heard the whole sermon?

Leinwand: I—most -- (chuckles) --

Wright: No, no, the whole sermon. That's—yes or no. No, you haven't heard the whole sermon? That nullifies that question. Well, let me try to respond in a non-bombastic way. (Applause.) If you heard the whole sermon, first of all, you heard that I was quoting the ambassador from Iraq. That's number one. But number two, to quote the Bible, "Be not deceived; God is not mocked, for whatsoever you sew that you also shall"—

Audience members: "Reap."

Wright: Jesus said, "Do unto others as you would have them do unto you." You cannot do terrorism on other people and expect it never to come back on you. Those are biblical principles, not Jeremiah Wright bombastic divisive principles. (Applause.)