April 14, 2014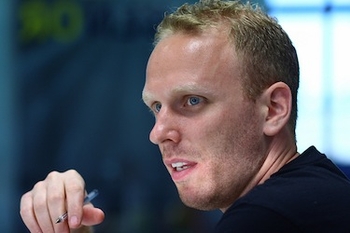 Max Blumenthal.

Max Blumenthal, like others on the far-Left, jumped on the July 2011 Norwegian massacre of 77 dead and 319 injured to impugn the counter-jihadi right. His screed, "Anders Behring Breivik, a perfect product of the Axis of Islamophobia" included this sentence:
The rhetoric of the characters who inspired Breivik, from Pam Geller to Robert Spencer to Daniel Pipes, was so eliminationist in its nature that it was perhaps only a matter of time before someone put words into action.
Continue to full text of posting...
April 9, 2014
The British Library, I documented yesterday, had blocked my website and those of the Middle East Forum while letting through some of the most foul antisemitic and Islamist sites. The article ended with mention of my writing to the library, a government institution, to request that the blocks be removed. Also, a substantial number of readers wrote to the library in protest.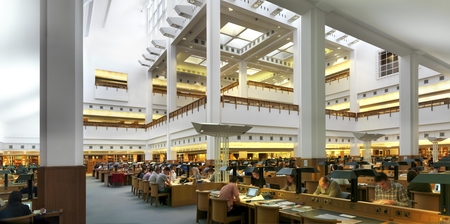 The British Library's reading room.
As a result, I am happy to report, the blocks have been removed. A representative of the library's Electronic Services wrote me:
Continue to full text of posting...
March 30, 2014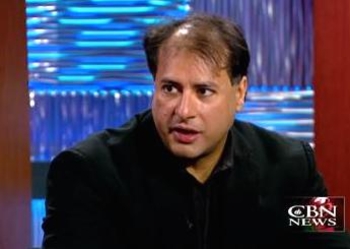 Raymond Ibrahim appearing on CBN.

Raymond Ibrahim's recent piece for CBN, "Why 'Moderate Islam' is an Oxymoron," has prompted questions because it contradicts my views and yet (because he is a fellow at the Middle East Forum) it appears on MEForum.org and was sent to the MEF mailing list.

In reply, some comments on the content of his article and the propriety of its appearing with Middle East Forum sponsorship:

Continue to full text of posting...

March 26, 2014

In 2009, my elder two daughters both had plans to move to western Europe, so they asked me to apply for Polish citizenship. This would allow them in turn to derive citizenship through me and acquire a European Union passport that allows them freely to live and work in 28 countries. Nothing loath, I began what turned into a four-year process of bureaucratic challenges to request the president of Poland to grant me citizenship.

Continue to full text of posting...

March 24, 2014

An Egyptian court in short order sentenced some 529 people to death today for the killing of a single police officer. News like this gives one pause.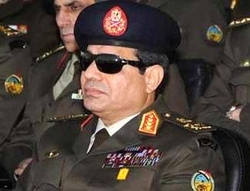 Field Marshall Abdel Fattah el-Sisi, the strongman of Egypt.

Very tough treatment of Islamists is needed to repress this totalitarian movement, including rejection of their efforts to apply Islamic law, keeping them out of mainstream institutions, even excluding their parties from the democratic process. But Field Marshall Abdel Fattah al-Sisi's extra-legal crackdown on Islamists will likely backfire and help the Islamist cause by winning them broad sympathy. Even if today's absurd judgment gets reversed on appeal, it and others like it are doing real damage.

Continue to full text of posting...

March 23, 2014

I just had an opportunity to learn first-hand about the United States Special Operations Command (SOCOM) at MacDill Air Force Base in Tampa, Florida, headed by the famed Admiral William H. McRaven.

I expected the focus to be on Navy SEALs, Army Rangers, and their air force and marine counterparts. I thought I would hear about the exploits of this 67,000-strong command operating in 84 countries, maybe even about the taking down of Osama bin Laden. But that was not to be. Instead, the command's new mission, starting with the motto, "You can't surge trust," filled the time.

Continue to full text of posting...

March 22, 2014

In its frenzied loathing of the Netherlands' most important politician, Geert Wilders, the Dutch press will do almost anything to attack him.

He's now in hot water for calling on a reduction in the number of Moroccans in the Netherlands. Tom-Jan Meeus of the leading newspaper NRC Handelsblad asked my opinion on this development. I wrote a response that both endorsed and criticized Wilders:

Continue to full text of posting...

February 23, 2014

Jonathan Pollard's life sentence for the crimes he committed nearly 30 years ago is, without a doubt, both a travesty of justice and completely disproportionate.

Indeed, I offered Pollard advice and help when he called me from prison for some years in the mid-1990s. For example, I published an original document about his trial in 1997 and evinced new information about him from Caspar Weinberger in a 1999 interview. I have maintained a weblog entry exposing the rank hypocrisy of U.S. leaders who come down so hard on Pollard even as American intelligence services spy no less, and probably much more, on Israel.

Continue to full text of posting...

February 22, 2014

The Menendez-Kirk "Nuclear Weapon Free Iran Act of 2013" (S. 1881) threatens the Iranian regime with additional sanctions and appears to be the only way to counter the Obama administration's flaccidity vis-à-vis Tehran.

I am skeptical, however, that it can do much good.

Continue to full text of posting...

February 14, 2014

Twenty-five years ago today, Ayatollah Khomeini brought his edict down on Salman Rushdie. Iran's revolutionary leader objected to the author's magical-realist novel The Satanic Verses because of its insults to the Muslim prophet Muhammad and responded by calling for the execution of Rushdie and "all those involved in the publication who were aware of its contents."

Continue to full text of posting...