February 23, 2014
Jonathan Pollard's life sentence for the crimes he committed nearly 30 years ago is, without a doubt, both a travesty of justice and completely disproportionate.
Indeed, I offered Pollard advice and help when he called me from prison for some years in the mid-1990s. For example, I published an original document about his trial in 1997 and evinced new information about him from Caspar Weinberger in a 1999 interview. I have maintained a weblog entry exposing the rank hypocrisy of U.S. leaders who come down so hard on Pollard even as American intelligence services spy no less, and probably much more, on Israel.
Continue to full text of posting...
February 22, 2014
The Menendez-Kirk "Nuclear Weapon Free Iran Act of 2013" (S. 1881) threatens the Iranian regime with additional sanctions and appears to be the only way to counter the Obama administration's flaccidity vis-à-vis Tehran.
I am skeptical, however, that it can do much good.
Continue to full text of posting...
February 14, 2014
Twenty-five years ago today, Ayatollah Khomeini brought his edict down on Salman Rushdie. Iran's revolutionary leader objected to the author's magical-realist novel The Satanic Verses because of its insults to the Muslim prophet Muhammad and responded by calling for the execution of Rushdie and "all those involved in the publication who were aware of its contents."
Continue to full text of posting...
February 3, 2014
Some, especially in the mainstream media, pretend that not Jerusalem but Tel Aviv serves as the capital of Israel. (Tel Aviv hosts the Ministry of Defense but not much else of the central government.) The weblog entry documents some of those delusions, which are appearing more often, in reverse chronological order:
Continue to full text of posting...
January 26, 2014
The Middle East does offer some signs of hope, such as the inspiring example of Israel, the metaphorical "villa in the jungle"; the bracing prospect of Islamists falling into disarray; and the emergence of an independent Kurdistan.
But these are the exceptions. In general, the region these days spawns such unchanging, repetitious and dreary news that this commentator barely reads more than headlines and has little to say about them. Consider some leading issues of the moment:
Continue to full text of posting...
January 24, 2014
Introspective writings about the organization I founded in January 1994, prepared on the occasion of its twentieth anniversary, which is today.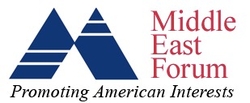 On the whole of the Middle East Forum:
Continue to full text of posting...
January 16, 2014
It's a handy rule-of-thumb that when a politician – usually in a press conference, where he's annoyed repeatedly with the same question about his judgment – announces that he is or is not something, well, he is that thing.
"I'm not a crook": Richard Nixon set the gold standard in 1973 with this announcement, which the Watergate affair showed he exactly was.
"I am not an ideologue": Barack Obama in January 2010, denying what he exactly is.
Continue to full text of posting...
January 15, 2014
According to a sensational report by Awad Mustafa in DefenseNews, a Gannett publication, not only has Tehran signed an agreement with the United Arab Emirates over three disputed islands near the Strait of Hormuz, but it has also reached a possibly even more important accord with the government of Oman. Both of these agreements have vast implications for the oil trade, the world economy, and Iranian influence.
Continue to full text of posting...
January 11, 2014
A survey conducted in seven Muslim-majority countries (Tunisia, Egypt, Lebanon, Turkey, Saudi Arabia, Iraq, and Pakistan) finds that a median of 10 percent of the respondents prefer women to wear either a niqab (#2) or burqa (#1) when in public. The specific country figures range enormously, from 74 percent approval of these two garments in Saudi Arabia and 35 percent in Pakistan to 3 percent in Lebanon and Tunisia and just 2 percent in Turkey.
Continue to full text of posting...
January 9, 2014
Despite all that's going on the Middle East – the Iranian nuclear buildup, the violence in Iraq, the shaking of Erdoğan's rule in Turkey, civil war in Syria, Egypt and Yemen in melt-down mode, Libya unraveling, Tunisia in political crisis – U.S. Secretary of State John Kerry has one main thing on his mind, and that's a Palestinian-Israeli accord. Unbelievably, he is paying a twelfth visit to the region on Jan. 13 to pursue this goal.
Continue to full text of posting...