January 1, 2020
As I have done previously (2015, 2017, 2018), here is a roundup of the most popular articles, blog posts, speeches, and interviews on my web site, DanielPipes.org, in the just-concluded year. (The statistics below concern only DanielPipes.org, not postings elsewhere.)
Continue to full text of posting...
August 12, 2019
After 250 years, the Saudi dynasty under Crown Prince Mohammad bin Salman appears cautiously to be exiting the Wahhabi hammerlock. But books on display at the 2019 Riyadh International Book Fair gave no hint of this, as suggested by the following selection of current titles with an emphasis on the Arab-Israeli conflict:
Continue to full text of posting...
July 4, 2019
Paper telephone books have virtually disappeared from our lives, but they recorded essential information during the twentieth century. Thanks to a recent visit to my father's hometown of Cieszyn, Poland, plus the discovery of an unpublished Warsaw telephone directory (unpublished due to the German invasion), I now have records of my ancestors dating from 1926 and 1939.
Continue to full text of posting...
May 4, 2019
Palestinians do weird things: A few days ago, the Palestinian Authority (PA), which rules most of the West Bank, refused to accept the tax revenues it is owed by the Israeli government. Today, Hamas, which rules all of Gaza, launched more than 200 rockets against Israel.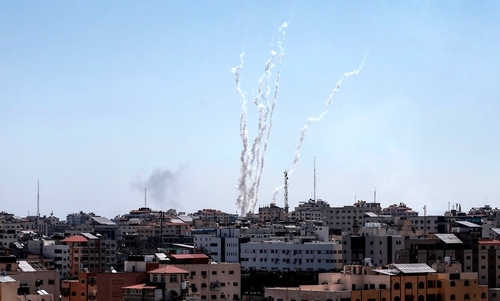 Hamas launched missiles from Gaza against Israel on early on May 4, 2019.
Both of these are, on the surface, self-defeating steps that make no sense. Not taking the money means the PA could collapse; firing rockets means Hamas is getting battered militarily by the far superior Israeli forces.
Continue to full text of posting...
May 1, 2019
It's been ten years exactly since Ryan Gingeras published an extraordinary preface to his book, Sorrowful Shores: Violence, Ethnicity, and the End of the Ottoman Empire 1912-1923 (Oxford University Press). I therefore quote it at length:
Continue to full text of posting...
April 26, 2019
The Trump plan for the Palestinian-Israeli conflict has prompted enormous speculation – when revealed, what specifics, who gains? – speculation that I confess to having contributed to in a series of articles:
Trump (L) ventured on May 23, 2017, to Bethlehem to meet Abbas.

"The US-Israel Honeymoon May Not Last." Washington Times, February 6, 2018. Warns that Trump pro-Israel steps have confused purposes.
"Israel Has Nothing to Fear from Trump's Plan?" Israel Hayom, May 27, 2018. Disputes the assumption that the Palestinian Authority will turn down the Trump plan.
"Trump's Mideast 'Deal of the Century' May Be a Raw One for Israel." Wall Street Journal, January 24, 2019. Collects quotes by administration officials insisting that Israel will "pay a higher price" in forthcoming negotiations.
"Anticipating Trump's "Deal of the Century." Washington Times, April 9, 2019. Lays out the deal, along with its specifics.
I have reached two conclusions that seem unique to me: (1) the essence of the deal is "The Arab states recognize Israel and Israel recognizes Palestine" and (2) the PA will accept the deal (because it also involves U.S. recognition of Palestine).
I am either right and everyone else wrong; or convenient wisdom is confirmed. The plan is now due to be unveiled in June 2019. Let's see what's in it. (April 26, 2019)
February 6, 2019
During the Middle East Forum's conference on Qatar today, during which he was critically mentioned several times due to his ties to the government of Qatar, Morton Klein, president of the Zionist Organization of America, wrote me a brief note at 10:17 am. In it, he asked: "Why. I really don't understand. What's going on. We were good friends for decades."
I replied at 10:31 am: "This is not personal; I like you a lot. It is about you coming clean on Qatar. Send me a statement I can read out to the conference."
He proceeded to do that at 11:10 am. While I found the statement's length and specificity not suitable for reading out to the conference, it is an important document that deserves public attention. So, as Mort requested, here it is (with no edits, exactly as he sent it to me, except for deleting the two e-mail addresses):
Continue to full text of posting...
December 31, 2018
Looking at statistics at DanielPipes.org finds that these ten are my most read writings of 2018, in ascending order:
10. Melbourne's Petite, Shy, Honors-Student Jihadi
9. German and Austrian Media Outrage Me
8. Conservatism's Hidden History
7. Venezuela's Tyranny of Bad Ideas
6. Why Israelis Shy from Victory
5. The US-Israel Honeymoon May Not Last
4. Poland's Muslim Ban
3. The Rise of Western Civilizationism
2. Tectonic Shifts in Attitudes toward Israel
1. Hungary: Not "Submitting to Islam"
Continue to full text of posting...
December 24, 2018
Ben Caspit in Al-Monitor has leaked details of the Trump administration's "ultimate deal" to resolve the Palestinian-Israeli conflict. Citing an anonymous "senior diplomatic source," he writes that the still-secret Trump plan
includes a clear partition of Jerusalem into three sections, and "it is not about a Palestinian capital in Abu-Dis (a Palestinian village in the Jerusalem governance area) but in significant sections of East Jerusalem." According to the source, there will be two capitals in Jerusalem: the Israeli capital in West Jerusalem including control over the Western Wall and Jewish neighborhoods in the city's eastern sections, and the capital of Palestine in the eastern section. In addition will be a third region, within the Holy Basin, to be under international control.
Continue to full text of posting...
September 21, 2018
Unfortunately, the requested recording by Harvard Event technicians was not made. I thank Robert Chung for recording nearly the entire service on his smartphone, with the exception of the musical prelude and the first talk, by Prof. Evelyn Higgenbotham. The recording begins with the welcome by Prof. Rawi Abdelal.
For the memorial service program, click here.
For a booklet with the tributes by the nine speakers, click here.
Memorial Church at Harvard University, with a picture of Richard Pipes.
---
Continue to full text of posting...