December 31, 2017
Looking over the past year's statistics, my ten most-read articles of 2017 (ignoring articles from prior years) were:
10. Merkel's Historic Folly
9. Historians Run Amok
8. Erdoğan to Me: Stay Out of Turkey
7. No to Bombing Syria
6. Florida Museum Celebrates the Loss of Hagia Sophia
5. Italy's Apocalypse
4. Will Trump Turn Against Israel?
3. Linda Sarsour, The Left's Latest Star
2. The Way to Peace: Israeli Victory, Palestinian Defeat
1. Smoking Out Islamists via Extreme Vetting
Continue to full text of posting...
December 11, 2017
Question: On December 6, 2017, US President Donald Trump made a statement recognizing Jerusalem as Israel's capital and declaring that his administration will immediately begin the process of building an embassy in Jerusalem. What does Trump's recognition of Jerusalem as Israel's capital mean?

Respondents: Elliott Abrams, Daniel Pipes, Max Singer, Eytan Gilboa, Jonathan Rynhold, Hillel Frisch. Click here for the other responses. Slight changes made to the BESA Center original.
---
The move of the U.S. embassy to Jerusalem brings on a flood of thoughts. Briefly:
Continue to full text of posting...
September 12, 2017
Many media heavyweights– the BBC, Agence France-Presse, The Guardian, New York Times, Washington Post, CTV – pretend Tel Aviv is the capital of Israel. Even the Obama White House had a hard time figuring out where that capital city might be.
But the Cartographic Section of the United Nations' Department of Peacekeeping Operations goes a step better than them all. If amateurs pretend Tel Aviv is Israel's capital, the pros at UNDPO assert that Israel has no capital at all.
Continue to full text of posting...
September 3, 2017
Theodor Herzl (1860-1904) wrote in his diary on Sep. 3, 1897, three days after the close in Basel of the Zionist Organization's First Zionist Congress that he had chaired:
in Basel habe ich den Judenstaat gegründet. Wenn ich das heute laut sagte, würde mir ein universelles Gelächter antworten. Vielleicht in fünf Jahren, jedenfalls in fünfzig wird es jeder einsehen.
Continue to full text of posting...
August 5, 2017
Michelle Sandhoff, an assistant professor of sociology at Indiana University of Pennsylvania, has written a book titled Service in a Time of Suspicion: Experiences of Muslims Serving in the U.S. Military Post-9/11 (Iowa City: University of Iowa Press, 2017). In it, she interviewed 15 Muslim service members who, according to the publisher, "talk about what it means to be Muslim, American, and a uniformed member of the armed services in the twenty-first century. These honest accounts remind us of our shared humanity."
In the book's early pages, Sandhoff devotes a long, error-rich paragraph to describing two contrary ways of seeing Islam:
Continue to full text of posting...
July 24, 2017
Winston Churchill disparaged the impact of Islam on Muslims in his 1899 book, The River War:
How dreadful are the curses which Mohammedanism lays on its votaries! Besides the fanatical frenzy, which is as dangerous in a man as hydrophobia in a dog, there is this fearful fatalistic apathy."
Continue to full text of posting...
June 9, 2017
[This weblog entry builds on and expands "When Politicians State 'I Am' or 'I Am Not' Something" of Jan. 16, 2014.]
It's a handy rule-of-thumb that when a politician – usually in a press conference, where he's annoyed repeatedly with the same question about his judgment – announces that he is or is not something, well, he is that thing.
Richard Nixon set the gold standard in 1973 when he announced, "I'm not a crook," which the Watergate scandal then established he exactly was. Now, Sarah Huckabee Sanders, the White House deputy press secretary, referring to Donald Trump, kept this tradition alive when she yesterday refuted James Comey's Senate testimony by stating, "I can definitively say the president is not a liar."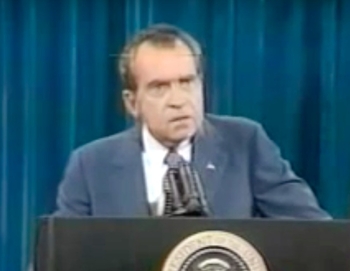 Nixon solemnly declaring "I'm not a crook."
In the 44 years from not a crook to not a liar, a number of other politicians have inadvertently acknowledged their faults by using the same or similar words. Here's a sampling of their denials, in chronological order:
Continue to full text of posting...
June 5, 2017
For my interpretation of some consequences of the fighting in June 1967, see today's article, "What If: Fifty Years After the Six-Day War."
On a personal note, I have three memories of those six days, which I experienced at the age of 17 in Cambridge, Massachusetts.
First, I watched television late into the evening the day the war broke out, June 5, and went to sleep thinking that Egyptian aircraft had bombed Tel Aviv and that the Jewish state was in grave peril. That's because, in the words of the authoritative Middle East Record: 1967, "In view of the dearth of information given by Israeli spokesmen during the first day of the war, there was a preponderance of news from Arab sources in the Western press on 6 June." Only the next day did I learn how the Egyptian air force had been destroyed in place. It was a unique moment of shock and exhilaration.
Continue to full text of posting...
by Daniel Pipes • May 25, 2017
The Washington Post informs us in an article titled "For Mideast Envoy, Rookie Status May Be an Advantage," that the "lack of experience in the Middle East" of the new U.S. presidential Middle East envoy (or more formally, "Chief, U.S. Coordinating and Monitoring Mission for the Middle East peace process"), John S. Wolf, "is actually an advantage because it is difficult for either side to believe he approaches the conflict with a preconceived bias."
Continue to full text of posting...
April 26, 2017
As the Oslo process unraveled, starting in 1997 I developed an alternative approach: Not more counterproductive negotiations but a return to the classic scenario of defeat and victory. I wrote often on this topic over two decades. I collect them here, a day ahead of the launch of the Congressional Israel Victory Caucus devoted to promoting these ideas:
Continue to full text of posting...