August 26, 2014
This weblog entry complements one dating from 2011, "Palestinians Attack Their Supporters." What had been a specifically abhorrent Palestinian specialty seems to be spreading, revealing yet another dimension of a sick region. (August 23, 2014)
Continue to full text of posting...
August 23, 2014
For some observers, ​the Organization of the Muslim Brotherhood (Jama'a al-Ikhwan al-Muslimin), founded by Hasan al-Banna in Port Said, Egypt, in 1928, has become nearly equivalent with Islamism, the radical utopian ideology that seeks to make Muslims rich and powerful through complete and severe application of Islamic law, the Shari'a. One hears of the MB providing the key ideas, of it penetrating the U.S. government, inspiring the new caliphate, dominating the Turkish state, and more.
Continue to full text of posting...
July 28, 2014
For years, Geert Wilders of the Netherlands has been the leading European politician to argue for religious criteria for admitting immigrants. I joined in ten months ago with a more cautious article that suggested cultural zones to which refugees are encouraged to go. This blog watches as others argue for the need to take culture – religious and other – into consideration in immigration policies.
Continue to full text of posting...
July 20, 2014
Today marks the gloomy 40th anniversary of the day that Turkish troops overpowered the tiny, almost undefended island of Cyprus in a brutal exercise of military might whose immorality only intensifies with the passing decades. Some thoughts in honor of the day:
Continue to full text of posting...
July 19, 2014
RT, the Russian government's news network – and successor to the Soviet-era Pravda – published an article under the extreme, attention-seeking headline, "'In our millions, we're all Palestinian': Wave of protests worldwide demand end to Gaza slaughter." The article goes on to list anti-Israel demonstrations. However, if one actually reads the article, it quickly becomes apparent that the headline contains two major inaccuracies:
Continue to full text of posting...
July 15, 2014
The Pew Research Center, a subsidiary of The Pew Charitable Trusts, has the means to sample opinion with unique frequency and on a major scale. It has used its funds to track Muslim attitudes toward Islamism in general, toward specific terrorist groups in particular, and also suicide bombing over the past decade . The most recent study, "Concerns about Islamic Extremism on the Rise in Middle East," released on July 1, conducted among 14,244 respondents in 14 countries between April 10 to May 25, 2014, holds much interest. Pew summarized the overall results:
Continue to full text of posting...
July 11, 2014
The current Hamas assault on Israel has lured the predictable coven of Palestinian nationalists, Islamists, Leftists, and antisemites from the woodwork to bash the Jewish state. But, more surprisingly, Israel is getting support, or at least restraint and fairness, from unexpected sources:
Continue to full text of posting...
July 5, 2014
The Council on American-Islamic Relations, founded by Hamas supporters and seeking to overthrow Constitutional government in the United States, has engaged in so many morally dubious activities that there's a bibliography of my writings on not trusting CAIR; also, America's self-styled "Largest Civil Rights and Advocacy Organization" has played so many dirty tricks on me that I finally had to document these in both an article and then a follow-up blog.
Continue to full text of posting...
July 3, 2014
Egyptians took to the streets in numbers never seen anywhere, ever on June 30, 2013 to protest against their Islamist president, Mohamed Morsi. Three days later, Defense Minister Abdul Fattah al-Sisi responded to this outpouring by overthrowing Morsi. How do things look now, exactly a year later?
Pretty awful. Looking at the two most urgent arenas, Islam and the economy, almost nothing offers a sign of hope.
Continue to full text of posting...
July 2, 2014
Israel's Prime Minister Binyamin Netanyahu gave an important speech worthy of discussion when he addressed the Institute for National Security Studies in Tel Aviv on June 29. The following excerpts are from the official translation on the prime minister's office website:
An historic change is taking place in our region, with major repercussions for Israel's security and the security of the entire world. The Sykes-Picot agreement which, almost a century ago, defined the borders in our region, has come to an end. … we are now looking at many years of conflict and instability.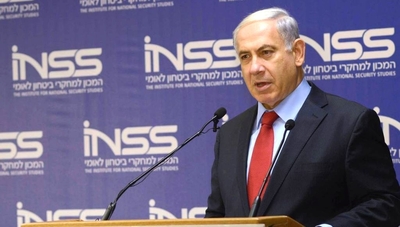 Binyamin Netanyahu speaking at the INSS.
Continue to full text of posting...