January 15, 2015
| | |
| --- | --- |
| | |
Inspire, the glossy, English-language internet magazine published by Al-Qaeda in the Arabian Peninsula (AQAP), published a "Wanted dead or alive for crimes against Islam" poster in its March 2013 issue. No one paid much attention to it, not until the commando-style murder of Stéphane Charbonnier, one of the eleven listed, on Jan. 7. The other ten are Ayaan Hirsi Ali, Terry Jones, Carsten Luste, Molly Norris, Flemming Rose, Salman Rushdie, Morris Sadek (misspelled on the poster as "Swadiq"), Lars Vilks, Kurt Westergaard, and Geert Wilders.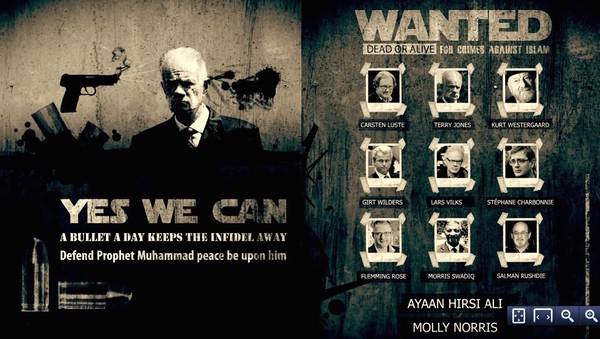 "Inspire" poster calling for the murder of eleven Westerners.
Continue to full text of posting...
January 5, 2015
| | |
| --- | --- |
| | |
The World Factbook, described as "information on the history, people, government, economy, geography, communications, transportation, military, and transnational issues for 267 world entities," is perhaps the most prominent unclassified publication of the Central Intelligence Agency (CIA) and a major source of information.
Yet, a numerical discrepancy concerning the ethnic makeup of Iran prompted me three months ago, on October 5, 2014, to send the agency a letter (via its website):
Continue to full text of posting...
November 28, 2014
| | |
| --- | --- |
| | |
According to Israeli intelligence, Hamas has moved its outside-Gaza headquarters from Damascus to Istanbul; it is headed by Saleh al-Arouri, whom Israel Hayom calls "an infamous arch-terrorist believed to be responsible for dozens of attacks against Israelis."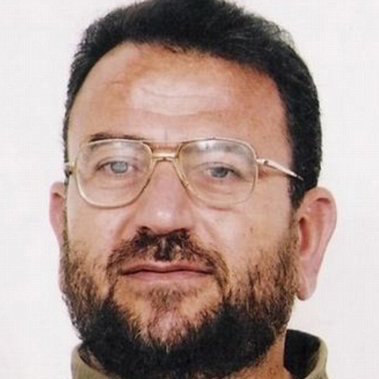 Saleh al-Arouri, Hamas leader based in Istanbul.
Continue to full text of posting...
November 26, 2014
| | |
| --- | --- |
| | |
The Nov. 24 deadline came and went for an agreement between the powers and the Islamic Republic of Iran; on that date, they managed only to extend the existing interim deal for another seven months. The ayatollah crowed and U.S. senators stewed. Looking beyond these responses, the current situation spurs several thoughts: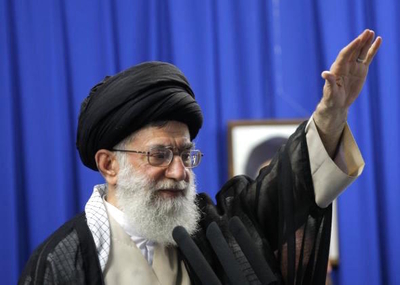 Ayatollah Khamene'i in a good mood, despite recent surgery. Could it be the American negotiators that cheer him?
Continue to full text of posting...
October 6, 2014
| | |
| --- | --- |
| | Comment |
This collection reviews many centuries of fraught relations between Christians and Muslims, West and East, post- and pre-Enlightenment societies. My goal is not to present a systematic account but to highlight some of the more interesting features of this long and difficult relationship. I list the writings by the starting date of each topic covered.
Continue to full text of posting...
September 30, 2014
| | |
| --- | --- |
| | |
The Center for Immigration Studies finds that the foreign-born population of the United States numbers 41.3 million, or one out of six adults, more than twice the number than in 1980.
There are many ways to gauge the impact of this huge increase; here's one small but telling way:
Continue to full text of posting...
September 28, 2014
| | |
| --- | --- |
| | |
The brief version:
Keep an eye on the ball: the Iranian nuclear build-up is 1,000 times a greater threat than ISIS.
Tehran should be left to deal with this problem, which threatens its allies in Damascus and Baghdad, and potentially even Iran itself.
Pipes' iron rule of war: Never initiate fighting unless prepared to do what is needed to win. (I.e., don't in advance rule out ground troops.)
The search for moderate opponents to the Assad regime is chimerical.
Destroying oil production facilities is almost always a mistake.
American efforts should be limited to (1) providing assistance to the Kurds and (2) humanitarian missions.
(September 28, 2014)
September 23, 2014
| | |
| --- | --- |
| | |
The Turkish president, Recep Tayyip Erdoğan, appeared at an hour-long on-the-record event at the Council on Foreign Relations in New York yesterday afternoon. The complete – if not entirely coherent – transcript of the English-language simultaneous translation can be found at "A Conversation With Recep Tayyip Erdoğan." I attended the meeting along with many other members (so many attended that an overflow room was needed) and I offer some responses and reflections about him:
Continue to full text of posting...
September 10, 2014
| | |
| --- | --- |
| | |
In a televised address this evening, President Barack Obama outlined his ideas on how to defeat the Islamic State. Along the way, he declared the organization variously known as ISIS or ISIL to be "not Islamic."
In making this preposterous claim, Obama joins his two immediate predecessors in pronouncing on what is not Islamic. Bill Clinton called the Taliban treatment of women and children "a terrible perversion of Islam." George W. Bush deemed that 9/11 and other acts of violence against innocents "violate the fundamental tenets of the Islamic faith."
Continue to full text of posting...
August 26, 2014
| | |
| --- | --- |
| | |
This weblog entry complements one dating from 2011, "Palestinians Attack Their Supporters." What had been a specifically abhorrent Palestinian specialty seems to be spreading, revealing yet another dimension of a sick region. (August 23, 2014)
Continue to full text of posting...