April 7, 2015
| | |
| --- | --- |
| | |
While hugely important in terms of Iranian relations with the outside world, U.S.-Israel relations, and Barack Obama's relations with Congress, the labored, contradictory, and unspecific Joint Comprehensive Plan of Action has little bearing on whether the mullahs do or do not get nuclear weapons. Let me explain:
Continue to full text of posting...
April 6, 2015
| | |
| --- | --- |
| | |
Suddenly, wherever you look in the greater Middle East, you find air forces bombing guerrillas:
Syria: The government air force attacks the rebels, mostly Sunni, with notorious use of barrel-bombs. The U.S. air force attacks ISIS, minus the barrel-bombs.
Iraq: Government forces rely partially on air power to attack ISIS forces.
Libya: Egyptian jets attack ISIS and other Sunni Islamist forces.
Yemen: Saudi jets attack Houthi positions.
Somalia: Kenyan planes just started to attack the Shabaab forces.
Continue to full text of posting...
March 3, 2015
| | |
| --- | --- |
| | |
"Radical Islam is the problem, moderate Islam is the solution" has been my watchword since 2002, meaning that Islam's many problems will only be solved when Muslims leave Islamism, an attempt to regress to a medieval model, and favor a modern, moderate, and good-neighborly version of their faith.
Plenty of people disagree with this analysis, but no one offered an alternate solution. Now, Murat Yetkin editor-in-chief of the Hürriyet Daily News in Turkey has done so in a recent column, "Antithesis of radical Islam is not moderate Islam, it is secularism."
Continue to full text of posting...
February 21, 2015
| | |
| --- | --- |
| | |
​On this date fifty years ago, the man best known as Malcolm X was killed by a Nation of Islam (NoI) hit squad while speaking just north of Harlem, New York.
Continue to full text of posting...
February 13, 2015
| | |
| --- | --- |
| | |
An ambitious 81-page document, Fear, Inc. 2.0: The Islamophobia Network's Efforts to Manufacture Hate in America, just appeared from the Center for American Progress, a liberal Democratic organization. Unlike its first iteration, in which a group with a $40-million annual budget and deep ties to big business had the nerve to claim that seven much smaller institutions were overpowering the country through their financial clout, this one looks at what the alleged "Islamophobia network" actually does.
Continue to full text of posting...
January 15, 2015
| | |
| --- | --- |
| | |
Inspire, the glossy, English-language internet magazine published by Al-Qaeda in the Arabian Peninsula (AQAP), published a "Wanted dead or alive for crimes against Islam" poster in its March 2013 issue. No one paid much attention to it, not until the commando-style murder of Stéphane Charbonnier, one of the eleven listed, on Jan. 7. The other ten are Ayaan Hirsi Ali, Terry Jones, Carsten Luste, Molly Norris, Flemming Rose, Salman Rushdie, Morris Sadek (misspelled on the poster as "Swadiq"), Lars Vilks, Kurt Westergaard, and Geert Wilders.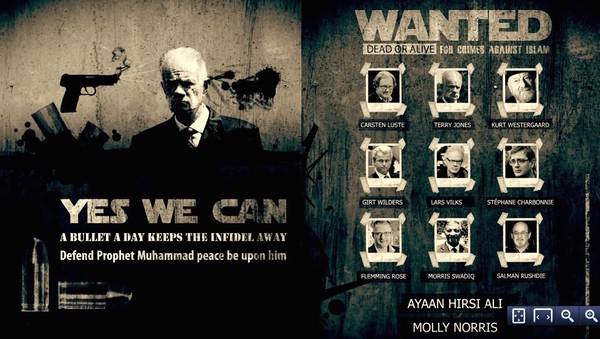 "Inspire" poster calling for the murder of eleven Westerners.
Continue to full text of posting...
January 5, 2015
| | |
| --- | --- |
| | |
The World Factbook, described as "information on the history, people, government, economy, geography, communications, transportation, military, and transnational issues for 267 world entities," is perhaps the most prominent unclassified publication of the Central Intelligence Agency (CIA) and a major source of information.
Yet, a numerical discrepancy concerning the ethnic makeup of Iran prompted me three months ago, on October 5, 2014, to send the agency a letter (via its website):
Continue to full text of posting...
November 28, 2014
| | |
| --- | --- |
| | |
According to Israeli intelligence, Hamas has moved its outside-Gaza headquarters from Damascus to Istanbul; it is headed by Saleh al-Arouri, whom Israel Hayom calls "an infamous arch-terrorist believed to be responsible for dozens of attacks against Israelis."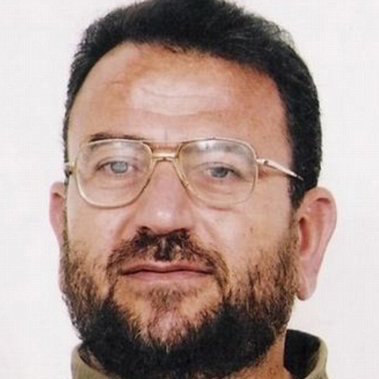 Saleh al-Arouri, Hamas leader based in Istanbul.
Continue to full text of posting...
November 26, 2014
| | |
| --- | --- |
| | |
The Nov. 24 deadline came and went for an agreement between the powers and the Islamic Republic of Iran; on that date, they managed only to extend the existing interim deal for another seven months. The ayatollah crowed and U.S. senators stewed. Looking beyond these responses, the current situation spurs several thoughts: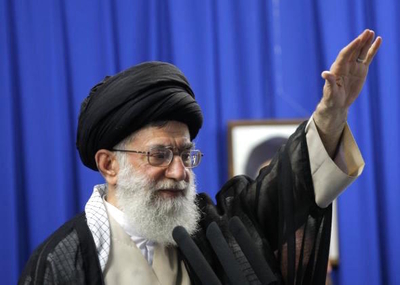 Ayatollah Khamene'i in a good mood, despite recent surgery. Could it be the American negotiators that cheer him?
Continue to full text of posting...
October 6, 2014
| | |
| --- | --- |
| | Comment |
This collection reviews many centuries of fraught relations between Christians and Muslims, West and East, post- and pre-Enlightenment societies. My goal is not to present a systematic account but to highlight some of the more interesting features of this long and difficult relationship. I list the writings by the starting date of each topic covered.
Continue to full text of posting...