October 3, 2015
| | |
| --- | --- |
| | |
Unlike other government decisions – say tax rates or defining the nature of marriage – those affecting immigration are both irreversible and profound. In that light, today marks a half-century since the passage of one of the least heralded but most significant pieces of legislation in American history.
Continue to full text of posting...
July 22, 2015
| | |
| --- | --- |
| | |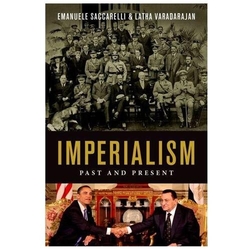 Two associate professors of political science at San Diego State University, Emanuele Saccarelli and Latha Varadarajan, argue in their new book, Imperialism Past and Present (Oxford University Press), that "western [sic] imperialism did not end with the close of colonialism, but continues to define international relations today." In support of this hackneyed leftist argument, the authors rely, almost predictably, on Edward Said. In turgid academese, they explain The Master's views (on pp. 68-69):
Continue to full text of posting...
July 16, 2015
| | |
| --- | --- |
| | |
The Vienna deal has been signed and likely will soon be ratified, which raises the question: Will any government intervene militarily to stop the nearly inevitable Iranian nuclear buildup?
Obviously it will not be the American or Russian governments or any of the other four signatories. Practically speaking, the question comes down to Israel, where a consensus holds that the Vienna deal makes an Israeli attack more likely. But no one outside the Israeli security apparatus, including myself, knows its intentions. That ignorance leaves me free to speculate as follows.
Continue to full text of posting...
June 2, 2015
| | |
| --- | --- |
| | |
When the British Broadcasting Corporation (BBC), the world's largest news operation, decided in January not to call the Charlie Hebdo attackers terrorists, this made an impression on me. The head of the BBC Arabic service, Tarik Kafala, explained its reasoning:
Terrorism is such a loaded word. The UN has been struggling for more than a decade to define the word and they can't. It is very difficult to. We know what political violence is, we know what murder, bombings and shootings are and we describe them. That's much more revealing, we believe, than using a word like terrorist which people will see as value-laden.
Continue to full text of posting...
April 7, 2015
| | |
| --- | --- |
| | |
While hugely important in terms of Iranian relations with the outside world, U.S.-Israel relations, and Barack Obama's relations with Congress, the labored, contradictory, and unspecific Joint Comprehensive Plan of Action has little bearing on whether the mullahs do or do not get nuclear weapons. Let me explain:
Continue to full text of posting...
April 6, 2015
| | |
| --- | --- |
| | |
Suddenly, wherever you look in the greater Middle East, you find air forces bombing guerrillas:
Syria: The government air force attacks the rebels, mostly Sunni, with notorious use of barrel-bombs. The U.S. air force attacks ISIS, minus the barrel-bombs.
Iraq: Government forces rely partially on air power to attack ISIS forces.
Libya: Egyptian jets attack ISIS and other Sunni Islamist forces.
Yemen: Saudi jets attack Houthi positions.
Somalia: Kenyan planes just started to attack the Shabaab forces.
Continue to full text of posting...
March 3, 2015
| | |
| --- | --- |
| | |
"Radical Islam is the problem, moderate Islam is the solution" has been my watchword since 2002, meaning that Islam's many problems will only be solved when Muslims leave Islamism, an attempt to regress to a medieval model, and favor a modern, moderate, and good-neighborly version of their faith.
Plenty of people disagree with this analysis, but no one offered an alternate solution. Now, Murat Yetkin editor-in-chief of the Hürriyet Daily News in Turkey has done so in a recent column, "Antithesis of radical Islam is not moderate Islam, it is secularism."
Continue to full text of posting...
February 21, 2015
| | |
| --- | --- |
| | |
​On this date fifty years ago, the man best known as Malcolm X was killed by a Nation of Islam (NoI) hit squad while speaking just north of Harlem, New York.
Continue to full text of posting...
February 13, 2015
| | |
| --- | --- |
| | |
An ambitious 81-page document, Fear, Inc. 2.0: The Islamophobia Network's Efforts to Manufacture Hate in America, just appeared from the Center for American Progress, a liberal Democratic organization. Unlike its first iteration, in which a group with a $40-million annual budget and deep ties to big business had the nerve to claim that seven much smaller institutions were overpowering the country through their financial clout, this one looks at what the alleged "Islamophobia network" actually does.
Continue to full text of posting...
January 15, 2015
| | |
| --- | --- |
| | |
Inspire, the glossy, English-language internet magazine published by Al-Qaeda in the Arabian Peninsula (AQAP), published a "Wanted dead or alive for crimes against Islam" poster in its March 2013 issue. No one paid much attention to it, not until the commando-style murder of Stéphane Charbonnier, one of the eleven listed, on Jan. 7. The other ten are Ayaan Hirsi Ali, Terry Jones, Carsten Luste, Molly Norris, Flemming Rose, Salman Rushdie, Morris Sadek (misspelled on the poster as "Swadiq"), Lars Vilks, Kurt Westergaard, and Geert Wilders.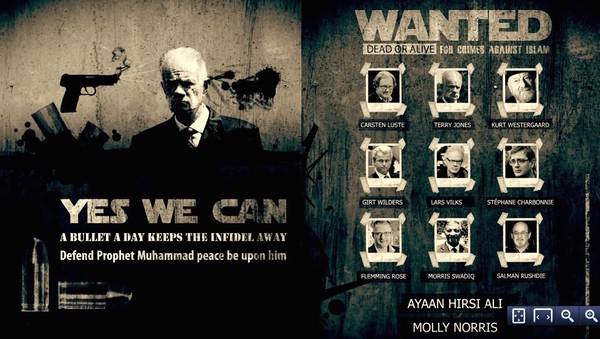 "Inspire" poster calling for the murder of eleven Westerners.
Continue to full text of posting...