January 21, 2017
| | |
| --- | --- |
| | Comment |
Titles of articles (and books too, but that's a different topic) have an outsized importance in a writer's life.
They (1) stimulate reader interest or not and (2) create an expectation of the contents. A good title provokes interest and conveys the argument; a bad one bores and misleads about the topic. An excellent title remains understandable and interesting years after publication. An ideal one also attracts search-engine hits.
Continue to full text of posting...
January 15, 2017
| | |
| --- | --- |
| | |
"The Way to Peace: Israeli Victory, Palestinian Defeat," my article in the current issue of Commentary, has provoked criticism mainly with regard to two points: my accepting the existence of a Palestinian people and my belief that it can be defeated. My arguments:
Continue to full text of posting...
January 7, 2017
| | |
| --- | --- |
| | |
Rex Tillerson, the secretary of state-designate, is the mysterious cabinet nominee of President-elect Donald Trump's, for his long career at ExxonMobil Corporation has revealed next to nothing publicly of his views where the United States stands in the world.
A glimpse of Tillerson's views has now appeared in an obscure source: Herb Jackson of NorthJersey.com reports on the 75-minute meeting of Sen. Bob Menendez (Democrat of New Jersey and a member of the Senate Foreign Relations Committee,) with Tillerson on Jan. 5.
Continue to full text of posting...
December 30, 2016
| | |
| --- | --- |
| | |
How to explain the recent uproar in U.S.-Israel relations? I refer to President Barack Obama's decision to abstain at the U.N. Security Council, precisely contradicting his own views of just a few years earlier; Secretary of State John Kerry's 75-minute rant against Israel's Prime Minister Binyamin Netanyahu; and Netanyahu's intemperate responses, such as warning the New Zealand government that its support for the UNSC resolution amounts to a "declaration of war."
Continue to full text of posting...
November 13, 2016
| | |
| --- | --- |
| | |
O2, the second-largest mobile telecommunications provider in the United Kingdom, has banned my website, ostensibly only to those under 18 years of age but in fact to everyone using O2. Here's what you find when you land on DanielPipes.org: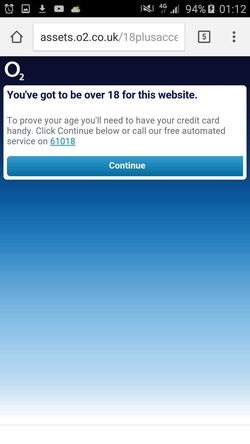 What shows up at O2 instead of DanielPipes.org.
Continue to full text of posting...
November 12, 2016
| | |
| --- | --- |
| | |
Trump supporters are in such a good mood, they tend to smile all day long.
In this spirit, they are forgiving of & condescending to we holdouts.
For them, the election washed away all Trump's sins. Criticism of him has become inconceivable. He is the hero.
In contrast, they consider Hillary Clinton evil incarnate.
But we and Trump enthusiasts do share one thing: delight at the liberals' outlandish orgy of misery.
Supporters once pressured us to vote for Trump; now, they pressure us to help his forthcoming administration.
They openly laugh (but good naturedly) when we claim to be the Remnant and the Conscience of the conservative movement.
The expected battle over the direction of the Republican party has been delayed, but it will occur eventually.
(November 12, 2016)
November 11, 2016
| | |
| --- | --- |
| | |
The Council on American-Islamic Relations (CAIR) successfully presents itself to the media as a benign civil rights organization, comparable to the NAACP or the ADL, a description that conservatives ineffectively rail against. In this light, perhaps a tweet sent out just after midnight EST on Nov. 9 by Hussam Ayloush, long-time head of CAIR's Los Angeles office, will help awaken the press to CAIR's true Islamist identity. Ayloush wrote:
Continue to full text of posting...
November 6, 2016
| | |
| --- | --- |
| | |
The Southern Poverty Law Center's Heidi Beirich has distributed a standardized reply to the avalanche of protests (including a particularly eloquent one by National Review) against its wretched Field Guide to Anti-Muslim Extremists (of which I am allegedly one). Her apologia makes a quite remarkable claim in reference to me that calls for a response. She writes that
the calling for a ban of any religious dress is indeed extreme, regardless of the religious institution. Calling for a ban on the niqab is akin to banning a kippah. Daniel Pipes, another extremist on this list, has also called for a similar ban. These calls are contrary to religious freedom.
Continue to full text of posting...
October 30, 2016
| | |
| --- | --- |
| | |
In 1961, the German post-war "economic miracle" (Wirtschaftswunder) was in full bloom, with a seemingly insatiable thirst for unskilled workers. After signing government-to-government bilateral agreements with Italy (in 1955), Greece (1960), and Spain (1960), Bonn turned to Ankara and on this day, Oct. 30, in 1961 signed a "Recruitment Agreement between the Federal Republic of Germany and Turkey" (Anwerbeabkommen zwischen der Bundesrepublik Deutschland und der Türkei). Little did either side realize the implications of this seemingly minor accord.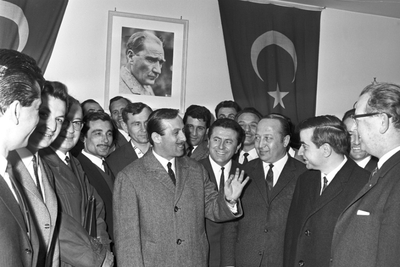 Turkish Labor Minister Ali Naili Erdem visited Turkish "guest workers" (Gastarbeitern) in Germany in 1966.
Continue to full text of posting...
September 6, 2016
| | |
| --- | --- |
| | |
Before getting to the news item at hand, a personal preface:
I am frustrated that Westerners don't perceive the obvious point that burqas and niqabs, both of which cover not only the head but the whole body, threaten public security. A person wearing these Islamic garments can be male or female, can carry an assault rifle, and can usually get away with anything anonymously.
Continue to full text of posting...