August 19, 2016
| | |
| --- | --- |
| | |
Al-Monitor's congressional correspondent, Julian Pecquet, wrote an article in Al-Monitor about the divided Iranian community in the United States showing the Mujahideen-e Khalq (MeK or NCRI) on one side, against the regime in Tehran, and the National Iranian American Council (NIAC) with the regime. In the course of the article, he paraphrases the head of NIAC, Trita Parsi:
Continue to full text of posting...
July 31, 2016
| | |
| --- | --- |
| | |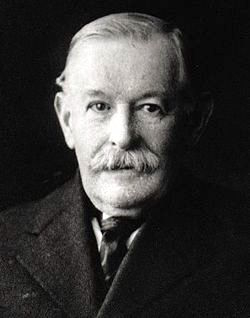 Robert Alexander Stewart Macalister (1870-1950)

As several authors (Aryeh L. Avneri, Joan Peters, Fred M. Gottheil) have shown, the non-Jewish population of Palestine grew because of the many in-migrants who came to work at Zionist economic enterprises. But it's also worth noting that, even before that immigration began, this small territory was already filled with a wide range of peoples.

Continue to full text of posting...

July 31, 2016
| | |
| --- | --- |
| | |
I was alerted in May 2015 to the opening of an anonymous new project named Canary Mission and tweeted out information on it:
.@CanaryMission is a new org'n that builds bios of US campus anti-#Israel fanatics so future employers will know their full college records.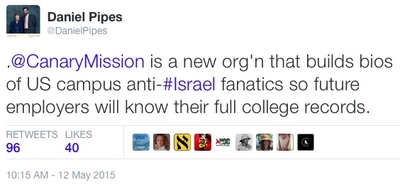 The tweet that started it all.
Continue to full text of posting...
July 21, 2016
I published a short article today in the Philadelphia Inquirer, "Why I Just Quit the Republican Party," which detailed the reasons for my wanting nothing to do with its presidential nominee, Donald Trump.
Not surprisingly, I received an earful in response – several hundred notes within hours, running about 3-to-1 against my views. Trump enthusiasts are nothing if not voluble and vehement.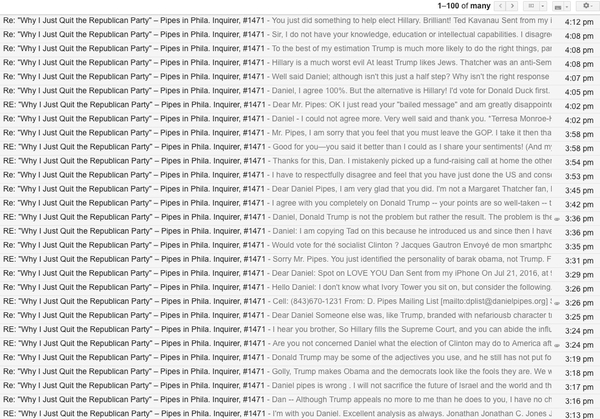 A sample of the responses, mostly negative.
Continue to full text of posting...
June 23, 2016
| | |
| --- | --- |
| | |
Moncef Marzouki, the president of Tunisia from 2011 to 2014, has penned an analysis predicting, as I have, the demise of Islamism. I quote from a MiddleEastEye.net abridgement and translation of the original Arabic version that appeared at Aljazeera.net.
Continue to full text of posting...
May 28, 2016
| | |
| --- | --- |
| | |
[Correction: I relied in my original version of this weblog entry on an article by Paul Sperry, "Schumer upends 9/11 Saudi suit bill at 11th hour," New York Post, May 24, 2016 – a known writer in a trustworthy publication.

In it, Sperry argued that the senior senator from New York had gutted the Justice Against Sponsors of Terrorism Act by adding a section titled "Stay of Actions Pending State Negotiations" that allowed the Executive Branch to stop lawsuits at will.

The New York Post a day later published a second article on the topic, "The Truth About the 9/11 Victims' Bill," written by 9/11 families and their counsel. It focuses on two errors in Sperry's analysis concerning that section:

"The stay provision was not offered by Sen. Schumer, but rather by Republican members who had raised objections to the bill.
"The stay provision included in JASTA does not de-fang the bill."

I was further informed by a member of the Senate staff that the 9/11 families themselves who first offered the stay provision to compromise with the Obama administration and win over reluctant senators. From the families' point of view, it adds to bill, and is a marked improvement over a proposal by the administration that the Executive Branch have unilateral power to cancel lawsuits. Instead, JASTA puts this power into the hands of an independent judge.

Accordingly, I have changed the title of this weblog entry from "Cruel Hoax: The Justice Against Sponsors of Terrorism Act" to "The Justice Against Sponsors of Terrorism Act.".]
---
Continue to full text of posting...
May 23, 2016
| | |
| --- | --- |
| | |
After the jihadi attacks in Paris in January and November 2015, the French intelligence agency Direction générale de la sécurité intérieure (DGSI, General Directorate for Internal Security) began to scrutinize personnel at the city's airports.
Continue to full text of posting...
May 20, 2016
| | |
| --- | --- |
| | |
Recep Tayyip Erdoğan, the Republic of Turkey's brilliant if evil president, so dominates his country's political scene that he can afford a bit of self-indulgence. And so he does just that. Consider the two dominant themes of Turkish public life at present:
Continue to full text of posting...
May 2, 2016
| | |
| --- | --- |
| | |
As a conservative who believes in individual responsibility, limited government, free markets, caution in making social changes, and a robust foreign policy, all my adult life I have been a Republican and (with the single exception of an eccentric race for attorney general in Philadelphia, when the Democrat was tougher than the Republican) I always vote Republican.
Continue to full text of posting...
April 10, 2016
| | |
| --- | --- |
| | |
The Middle East Forum sent out a questionnaire over my name on April 5 to its mailing lists asking a single question: "How do you see Donald Trump as the Republican Party's presidential candidate?" We then offered four replies:
Continue to full text of posting...