One would think by now that the "Islam = peace" nonsense would not need correcting, but I keep encountering it – just yesterday asserted by a hostile questioner at a talk I gave at Ashland University, today in an oped. So, for the record: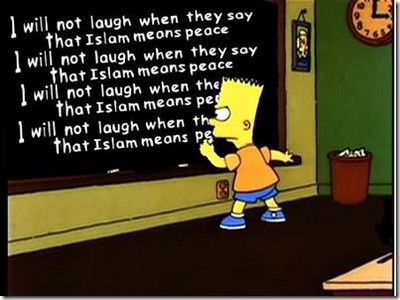 Most Arabic words are based on a trilateral root system, such as k-t-b or s-l-m. The words formed from these roots often have a connection to one another (kataba is to write, kitāb is a book, maktaba is a library, and so on), but not always (a katība is a squadron of soldiers). In other words, roots have a core meaning but also include unrelated words.
In the case of s-l-m, salām means peace and salāma means safety. But the root also has many meanings unconnected to this core, such as salam (a variety of acacia) sullam (ladder), sulāmā (digital bone in the hand or foot), sulaymāni (mercury chloride), aslama (to betray) … and islām (submission).
There is no connection in meaning between salām and islām, peace and submission. These are two distinct words with unrelated meetings. In brief, "Islam = submission."
Comment: Not only is it common for the same root to mean roughly the opposite, as in the case of peace and submission, but Arabic words famously have Janus-like features, meaning themselves and their opposite. As I put it in a 1980 article, "Mawlas: Freed Slaves and Converts in Early Islam": "Arabists amuse non-initiates with the exaggeration that every Arabic word has four meanings – a basic one, its opposite, one related to sex, and a final one referring to camels." (October 9, 2005)
Oct. 19, 2005 update: CAIR's Ahmed Bedier speaking at the League of Women Voters of Manatee County's monthly Hot Topic luncheon yesterday said (according to Carl Mario Nudi of the Bradenton Herald in Florida) that Islam
comes from the root word of "As-Salamu," or "peace."
Assuming the newspaper account to be sound, then CAIR is guilty of one more inaccuracy.
Dec. 9, 2006 update: Islam Means Peace is the title of a brand-new book by the Indian writer Javed Jamil and published by Mission Publications. It received a rapturous reception from the publication Milli Gazette.
Apr. 8, 2007 update: CAIR buys again into this inaccuracy. Its national board chairman, Parvez Ahmed, says that "Islam does not only mean peace, Islam emphasizes peaceful coexistence as a supreme goal."
June 10, 2007 update: Mujeeb Chaudhary, Pakistani immigrant who arrived in the United States in 1972 and imam of a mosque in Philadelphia, tells the Philadelphia Inquirer that Islam means peace, and that if someone does not see it that way, "he is not a Muslim."
Apr. 1, 2008 update: Nor does Islam mean "a strong commitment to God." That's the bizarre translation offered by John L. Esposito and Dalia Mogahed in Who Speaks for Islam? What a Billion Muslims Really Think, presumably adopted to avoid submission, which has a too-strong quality for a Western readership.
Related Topics: Islam receive the latest by email: subscribe to daniel pipes' free mailing list This text may be reposted or forwarded so long as it is presented as an integral whole with complete and accurate information provided about its author, date, place of publication, and original URL.