After the Russian invasion on Feb. 24, Ukrainian refugees arriving in Poland reacted with delight and even shock to the warmth of their reception. "We have everything, really everything, even too much stuff. The people here are amazing, so generous, we didn't expect so much sympathy." "It is unbelievable how much they help. They give us everything they have." Poles were also pleasantly impressed by themselves: "I never thought we had this in us. Nobody knew we could be mobilized like this." "In this critical situation, we gathered together and, really, I don't know anyone who is not helping."
Nor were the Poles alone in their generous response to Ukrainian migrants. Bulgarians, Danes, Greeks, Hungarians, Italians, Moldovans, Romanians, Swiss, and others responded similarly. An early March report found that "The number of Berliners offering to help has been so great that volunteers are being turned away." Cyprus "warmly welcomed 6,000 Ukrainian refugees and provided freezing weather so they feel at home." Americans supported immigration from Ukraine as they had no other group since 1939 and taxpayers sent nearly $1 billion to aid refugees with housing, English language instruction, and trauma support services. Japanese opened their doors to foreigners as never before.
Heartwarming as these responses are, coming from on all sides of the political spectrum, they hide a subtle danger. Advocates of multiculturalism and open borders have widely seized on the Ukrainian example to argue that any less generous response to migrants from Africa, the Middle East, and South Asia constitutes racism, xenophobia, or "Islamophobia." While little-noted at this moment of intense focus on Ukrainians, after the current crisis ends and non-Western migrants return to the spotlight, that line of reasoning will certainly prominently emerge and become a force. Now is the time to prepare for the coming assault on borders and laws by recognizing the danger it poses and readying a counter-argument.
"Ukrainians Always Came First"
Poland in the past year has responded very differently to two large bodies of migrants on its eastern borders.
In late 2021, an estimated 15,000 migrants, mostly from the Middle East, flew legally to Belarus where the authorities bussed them to the Polish border and encouraged or sometimes even forced them across it as a way of putting pressure on the European Union. Poles responded severely, patrolling the zone with 13,000 security personnel, deploying tear gas water cannons, drones, infrared cameras, and helicopters. Poland's Prime Minister Mateusz Morawiecki emotionally pronounced that "This border is sacred. The border of the Polish state is not just a line on the map. Generations of Poles shed their blood for this border." His government passed a law enabling it to ignore the asylum claims of illegal migrants and to repulse them forcibly out of the country, multiple times if need be. The Polish government continues to repel would-be illegal migrants and is building a €350 million-almost 200-kilometer-long 5½-meter-high steel wall at its Belarus border.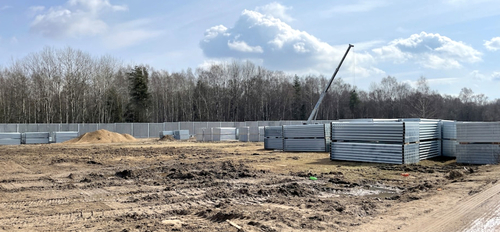 Poland is building a €350 million, almost 200-kilometer steel wall to curb illegal migrants from Belarus.
Just a few months later, Warsaw responded to Putin's invasion in exactly the opposite way. On the day of the invasion itself, Polish Interior Minister Mariusz Kamiński announced that "Anyone fleeing from bombs, from Russian rifles, can count on the support of the Polish state." Although the number of Ukrainian refugees involved, over 3.5 million, is over 200 times greater than the migrants in Belarus, the Polish government and people welcomed this traumatized population and stood resolutely with them against Putin.
Indeed, the government allowed in refugees lacking papers and quickly passed legislation giving Ukrainians access to health care, education and free rides on the state-run railways, as well as a daily allowance to Poles hosting Ukrainians in their homes. Warsaw's population increased by nearly 20 percent in a matter of weeks, yet the city continued to function and spirits remained high. A month into the war, Poland had no refugee camps, due to an outpouring of aid from charities, businesses, individuals and local governments.
"All those fleeing Putin's bombs are welcome in Europe" announced president of the European Commission Ursula von der Leyen. In an unprecedented move, the European Union activated the "temporary protection mechanism" that gives Ukrainian refugees the right to live and work for at least one and up to three years in all 27 member states, along with assurances of housing, healthcare, and education. The EU also came up with a novel way for Ukrainians to spend €300 worth of their currency, the hryvnia. Bus, train, and airline companies moved Ukrainians gratis to farther countries to relieve Ukraine's immediate neighbors from shouldering the entire refugee burden.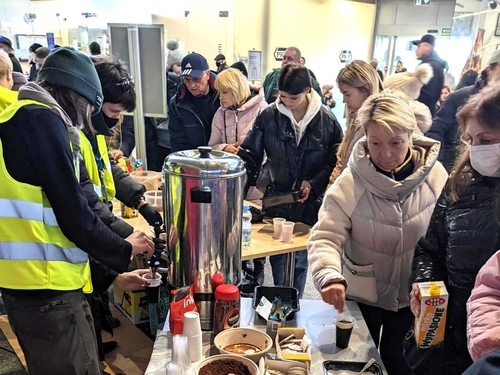 Warsaw warmly welcomed refugees from Ukraine.
Non-Westerners, however, tell a different story. Claiming to be turned out of shelters to make way for Ukrainians, an Afghan in Germany concluded that "The Ukrainians are first-class refugees and we are only second-class." Najeeb, an interpreter formerly working for the U.S. government in Afghanistan, asked, "Ukraine's people can go freely to European countries, but where do we flee?" The same Polish authorities who welcome Ukrainians wouldn't even "offer us a glass of water," protested a Syrian. Africans complained that "the Ukrainians always came first, even though we Africans would be there for days, sometimes three days with no food. Everyone was just exhausted. Any time Ukrainians came, they told us to go back [home]. They were shouting at us, 'go back'."
Migrant experiences in Calais, France, on the English Channel, made for an especially vivid contrast. One report found that "Hours after arriving in Calais, [a young Ukrainian mother] and her child were welcomed by British immigration officials and put on a bus headed for the United Kingdom. Years after arriving in Calais, [Ahmed, a 41-year-old man from South Sudan] remained stuck. 'They're European,' Ahmed said of the Ukrainian refugees, rolling up the sleeves of his hoodie and pointing at his skin. 'Africa — that's different'." The report finds that non-Europeans fill tent camps while the authorities house Ukrainians in a hostel on the beach. Another report from Calais tells of Ukrainians being welcomed by the town's mayor and provided with free lodging and a meal of roast chicken and chocolate mousse, treats unimaginable for non-Western migrants.
"Blue Eyes and Blond Hair"
Confronted with this gap, politicians and journalists offered awkward and embarrassing explanations.
Ukraine's former deputy chief prosecutor, David Sakvarelidze led the way with his comment that watching the situation in Ukraine is "very emotional for me because I see European people with blue eyes and blond hair being killed ... every day." Bulgarian Prime Minister Kiril Petkov observed that Ukrainians "are Europeans," adding that "These people are intelligent, they are educated people ... This is not the refugee wave we have been used to, people we were not sure about their identity, people with unclear pasts, who could have been even terrorists. In other words, there is not a single European country now which is afraid of the current wave of refugees."
Greek Migration Minister Notis Mitarachi likewise noted a "great difference" between the Ukrainians coming to Greece and the migrants from farther away: "Ukrainian refugees are experiencing war in a country that borders the European Union," while many other migrants enter the bloc "illegally" and "7 out of 10 [of the latter] are deemed not to be refugees" by the Greek government. A spokesman for Éric Zemmour, then a candidate for president of France, focused on excluding Muslim migrants, explained that he "differentiates between displaced European and Christian Ukrainian refugees and economic migrants from the Arab-Muslim world."
Journalists ran with this implicit theme of European superiority:
It bears noting that such comments made up an infinitesimal percentage of the commentary about Ukrainian refugees. Nonetheless, they stand out for their candor; how many more observers think like them but are discreet?
"Orientalist and Racist Implications"
This combination of contrasting receptions and inept explanations spurred accusations of bias, bigotry, discrimination, and "orientalism." For example, the Washington Post hammered unrelentingly away at this point in article after article.
In a similar spirit, the New York Times reported that empathy for Ukrainians "was tinged with bitterness" from those Middle Easterners who saw Poles and other Westerners "taking a more compassionate stance toward the Ukrainians than they had in recent years toward Arab and Muslim migrants trying desperately to reach safety on Europe's shores." The Economist noted that "Many Europeans feel more comfortable welcoming large numbers of Ukrainians than they do Syrians or Afghans" and deemed racism "surely a factor" accounting for this difference.
And so it went. The Arab and Middle Eastern Journalists Association, a U.S. organization, rejected "orientalist and racist implications" that any population or country is "uncivilized," saying these "dehumanize" non-Westerners. Moustafa Bayoumi, an American academic, bemoaned that providing refuge "based on factors such as physical proximity or skin color," or sympathy only for those "who look like us or pray like us" reflects "narrow, ignorant nationalism."
In Israel, the immigration and absorption minister, Pnina Tamano-Shata, who is of Ethiopian origins, called out colleagues for the "hypocrisy of white people" regarding the government's treatment of refugees from Ukraine versus those from Ethiopia.
A Nigerian in Athens added, "I hear people say, 'All lives matter,' but no, they don't all matter the same. Black lives matter less." Ayo Sogunro, a Nigerian writer, tweeted that he "Can't get it out of my head that Europe cried about a 'migrant crisis' in 2015 against 1.4m refugees fleeing war in Syria and yet quickly absorbed some 2m Ukrainians within days, complete with flags and piano music. Europe never had a migrant crisis. It has a racism crisis."
"Everyone in Need"
Such criticisms have a clear purpose: to make Westerners feel guilty, and thereby to turn the Ukrainian experience into the template for the whole world. All migrants, without exception, must be welcomed as those from Ukraine.
Thus did Qatar's Foreign Minister Mohammed bin Abdulrahman al-Thani thunder about Ukrainians faring better than Syrians, Palestinians, Libyans, Iraqis, and Afghans, then demand that the Ukraine crisis serve as "a wake-up call" for Middle East issues to be handled "with the same level of commitment." President Emmanuel Macron of France made the same point more obliquely, pointing out how "This crisis reminds some around the table who showed less solidarity when the migratory pressure came from other borders of Europe that it is good Europe is totally supportive and responsible together."
Academics like Lamis Abdelaaty of Syracuse University, a specialist on political responses to refugees, concurred. "The very welcoming response to Ukrainians is wonderful to observe. My hope is that this sort of response will be carried over to other refugee groups who are fleeing very similar situations and who are equally worthy of our compassion and our assistance. Hopefully, this moment will really lead people to critically reflect on why it is that they think some people are worthy of protection, and others are not."
ReliefWeb, a service provided by the UN Office for the Coordination of Humanitarian Affairs, immediately hailed the treatment of Ukrainian refugees as "how the international refugee protection regime should work." In its view, countries should
keep their borders open to those fleeing wars and conflict; unnecessary identity and security checks are avoided; those fleeing warfare are not penalized for arriving without valid identity and travel documents; detention measures are not used; refugees are able to freely join family members in other countries; communities and their leaders welcome refugees with generosity and solidarity.
This sounds reasonable enough until one recalls that in UN-speak, refugee includes virtually all migrants, so its appeal refers to most anyone beyond his country's borders.
Immigrant advocacy groups predictably jumped on this bandwagon. As the Washington Post sympathetically reported, they "applaud the more welcoming treatment of Ukrainians, yet they want to see others be granted the same degree of humanity." Their statements repeated this same point in varying words:
Note the wording: "everyone in need." This defines a potentially limitless group of people. Stated semantically, refugee = asylum seeker = migrant = everyone in need.
These statements signal the extent of what migrant-advocating politicians, international institutions, non-governmental organizations, intellectuals, and activists have in mind. One example: were these new rules applied to Melilla and Ceuta, two Spanish enclaves in Morocco, anyone who reaches Morocco could walk into one or other of them, be sent no questions asked and gratis to the Spanish mainland, receive financial, housing, educational, and medical benefits, and remain for years or forever.
If a faster, more efficient way exists to collapse Europe and Western civilization, I cannot think of it.
Explaining the Difference
Focusing uniquely on bias, however, ignores a multitude of reasons that explain the difference in the reception given to Ukrainian and non-Western migrants:
Refugees vs. economic migrants: Ukrainians are plainly fleeing war while non-Westerners mostly seek a better life. Ukrainians on the move primarily include females and those males under 16 or over 60 (Ukraine's government bans males between those ages from leaving the country); non-Westerners are largely the opposite – military-age males – with precious few women, children, and elderly. In the mass migration of 2015, for example, 73 percent of the migrants were male and 42 percent were between 18 and 34. (These numbers include 17 percent migrants from Europe, so the non-Western percentage is appreciably higher.) Nor it is just demographics; that non-Westerners rarely stop in the first EU country they enter, as the Dublin Regulation requires, but keep traveling to such favored destinations as Germany and Sweden, confirms their economic motivations.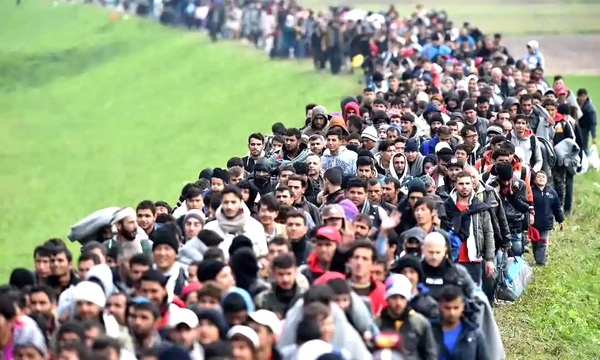 Precious few women, children, and elderly in this crowd of illegal migrants on the march in 2015.
Reluctance vs. eagerness: Ukrainians leave home under duress and see their exile as emergency and temporary, not as permanent settlement. Indeed, so many of them return home that Poland on some days sees more Ukrainians leave than arrive, leading to long wait times at the border. Said a mother with five children in tow, "Every European country gave us free food, free shelter. We owe them so much and are so grateful," she said. "But we want to go home." A young woman left her grandmother in Italy, explaining that "Every day my grandmother is trying to convince us to stay, but it's hard to live in a foreign country without our money, without work. People don't want to be refugees. We don't want to start a new life abroad. I want to be in my place, my country. All that we have in our lives is there." Or, in the words of a tearful 70-year-old Ukrainian, "We want to go home. A foreign land will always be foreign. We thank everyone in different countries, but we will always want to go home. As soon as the bombing stops, we will go back." In contrast, non-Westerners voluntarily leave their homelands, sometimes with festive send-offs, and hope to settle permanently in the West.
Proximity vs. distance: Ukrainians are geographic neighbors or near-neighbors. Their hosts may have visited Ukraine, know people there, speak a similar language, or have other links. This gives them a personal interest in Ukraine of a sort usually lacking in remote places. As the Scottish economist Adam Smith pointed out in 1817, if a humane European has no personal connections to China, he would "be willing to sacrifice the lives of a hundred millions of his brethren" in China rather than lose a finger of his own. Coming generally from farther away, non-Westerners win less sympathy.
Solidarity vs. discord: Westerners share a political commonality with Ukrainians, an instant and emotional connection to the suffering of an innocent people. Kurds and Somalis may have comparable stories but these remain largely obscure to Westerners. The extreme moral ambiguity of a country like Syria exacerbates this indifference.
Invasion vs. domestic issues: The outpouring of concern for Ukrainians calls to mind a similar response to Kuwaitis' plight in 1990-91; in each case, a bellicose larger power invaded and tried to swallow its neighbor. These cases – and possible future ones concerning Taiwan, Bahrain, or Israel – inspire far more sympathy than the more widespread problems of civil unrest and tyranny.
Self-interest vs. indifference: In Putin, the West shares an enemy with Ukraine and urgently wants him defeated before he can cause further tragedy. A Polish foreign policy specialist notes the "wide understanding that Ukrainians are fighting not only for themselves but for our goals. Putin's aspirations don't end in Ukraine. ... If he succeeds in Ukraine, he will go farther." While Western governments will argue for security interests in a place like Somalia or Iraq, few citizens feel much concern when countries are not democracies.
Viable skills vs. unemployability: Ukrainians have greater economic capabilities than most non-Western migrants, making them more likely to become productive members of society, and not welfare recipients. This, obviously, enhances their welcome.
Work vs. welfare: Ukrainians voiced a strong work ethic along with a sense of work's dignity. In the simple eloquence of 42-year-old disabled painter, "I do not want to be a burden. I want to continue earning my living, so I can contribute money to the war effort, and eventually rebuild my life in Ukraine." Many non-Western migrants, to the contrary, prefer to live as wards of the state, in some notorious cases with multiple wives and large numbers of children.
Good citizenship vs. criminality: At the time of writing, 5.8 million Ukrainians had left their country; a diligent search through media in several languages finds not a single report of a crime wave. In contrast, the non-Western migrants have not only vastly increased the crime rates wherever they go, but they have even devised novel forms of criminality that require new names, such as grooming gangs, taharrush (mass sexual assault) and förnedringsrån (humiliation robberies).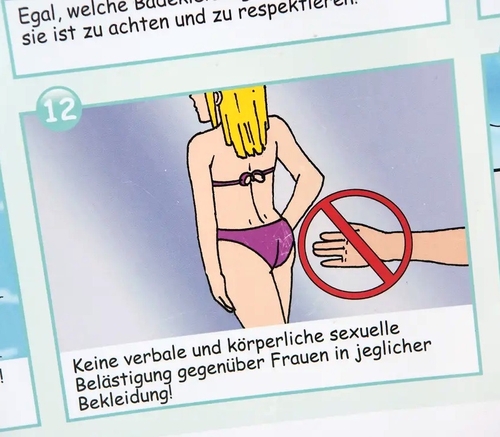 This 2013 German swimming pool advisory won't be needed for Ukrainians refugees: "No verbal and physical sexual harassment of women whatever their clothing!"
Moderation vs. Islamism: Ukraine harbors no home-grown groups of jihadis or other Islamists. Its small Muslim population has not engaged in violence or other forms of supremacy in the name of Islam, contrary to so many Muslim migrants. (To the extent that jihad exists in Ukraine, it consists mainly of foreigners coming to battle with or against Russian forces.)
Cultural similarity vs. difference: Peoples seek those similar to themselves, making cultural proclivities a powerful force. Ukrainians share a civilization with other Westerners, from ancient Rome and the Christian religion to linguistic similarities and the Enlightenment. In contrast, many non-Westerners retain hostile attitudes toward Western civilization.
Assimilation vs. separatism: Ukrainians see themselves as similar to their neighbors, unlike many non-Western migrants, especially Muslims, who set up their own communities. Macron calls this "Islamist separatism." Western hosts can rest assured that Ukrainians and their progeny will not burn police cars, blast out their Eastern Orthodox services over loudspeakers, march for Hamas, or behead a teacher who displayed a cartoon in class.
Limited vs unlimited numbers: Pre-invasion Ukraine had a population of 44 million; were even every Ukrainian to leave and move to (non-Russian) Europe and North America, this could readily be absorbed by a population of about 900 million. As Africa's population grows from 1.4 billion to an estimated 4 billion in 2100, it can overwhelm and even replace Westerners.
In sum, the contrast is stark. On the one side stand the Ukrainians, a neighboring people of limited size and similar culture, language, religion, and skills fleeing an external, genocidal assault. On the other, peoples of alien cultures, alien languages, often a historically rival religion, harboring various forms of hostility, arriving in huge numbers without permission for their personal economic self-betterment despite a generally low level of skills.
Looking Ahead
This analysis leads to three conclusions. First, it is unsurprising that Western responses to Ukrainian and non-Western migrants vary as widely as do the two groups themselves and should not prompt embarrassment. Race and religion undeniably play some role in the West's differing reactions, but multiple other factors of greater importance explain the easier acceptance of Ukrainian migrants. Rather than flagellate themselves for welcoming Ukrainians, Europeans and Americans ought to take pride in this munificence.
Second, the reception accorded Ukrainian refugees cannot become the template for all migrants from all places in all circumstances at all times. To remind, it is truly exceptional: Ukrainians can enter foreign countries without documents where, thanks to the EU's "temporary protection mechanism," they do not end up in refugee camps but have automatic access to housing, health care, and education. They can access free bus, train, and airline transportation. They can spend €300 worth of their home currency. Such privileges must not become the standard for all foreigners, premised on the false idea that a migrant is a migrant, and that all should be treated alike, regardless of culture, language, religion, and skills, regardless of legal status, numbers, motives, and ideology. Distinctions must continue to be made. To succumb to pressures that return Europe to its lawless immigration of 2015-16, when anyone from anywhere could enter, is to invite chaos and the collapse of Western civilization.
Third, the Ukraine crisis points to the need for thinking in terms of cultural zones, each of which accepts its own peoples. Middle Easterners and Africans generally should stay in their own regions, Europeans in theirs. What could be more natural? Middle Easterners who seek a better life can look to their Arab and Muslim brethren, not the West; and the same goes for Africans. It is as absurd for Kurds to seek refuge in Germany and Somalis in Sweden as it is for Ukrainians to seek refuge in the United Arab Emirates (which ended visa-free travel for Ukrainians days after the war started).[1]Rather, Middle Easterners can seek refuge in Saudi Arabia and other rich, stable countries. Africans can do so in Gabon or South Africa. And so on, around the world. The surge in Ukrainian refugees has revealed as no other event since World War II that the West is the natural refuge for its own peoples, not for those of the entire world.
Mr. Pipes (DanielPipes.org, @DanielPipes) is president of the Middle East Forum. © 2022 by Daniel Pipes. All rights reserved.
---
[1] Turkey is the exception. Due to its pre-Erdoğan leadership's wish to be seen as European, its government limits the refugee status to Europeans and still allows them in.
---
July 18, 2022 update: For updates, see "The Campaign to Treat All Illegal Migrants Like Ukrainian Refugees."