As the Muslim presence in the West grows, so do the calls to do away with long-standing insignia that retain their Christian origins. This weblog entry keeps tab on some of the more colorful demands.
__________
| | |
| --- | --- |
|   | St. Edward's Crown |
|   |   |
A Muslim traffic warden, M'Hammed Azzaoui, resigned from London's Metropolitan Police Authority and threatened a racial discrimination case. He complained that the St. Edward's crown on a police badge — a symbol of the monarchy's authority since the eleventh century and the constitutional symbol of the political independence of the police — contains a tiny cross and, as a Muslim, he could not wear the symbol of another faith. In response, Deputy Commissioner Ian Blair proposed an alternative badge for Muslim officers and those of other religions. But Commissioner Sir John Stevens abandoned this plan after it got him an earful of protests. (Aug. 14, 2002) A Muslim provocateur, Adel Smith, a resident of Ofena, Italy, sued his son's public school to remove the crucifix in his classroom because it "bothered him." A district judge handed down a decision agreeing with Smith. "Public schools must be impartial regarding religious phenomena," he said. Italians responded with outrage. President Carlo Azeglio Ciampi called the crucifix "a symbol of the values that are at the base of our identity." (Oct. 30, 2003)
| | |
| --- | --- |
|   | St. George's Cross |
|   |   |
Chief Inspector of Prisons Anne Owers forbade British prison officers from wearing a St. George's Cross tie-pin, although it is the national flag of England, due to its connection to the Crusades. Chris Doyle, director of the Council for the Advancement of Arab-British Understanding, approved of the step, noting that "A lot of Muslims and Arabs view the Crusades as a bloody episode in our history," Doyle added that it was now time for England to find a new flag and a patron saint who is "not associated with our bloody past and one we can all identify with." (Oct. 4, 2005) Dec. 18, 2005 update: A reader responds: "Chris Doyle's claim is ahistorical gibberish. First, St. George was executed by the Roman Emperor Diocletian in 303 – rather limiting his opportunity to participate in the Crusades some eight hundred years later. Second, he was not English, but lived in Libya. Third, the cross belongs to St. George, not to England, so it is illogical to see it as tainted by the failings of England." To which I add: Doyle wants a patron saint "we can all identify with," but if he objects to a saint who lived centuries before Islam, which one will he accept? July 2, 2006 update: The Church of England will consider replacing St. George with St. Alban, a Christian martyr in Roman Britain at its General Synod, a move the Daily Mail says has met with "a cautious but sympathetic response from senior bishops."
An Islamic group in Australia, the Forum on Australia's Islamic Relations wants to do away with the word Christmas, holding that the term excludes too many people in a multicultural society. Its director, Kuranda Seyit, says it's time for Australia to fall in line with the UK, where councils renamed Christmas as Winterval and refer to it adjectively as festive and winter. (Dec. 4, 2005) July 11, 2007 update: Kuranda Seyit writes in to deny the accuracy of this report; see his statement at "Banning Christmas."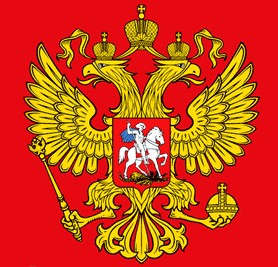 Muslims in Russia are demanding that the cross and other Orthodox Christian symbols be removed from the Russian coat of arms. Damir Mukhetdinov, deputy head of the Spiritual Board of the Nizhny Novgorod region's Muslims, said his people's feelings are insulted because "this violates the secular nature of the state and doesn't contribute to the unity of Russia's peoples." Ali Visam Bardvil, head of the Spiritual Board of Karelia's Muslims, noted that "The cross is not a Muslim symbol. We respect the religious feeling of Christians but do not recognize the crucifixion of Christ. Therefore, in my opinion Orthodox symbols should be removed from the coat of arms to make it acceptable to all religions." Nafigulla Ashirov, chairman of the Spiritual Board of Muslims of Asian Russia, went further. "This is not only a question of the Russian coat of arms. We can say that icons are all but put up on the walls of state offices," plus a host of other problems. (Dec. 6, 2005)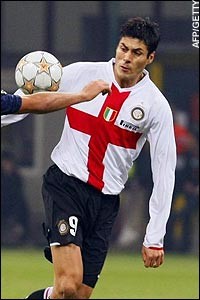 Inter Milan's new uniform.
Milan's leading obstetric hospital, the Mangiagalli, has decided to
replace crucifixes with images of the Virgin Mary
within the next few months as a way to please its growing number of Muslim patients, as "Maryam" is someone appreciated by Muslim women. Patients who want a crucifix hanging in their room, however, will receive on on request. Abdelhamid Shaari of The Viale Jenner Islamic centre welcomed the move. "This is certainly a sign of respect for our religion that we greatly appreciate. But a white wall would have been even better." (May 9, 2007)
A Turkish lawyer who specializes in European law, Barış Kaşka, was watching a Champions League match last month between Fenerbahçe and Inter Milan when he noted the Inter Milan team's new uniform that celebrates the teams centenary – a white shirt with large red cross on it. (A red cross on a white background is the symbol of Milan.) Kaşka sayes his "Muslim sensibilities" were offended by the "Crusader-style" cross, which he claims symbolizes "Western racist superiority over Islam." He lodged a complaint against the club, seeking not just damages for himself and a large fine for Inter Milan "for displaying an offensive symbol," but also to have the game annulled. (Inter Milan won 3-0.) And the cross taken off the uniform, of course. (Dec. 13, 2007)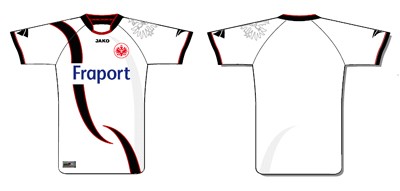 The jersey that the "Eintracht Frankfurt" football team will be using, without a black cross on the front.
In a related development, the German football team "Eintracht Frankfurt" asked its fans to choose a new uniform for its 2008-09 season. The most popular of 16 designs turned out to be
a white shirt with a black cross
but, recalling the Inter Milan dispute (above), the team decided against the cross and instead chose the second most popular uniform (pictured), on the grounds that the cross represents a religious symbol. (Mar. 19, 2008)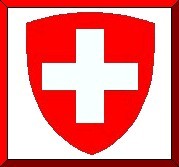 The Swiss cross.
The next sports controversy concerns not the jerseys worn by players but the
whistle carried by a soccer referee
. Massimo Busacca, a Swiss referee, insists that he will use a whistle with the Swiss national symbol, a white cross on a red field during a championship game in Saudi Arabia today, despite local criticism. "I have respect for all religions, including Islam, but I don't see anything offensive in this and am optimistic. I will not give up my 'crusader' whistle," he told
Ash-Sharq al-Awsat
.
Comment: It's a bit rich of the Saudis, whose national flag not only carries a bellicose religious statement ("There is no deity but God and Muhammad is his Messenger") but also a sword, to take offense at the Swiss flag. (Apr. 2, 2008)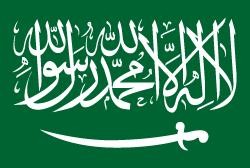 The Saudi flag.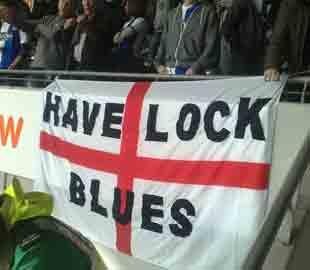 The confiscated flag.
There's something about sports that brings out atavistic emotions. The latest incident comes from Emirates Stadium in the London borough of Islington, where some fans of the Blackburn Rovers soccer club brought a 10-foot long
St George's flag
emblazoned with the words "Havelock Blues", which the stadium staff promptly confiscated on the grounds that it could be viewed as a "racist symbol." (Mar. 20, 2009)
Managers at the Royal North Shore Hospital in Sydney ordered that, for fear of offending non-Christians, its chapel be ridded of crucifixes, Bibles, religious pictures, and symbols. Instead, each faith is allowed to display its symbols during its services but must take them down and store them out of sight. An editorial in Sydney's Daily Telegraph calls the decision "imbecilic" and "absolutely unnecessary." (Apr. 9, 2009) Apr. 11, 2009 update: To general applause, an unnamed Catholic priest defied the ban on Christian artifacts at RNSH and returned the Bible and cross to the altar in time for Good Friday.
Over 40 years ago, Queen Elizabeth personally established "The Trinity Cross of the Order of Trinity" and has awarded it to 62 distinguished residents of Trinidad and Tobago (including V.S. Naipaul) – but no longer. Deemed "too Christian" and therefore illegal, by the Privy Council, it has been replaced by the "Order of the Republic of Trinidad and Tobago." Beyond the change in name, the medals themselves are different: the former looks vaguely like a Celtic cross, while the latter is purely circular with no hint of cross, but rather features a sun and a map of the islands. The editor-in-chief of Burke's Peerage and Gentry, Hugh Peskett, warns of the precedent: changing the names of titles to remove Christian references tosses out centuries of history and thereby demeans the tribute: "Part of the significance of an honour is its antiquity," he said. (May 9, 2009)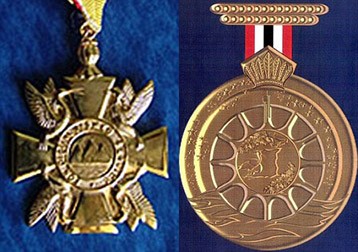 The old Trinity Cross (left) is replaced with the Order of the Republic of Trinidad and Tobago (right).
The fans of Schalke 04, a leading German football team, have been singing "Blau und Weiß, wie lieb ich dich" (Blue and white, how I love you") since 1924. One of its refrains goes as follows:
Schalke 04's emblem.

Mohammed war ein Prophet,
der vom Fußball spielen nichts versteht
Doch aus all der schönen Farbenpracht, ja, Farbenpracht
hat er sich das Blau und Weiße ausgedacht.
Esther at Islam in Europe blog offers this fine translation (slightly edited by me):
Mohammed was a prophet who
Knew nothing of football, that much is true.
But of all the colors shining bright
The ones he thought up were the blue and white.
This verse ran afoul of Schalke 04's Muslim fans, who are demanding that the club change them. (August 4, 2009) Aug. 6, 2009 update: Schalke 04 commissioned a study of the song by Bülent Ucar, professor of Islamic religious studies at the University of Osnabrück, who found that "It contains no substance that is in any way slanderous."
With so many other symbols of Christian falling, how could the Christmas tree hope to survive? It has, indeed, been removed from Den Haag High School in the Netherlands on grounds that it does not meet the "international and diverse" character of the school. (With thanks to Beila Rabinowitz for the reference and translation.) (Dec. 8, 2009)
At the request of Muslim patients, workers in the Bad Soden hospital near Frankfurt, Germany, removed twelve Catholic crosses from walls of the surgical department (which had been Roman Catholic until 1974) and, right in front of the patients, disposed of them in trash bags, leading to outrage. (Feb. 24, 2010)
"Bolton At Home" in Greater Manchester, U.K. consists of 18,200 of what the British call council houses – government-owned housing. The managers told their 1,200 staff that their private cars must remain "neutral" in the World Cup match, and not show the English flag of St. George. This, the managers allege, is necessary to treat all customers "with respect and without discrimination." (June 10, 2010)
The redoubtable Afshin Elian reports that a medical clinic in the Netherlands removed a picture of a piglet in order not to offend Muslims, even though the Muslims never asked for this gesture and even protested it. (August 9, 2010)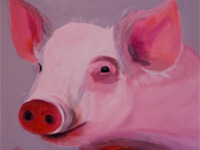 Ed Barnes writes for FoxNews.com about proposed changes to the Russian emblem:
a top imam called for the addition of the Islamic crescent moon symbol to the Russian emblem. The surprise call by Talgat Tadzhuddin during an interview with a leading Russian newspaper was met with alarm because the imam heads the Central Spiritual Association of Muslims of Russia, a major regional Islamic association. ...

In his interview, Tadzhuddin said, "We are asking for one of the heads (of the Russian state emblem, a double-headed eagle) to be topped with a crescent moon and the other to be topped with a Russian Orthodox cross. All the crowns on the coat of arms—two on the heads of eagles and one above the middle—are topped by crosses. But Russia has 20 million Muslims. That is 18 percent of the population." Tadzhuddin also said that he had presented a sketch of the proposed change to both Russian President Dmitry Medvedev and Prime Minister Vladimir Putin. The Kremlin has not commented on the issue.

In the days since the proposal was made public there have been no public protests or support for the changes anywhere in Russia. And other major Muslim groups inside Russia quickly rejected the proposed changes to the emblem, which was adopted in 1472 under the reign of Ivan III after his marriage to a Byzantine princess. It was replaced when communists took over in 1917 and reestablished in 1993 after the fall of the Soviet Union.

Muhammedgali Khuzin, head of the executive committee of the Russian Association of Islamic Consensus, a much larger Muslim organization, said the proposal would hurt cultural harmony, unleash xenophobia and be generally counterproductive. He also intimated that any changes to the Russian emblem were bound to create conflict. The Russian Orthodox Church also rejected the idea, but suggested that flags of predominately Muslim areas might choose to add the crescent to their regional flags.
Comment: This demand goes well beyond the one dated Dec. 6, 2005, above, which only wants to get rid of Christian symbols on the Russian emblem. (April 30, 2011)
A sports team dropped the Christian cross from its logo to appeal to a wider public, reports Soeren Kern: "The top-ranked football team in Spain, Real Madrid, has removed a Christian cross from its official logo as a way to strengthen its fan base among Muslims in Europe and the Middle East. According to Spain's top sports newspaper, Marca, the change was made to 'avoid any form of confusion or misinterpretation in a region where the majority of the population is Muslim'." (April 5, 2012)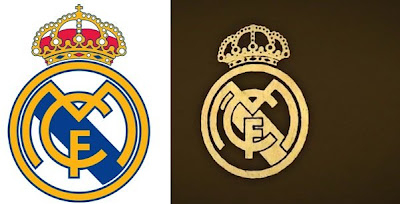 Traditional Real Madrid emblem to the left, the new one to the right.
An immigrant organization that represents mostly Muslim second-generation foreigners in Switzerland, Second@s Plus, has demanded that the cross be removed from the Swiss flag, on the grounds that, as a Christian symbol, it "no longer corresponds to today's multicultural Switzerland." The proposal met with much outrage across the political spectrum. (September 26, 2011)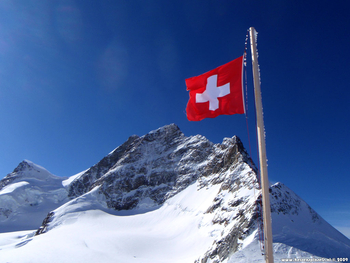 The Catholic Church had decided to remove the gory 18th-century statue by Jose Gambino of St James the Moor Slayer, Spain's patron saint, from the Cathedral of Santiago de Compostela in north-west Spain. The statue, which shows the saint on a white horse beheading Muslim heads, will remain in place, however, due to a popular outcry. (July 22, 2012)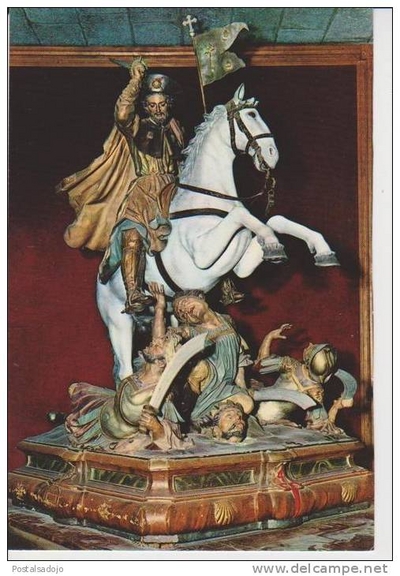 A statue of St James the Moor Slayer, in the Cathedral of Santiago de Compostela.
The City of Brussels has eliminated its traditional Christmas tree out of concern for Muslim sensibilities, to be replaced by an "electronic Christmas tree" of vaguely the same shape. City Councillor Bianca Debaets asks ironically if Brussels is to be purged of eggs at Easter. (November 9, 2012)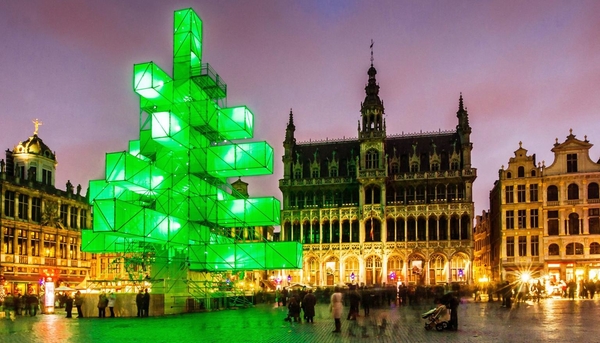 The vaguely Christmas-tree-like object in central Brussels. It has the additional virtue of changing colors on demand.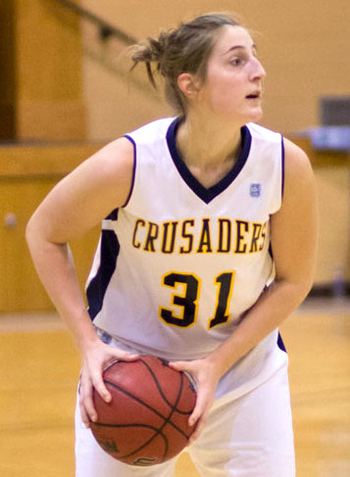 A Maranatha female Crusader in action on the basketball court.
Maranatha Baptist University in Watertown, Wisconsin, has decided to drop the "Crusaders" name its teams have used the institution's founding in 1968. The university's executive vice president, Matt Davis, acknowledged that no complaints had been received; "times change and we understand that context changes. ... The heartbeat behind this was not political correctness, but expanded opportunities for our students."
Joshua Rhett Miller, who reported this change at FoxNews.com, located no moves away from using "Crusaders" as a team name or mascot at the eight other schools he could find who also use this moniker, including the College of Holy Cross in Massachusetts and Capital University in Ohio. (The latter, amusingly, changed the name in 1963 to Crusaders from "Fighting Lutherans.") (February 2, 2014)
The Montgomery County, Maryland, Board of Education responded to Muslim request for days off on Eid al-Adha by voting today 7-to-1 to eliminate all references to religious holidays on the 2015-16 school calendar. Thus, Christmas, Easter, Yom Kippur, and Rosh Hashanah are gone. (November 11, 2014)
The co-principal of the elementary school in the Söndrum district of Halmstad (in southern Sweden), Hans Åkerlund, has banned the Swedish flag from the school out of concern that students from a "foreign background" could be offended by what is, after all, a version of the Christian cross. The only exceptions are on official "flag days" (such as Swedish National Day) and when an international exchanges takes place. (December 25, 2014)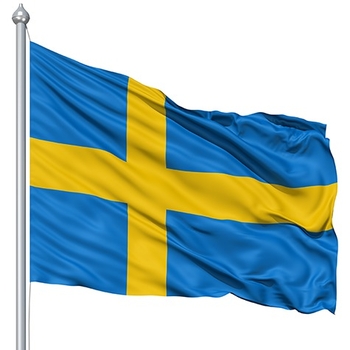 The Swedish flag. Note the cross.
A teacher in Austria, figuring that most of her 10-year-old students are Muslims, rewrote the words to a well-known Christian hymn, Gottes Liebe ist so wunderbar, replacing Gott with Allah. (January 26, 2016)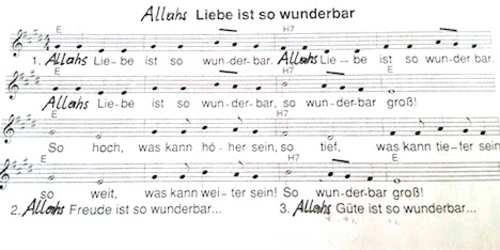 The song sheet with "Gott" replaced by "Allah."
After receiving threats from a source purporting to represent ISIS, Dublin's Crusaders Athletic Club announced the removal of the big red cross from singlets worn by some runners competing in the Dublin City Marathon in late October. (October 16, 2016)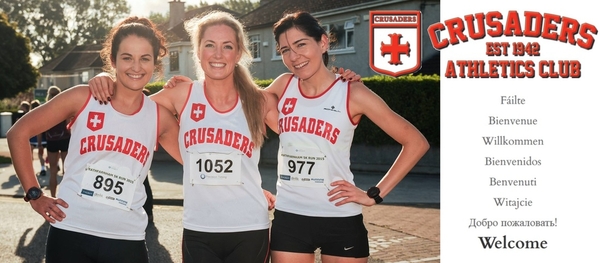 What the Crusader Athletic Club singlets used to look like.