Lion's Den :: Daniel Pipes Blog
Muslim Acts of Beheading in the West
May 23, 2013
Michael Adebolajo after murdering Lee Rigby on May 22, 2013, near London.

The gruesome murder yesterday of a soldier outside London by a Muslim convert, Michael Adebolajo, brings to mind that throat slitting and beheading are Islamically sanctioned forms of execution. Although these occur particularly often in the course of family-related crimes – think, for example, of the case of Aasiya Hassan in suburban Buffalo, N.Y., killed by her husband in 2009, stabbed with two hunting knives more than forty times in the face, back and chest, then beheaded – this monstrous form of violence is also used in non-family instances. Some of those that took place over the past decade in the West in chronological order include:
Continue to full text of posting...
May 11, 2013
A Washington Post article today, "Assad forces gaining ground in Syria" by Liz Sly, argues that recent events suggest that the Assad regime is not just surviving but has gone on the offensive. Drawing on local analysts, she finds that in the civil war, "there is little doubt that the pendulum is now swinging in favor of Assad … bolstered by a new strategy, the support of Iran and Russia and the assistance of fighters with Lebanon's Hezbollah movement."
Continue to full text of posting...
Lessons from the FBI's Most Wanted Terrorist List
April 30, 2013

The Federal Bureau of Investigation's list of "Ten Most Wanted" fugitives dates back to 1950 but the list of "Most Wanted Terrorists" dates back to just after 9/11 and a sense that terrorism had become a strategic threat. Today, the list includes 31 individuals, all of them male and with a single exception (Daniel Andreas San Diego, an animal rights extremist), all of them Muslim:
Continue to full text of posting...
Viscount Samuel, Meet Secretary Hagel
April 25, 2013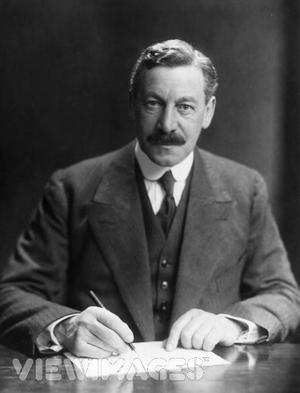 Sir Herbert Samuel.

Emerging from intense controversy, the British politician Herbert Samuel (1870-1963) was appointed the first High Commissioner of Palestine, where he served 1920-25. A Jew and an influential Zionist, Samuel bent over backwards not to favor the Yishuv, to the point that he forwarded the interests of the Palestinians most hostile to the Jewish presence. Most notoriously, Samuel appointed Amin al-Husseini as mufti of Palestine, a position which Husseini used to become the most powerful figure in the mandate and the Palestinian who did the most-ever damage to Zionism (yes, even more so than his nephew Yasir Arafat).
Continue to full text of posting...
Boston Bombing Lesson: Ban Niqabs and Burqas
April 21, 2013
The Tsarnaev brothers pulled off their terrorist attack with great skill but made a fatal mistake in letting their faces and bodies be seen at a heavily photographed international sporting event. This meant that multiple images of them were available for a massive law enforcement squad to comb over and, after three days, identify them by name and appearance.
Continue to full text of posting...
"U.S. Fears Syria Rebel Victory, for Now"
April 17, 2013
The commentariat universally rejected my Apr. 11 column arguing that Western governments should "Support Assad" on the grounds that he is losing and we don't want the Islamist rebels to win in Syria but prefer a stalemate. An Arabic website in France threatened me.
Fine. But the Wall Street Journal today reports in "U.S. Fears Syria Rebel Victory, for Now" by Adam Entous and Julian E. Barnes that the Obama administration is in fact following my counsel. To start with, the U.S. government fears "an outright rebel military victory":
Continue to full text of posting...
140,000 Canisters of U.S. Teargas to Egypt's Morsi
April 14, 2013
The Egyptian publication Al-Masry Al-Youm reports that the U.S. government has supplied five containers carrying 140,000 teargas canisters to Egypt's Interior Ministry. It further reports that this shipment left Wilmington, Delaware, on Mar. 14 aboard the SS Jamestown and that it has just arrived the port of Suez. They cost the Egyptian government just under US$2.5 million. According to ministry spokesperson Hani Abdel Latif, the ministry imported the grenades in order to protect state facilities.
Continue to full text of posting...
Mainstream Jewish Institutions Celebrate Anti-Zionists
April 8, 2013
Major Jewish institutions show a marked propensity to promote and celebrate the enemies of Israel and even antisemites. Here are some examples, working backwards chronologically:
Continue to full text of posting...
On Second Thought … Maybe that Israeli Apology to Turkey was a Good Idea
March 29, 2013
I was appalled to learn a week ago that the Israeli prime minister had apologized to his Turkish counterpart for his government's actions during the Mavi Marmara incident, seeing this as feeding the Turkish government's inflated sense of grandeur and power.
That prediction was borne out in spades.
Continue to full text of posting...
March 22, 2013
On Feb. 27, Recep Tayyip Erdoğan told a conference in Vienna, "Just like Zionism, anti-Semitism and fascism, Islamophobia must be regarded as a crime against humanity." His calling the Jewish nationalist movement that built the State of Israel a "crime against humanity" prompted widespread criticism, including by U.S. Secretary of State John Kerry.
Continue to full text of posting...